The Final Falcon And The Winter Soldier Trailer Is Here, And Sam's Wielding That Shield Just Like Captain America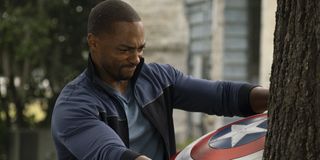 CinemaBlend participates in affiliate programs with various companies. We may earn a commission when you click on or make purchases via links.
It's the moment Marvel Cinematic Universe (and Captain America) fans have been waiting for. The Falcon and the Winter Soldier finally arrives at the end of this week, and the anticipation is high. Of course, the best way to get people even more hyped is with new footage, and that's exactly what Marvel did, as the studio released the final trailer. The nearly two-minute video is filled with a ton of new shots, including footage of Sam Wilson using Captain America's shield like Steve Rogers himself.
The Falcon and the Winter Soldier's final trailer kicks off with Sam Wilson practicing with Steve Rogers' shield at someone's home (possibly his) and, all lin all, he's looking very comfortable with it. Still, it also appears that he'll be grappling with the mantle of Captain America. The trailer also further emphasizes the government's desire for new heroes within the MCU. This directly refers to John Walker, who has still yet to be directly seen or heard in any promotional footage.
The trailer also shows off more of the show's unnamed villains, who many speculated to be the terrorist group the Flag-Smashers. Here, we see the true might of the seemingly enhanced warriors.
Interestingly, Zemo has a noticeably low presence in the trailer, which is surprising given that many have pegged him as the main antagonist. There were rumors that his story could involve a twist so maybe things aren't as black and white as it seems.
Of course, what this trailer arguably does best is showcase the bond and chemistry between its two lead characters. While the two heroes don't always get along, it's clear that they're going to need each other as they embark on this new adventure. One can only imagine what kinds of surprises lie ahead for them.
And of course, it'll be interesting to see who ultimately ends up taking on the mantle of Captain America. Bucky would be a firm choice, but all signs point to Sam being the one to carry on the legacy. We'll just have to wait and see how the two navigate what is a truly unstable and unpredictable post-Blip MCU.
The Falcon and the Winter Soldier definitely doesn't look like WandaVision, and that's not a bad thing. While that show sought to give viewers more of an odd mystery, Falcon and Winter Soldier is going for more high-octane action and a bit of political intrigue. It'll be exciting to see how things shake out when the show premieres on March 19th on Disney+, which you can sign up for using this link.
Covering superheroes, sci-fi, comedy, and almost anything else in film and TV. I eat more pizza than the Teenage Mutant Ninja Turtles.