Sauron It Ain't So! Amazon's Lord Of The Rings Series Just Lost One Of Its Stars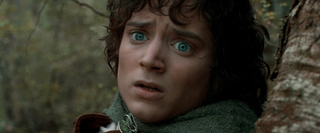 When it comes to entertainment, casting changes are commonplace. It's just a part of the process and can happen for almost any reason under the sun, from conflicting schedules to studio discretion. Recently it was revealed that Amazon's upcoming Lord of The Rings series was the latest show to lose one of its stars.
Tom Budge, who was set to appear in Amazon's pricey production announced that he was parting ways from Lord of The Rings. The actor cited creative differences but thanked the cast and crew for their work on the show. In his own words:
Budge shared the news via a post on his Instagram, where he detailed the reasoning behind his departure. From the post it sounds like Budge's take on the unnamed character did not align with the studio's vision and lead to the parties splitting up:
While it's unfortunate that the whole situation didn't work out, it sounds like Budge was able to work with some wonderful people during the experience. The name and importance of his character remains unconfirmed, and this news comes pretty late in production. After all, the show is scheduled to release later this year. That doesn't leave a lot of time for recasting and reshooting.
Amazon has already teased a few plot threads from the upcoming series, including a chance for fans to see a never-before-seen Middle Earth location. Despite the reveals, the exact details of the show's plot remain shrouded in mystery. Official details have only confirmed that the show will take place thousands of years before the events of The Hobbit and The Lord of The Rings trilogy.
We also know that alumni of Peter Jackson's adaptations aren't necessarily the biggest fans of the bringing Middle Earth to television. Elijah Wood, who played the titular Frodo Baggins, has already addressed the show and shared his issues with the adaptation. Others, such as Hugo Weaving, have completely killed the idea of reprising their roles for Amazon's rendition.
Although fans shouldn't expect to see Tom Budge or their favorite Jackson trilogy characters in the upcoming show, the current cast is looking pretty stacked. Amazon has even enlisted a few notable Game of Thrones alumni, which is pretty fitting seeing as how similar the subject matter and setting are.
Amazon's Lord of The Rings is set to release later this year. Fans can safely expect the long running epic fantasy action that the J R.R. Tolkien's novels are known for, as the show has already been green lit for a second season.
Into tracksuits by Paulie Walnuts, the Criterion Channel and Robert Eggers.
Your Daily Blend of Entertainment News
Thank you for signing up to CinemaBlend. You will receive a verification email shortly.
There was a problem. Please refresh the page and try again.