Why Claudia Conway's American Idol Run Proves The Show Shouldn't Have Well-Known Contestants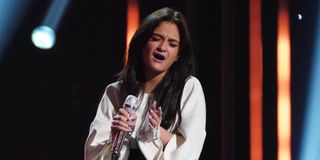 Warning! The following contains spoilers for the American Idol episode that aired Monday, March 22. Read at your own risk!
TikTok sensation Claudia Conway had a somewhat surprisingly good run during American Idol's 4th season at ABC, but after an underwhelming duet performance during the second round of Hollywood Week, the competitor was sent home by the judges. To some watching, such as Idol mainstay Katy Perry, it was felt that Conway needed more time to develop as a singer, but for many less interested fans, the big question was how the 16-year-old made it that far in the first place without getting that constructive criticism.
I'm one of those American Idol fans and can't help but feel slightly soured with how the show welcomed George and Kellyanne Conway's daughter Claudia, and how her experience in the series played out. Not that the fault lies with Conway herself by any means, but even her temporary successes proved to me that Idol (and other TV competitions) should absolutely step back from welcoming well-known contestants in the future. Let's discuss.
Claudia Conway's Run Didn't Seem Fair In Comparison To Others
From the jump, Claudia Conway's advancements seemed unfair in comparison to other arguably more talented competitors. She sang two songs during her audition (which even she wasn't happy with), and while she's far from the first in Season 19 to have done so, she was the first to advance based on how she chose to "express" herself. At least that was Lionel Richie's justification for rolling the dice, with the typically tough and snippy Perry agreeing that Conway deserved a chance. For his part, Luke Bryan was the sole dissenter in the ranks, so Conway went on to Hollywood.
I'll admit a favoritism radar was already going off in my head at the time, but it's not like highly questionable acts haven't advanced to the Hollywood rounds many times before. Typically, though, many of these clunkers get culled in the first round. So when Conway skated on by the genre challenge into duets, I began to worry a little more. Conway does have some singing ability, to be sure, but I don't think it's unfair to say she's pretty far from the best the show has seen. Her singing was more or less average, yet somehow, she'd advanced to the third stage of the competition while others were sent home.
And while the Claudia Conway joy ride ended shortly after that, it almost felt unfair that it went on even for as long as it did. Fans are aware of the promising competitors (without giant social media followings) that left before her, as well as the performances that failed to wow the judges along the way. Conway got multiple opportunities while others were fighting just to get one. And again, that's not a new phenomenon inherent to only American Idol, but Conway's celebrity status shined a greater spotlight on the issue and made it much more evident. This also inevitably put a bigger target on Conway for widespread criticism, which isn't fair considering she really just wanted to give competing on American Idol a shot.
Competitors With Pre-Existing Fanbases Can Skew Results Down The Stretch
American Idol's 17th season overall really got me fed up with previously well-known competitors after Laine Hardy defeated Alejandro Aranda in the finale to claim that season's victory. For those that didn't watch those episodes, the former competitor from Season 16 basically performed country covers and defeated an artist who made his way through the competition by playing and singing his own original music. Aranda represented a future the show could've celebrated, but he lost out in the vote, and I'd argue it was because Hardy had a pre-existing fanbase.
Of course, there's a litany of reasons about why Laine Hardy might have upset a competitor who has since been mentioned on American Idol more than Hardy himself. But there's no denying that if Claudia Conway had somehow progressed to the live shows, her 2 million-plus followers across Twitter, Instagram, and Tik-Tok would've given her a leg up over other talents who are relatively unknown outside the show.
It may seem silly to talk about a hypothetical scenario, but if American Idol kept advancing someone like Claudia Conway on in the future, the problem would be clear. The contestant's substantial following would almost certainly skew the voting results over time, and the whole thing would run the risk of becoming a popularity contest more so than it already is. If Conway or any other competitor with a similar fanbase made it all the way to the live shows, you'd think they'd be very hard to eliminate with so many people willing to vote for them regardless of whether they were actually the best competitor or not.
Featuring Well-Knowns Like Claudia Conway Can Hurt The Show's Legitimacy
I don't think it's any coincidence that one of the first advertisements for this season of American Idol teased Claudia Conway's audition. The Conway family's time in the spotlight during former President Donald Trump's term, along with all their public drama, dominated tabloids for a spell, and I believe the show did all it could to tease that viewers would get some insight into that politically charged drama by watching. That meant seeing George and Kellyanne Conway being shuffled in as her chaperones in different stages, and making a point to show them whenever possible.
American Idol has obviously long taken the approach of showing contestants and their families for background info, but this season literally made a point to show Claudia interacting with her parents whenever possible. In fact, I would be curious to see if there was more of that footage than her actually singing, which we've already touched on enough at this point. It certainly felt like the performance and family time were competing for camera time, and Claudia certainly got more screen time in her later episodes than other promising competitors who also advanced.
That's a real shame, too, because by putting such a big spotlight on Claudia Conway over arguably more talented performers, it hurt American Idol's credibility for me, and I'm sure I'm not alone. This is a series that has pumped out more superstar talent than The Voice ever has, and that's a major reason people watch. They aren't watching to see which headline-maker will perform in the season, especially if the singing itself leaves something to be desired. American Idol has done well without those kinds of gimmicks, so it's best to ditch all that now before it becomes an irreversible trend.
This is just my opinion, though, so I'd love to see the consensus of other American Idol fans down in our poll. Do you believe Claudia Conway went too far in Season 19, or do you think her run in the series was justified? Let us know in the poll below, and watch American Idol on ABC Mondays at 8:00 p.m. ET.
This poll is no longer available.
Your Daily Blend of Entertainment News
Mick likes good television, but also reality television. He grew up on Star Wars, DC, Marvel, and pro wrestling and loves to discuss and dissect most of it. He's been writing online for over a decade and never dreamed he'd be in the position he is today.