AT&T's 'Lily' Claps Back (Again) At Online Trolls After Dealing With More Body Shaming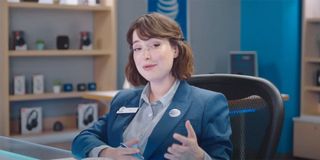 Milana Vayntrub just can't catch a break. The popular commercial actress, most known for playing 'Lily' in a series of fun AT&T ads, spoke out late last year about body shaming she receives online on the regular. This week, she's clapped back again at online trolls, who just constantly feel the need to comment on her body--whether or not she's showing it off on the small screen.
If you've caught a more recent 'Lily' ad, you may have noticed that instead of having Lily out and front and center in her AT&T uniform on the floor, she's been doing more stationary activities and wearing blazers and more that are less form-fitted onscreen. If you've noticed these changes, you aren't the only person who has, and who has pointed out the changes to Vayntrub online. After getting a lot of questions about the new ads, Milana Vayntrub took to Twitter to explain why the new AT&T ads may look a little different than they used to.
To her point, Milana Vayntrub does get a lot of comments about her body online. Previously, she said that a faction of the Internet continually commented about being interested in her "milkies" and morphing and sharing photos of her poolside and more. If you think she's blowing this out of proportion, here's a look at a recent screenshot of her doing an innocuous outdoor activity on Instagram. These were some of the top comments.
After she posted her most recent update on why she's showing off her body less on social and on the small screen, some people on the post still decided to tell her she was beautiful, prompting her to also like a response explaining why she wants the body comments to stop. Period.
So, if you are wondering why her ads went from looking one way to another more fully covered blazer way, it's not because Milana Vayntrub is uncomfortable with the way she looks or feels the need to cover herself up more, but because she's dealt with so much commentary online. Lily is also an extremely popular commercial character, and presumably this has empowered her to have more say with Lily, with the direction of the Lily ads and with her work for the company in general.
Milana Vayntrub hasn't taken the next step, which would likely be to just delete her social media, yet, but if she did she wouldn't be the only female celebrity to quit platforms like Twitter or even Instagram. Major names like Kelly Marie Tran and more have left social media platforms after finding the online commentary to be unwelcome. Though some see it as a tool, we'll have to wait and see if this is one particular tool the AT&T actress is harnessing a year from now.
Amazing Race & Top Chef superfan with a pinch of Disney fairy dust thrown in. If you've created a rom-com I've probably watched it.