Good Girls: Beth's Plan To Get Dean Out Of Jail Failed, But The Bolands Might Not Be Done Yet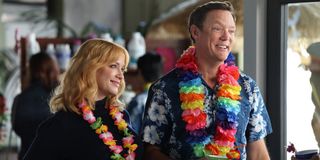 NBC's Good Girls is barely into Season 4, but we've already gotten a lot of surprises and foiled plans from the criminally-minded trio at the center. While Episode 2 saw Beth's less-than-bright husband, Dean, get arrested for her crimes, she, Annie and Ruby did come up with what they thought would be a slam dunk effort to get him out of lockup for good. Unfortunately, as is frequent with these ladies, their idea did not go anywhere near as well as they'd hoped, but it turns out that fans shouldn't count Beth and Dean Boland out just yet.
Of course, when I say "fans" I mean fans of Good Girls, not fans of Beth and Dean Boland as a couple, because...well, there just aren't that many of those. The couple has stayed the course through remarkable trials and Dean's many screw ups, and there are probably tons of viewers who thought him landing in prison was going to be the end of Beth and Dean. However, according to co-showrunners Jenna Bans and Bill Krebs, we shouldn't count on that just yet. When asked if Beth has any other plans up her sleeve, they told TV Line:
OK, so these details about Episode 4 of Good Girls are, obviously, purposely vague, but if you've kept up with the current season, I think we might have already gotten some hints as to what Jenna Bans and Bill Krebs mean. Last week's episode showed Beth, Ruby and Annie try to spring Dean from jail by bringing in a fall guy, in the form of their former Boland Bubbles employee / Dean's buddy, Eric. It seemed like a far-fetched idea, but Eric was more than willing to escape his not-great life by going up the river to a somewhat cushy facility for a while, especially for the amount of money they were offering to pay.
But, things went hilariously wrong when the ladies supplied Eric with a bunch of counterfeit cash and sent him into a bank. Instead of the cops arresting him, they sent him on his way so that they could steal the money. With their plan failed and Dean still behind bars, and soon deciding to plead guilty to the charges against him, Beth went to the FBI and started to spill her guts. My guess is that the opportunity which will find Beth in "a different sphere" is going to involve the Feds and her being willing to give up Rio in exchange for getting Dean out.
This would also be a way for her to "just escape all of it," seeing as how she and her money-laundering crew have been trying against all hope to get away from Rio since the beginning, so that they could control their own criminal enterprises. Efforts to kill him or have him killed have been complete failures so far, so informing on him and his activities might be the only way out. Rio is very savvy, though, so my guess is that this will take quite a while to come anywhere near working, meaning that those of you who are hoping for some additional Beth / Rio sexual shenanigans could still see those happen.
We can see what's next when Good Girls airs, Sunday on NBC, at 10 p.m. EST. For more on what to watch in the coming weeks, check out our guide to 2021 TV premieres!
Bachelor Nation, Gilmore Girl; will Vulcan nerve pinch pretty much anyone if prompted with cheese...Yes, even Jamie Fraser.