No, Jessica Simpson Has Not Seen The Framing Britney Spears Doc, Explains Why She Refuses To Watch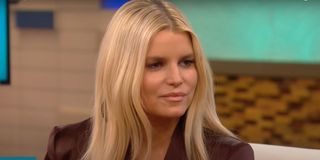 (Image credit: Dr. Oz Youtube)
When pop stars from the early aughts band together in solidarity in the year 2021, it's a beautiful thing to behold. Jessica Simpson, who has parlayed a successful singing and acting career into a $1 billion clothing line, revealed that she refuses to watch the provocative Framing Britney Spears documentary, and for good reason.
Framing Britney Spears confronted a lot of issues that go beyond the purview of just one mega-celebrity. Namely, the documentary actually forced a lot of people, fans and stars alike, to examine their relationships with paparazzi and celeb culture. As for Jessica Simpson, she knows that life of constant scrutiny, which is why she decided to forgo watching the documentary. She said on The Tamron Hall Show:
The rise of Jessica Simpson is, in fact, very similar to that of Britney Spears. Simpson also started her singing career in her teens and had astronomic success. But it wasn't until her reality show, Newlyweds: Nick and Jessica, that she became the brunt of insensitive jokes about her intelligence ,following her "chicken or fish" comment. The events are strikingly similar to how Spears' public mental breakdown became the lede for most comedians and spectators at the time.
Jessica Simpson's refusal to watch Framing Britney Spears to avoid being triggered is a totally understandable decision. But the documentary has also had the reverse effect in some other celebrities who feel comfortable coming forward with their own experiences after watching. For example, actress Bella Thorne expressed that she was "sad" and felt "literally terrible" after watching the Hulu doc and discussed the extent of the public's collective role in how Spears was treated over the last few decades. She said that "we're all a part of it. That makes it so much more incredulous."
Kim Kardashian's response to watching Framing Britney Spears wasn't so much incredulity as it was recognition, given her own experience being hounded by paparazzi and gossip. She said on Instagram:
The past year has forced all of us to re-evaluate the important things in life. But it took a Hulu documentary about a pop icon's conservatorship issues for some to consider that celebrities are people with lives, too. Much like Jessica Simpson, hopefully we can all move forward with solidarity and sensitivity to Spears and others in the future.
Freelance writer. Favs: film history, reality TV, astronomy, French fries.