Could Britney Spears Get Her Own Meghan Markle-Style Interview To Tie With Free Britney Movement?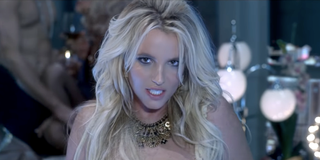 After the documentary Framing Britney Spears was released in early February, it increased the amount of attention around Spears and her ongoing battle with her father's control of her conservatorship. But, it also put a spotlight on how the press has treated Spears over the decades of her fame, especially with regards to her having been a very young woman when she became famous and during her public struggles with mental health. Spears has yet to say anything publicly about the unauthorized documentary, but is it possible that she's willing to do a tell-basically-all, Meghan Markle-style interview to tie in with the Free Britney movement?
While Britney Spears didn't discuss her own life story for Framing Britney Spears, the documentary did, in the minds of many viewers, lend even more credence to the beliefs of those in the Free Britney movement, which has been advocating for years for Spears to be released from the constraints of her conservatorship for several (sometimes conflicting) reasons. Now, after the outpouring of support Spears received, and Meghan Markle's bombshell-dropper of an interview with Oprah, a source has told Entertainment Tonight that the pop star has considered the move:
OK, so Britney Spears has, apparently, given some consideration to stepping up and doing a long-form sit-down interview (likely with Oprah if at all possible, which is no great surprise), but doesn't currently have any plans to make such a move happen right now. From what the anonymous source said, if sounds like Spears would have something to take care of personally before any steps could be taken for an interview to be done. A big question, I suppose, is what those unnamed "steps" actually are.
My guess is that this could involve some combination of two possibilities, for the most part. First of all, as those with at least a working knowledge of the Free Britney movement know, Britney Spears is still under a conservatorship, largely controlled by her father, Jamie Spears. This means that he has to sign off on most of her life decisions, including those which involve her career.
The superstar has been trying for several months to have her dad permanently removed from her conservatorship, which hasn't been allowed yet. So, it's not impossible that, even if Spears was ready to do a revelatory interview about her past, her father would have to approve it and might not be willing to do so.
Also, even as a casual fan, you will likely know the larger points of what Britney Spears has gone through quite publicly, especially with a lot of the conclusions many people made after watching Framing Britney Spears. But, because Spears didn't approve the documentary or speak to the filmmakers for it, we can pretty much guarantee that there's a lot she would say in an interview which would surprise audiences. One of the "steps" Spears might have to take before a big interview could be opening up more to friends, family, and her sons, so that they have time to process anything new she'd want to say, before that information becomes public knowledge.
Luckily, according to the source, Britney Spears is in a pretty good mood lately because of the responses she's been getting in the wake of Framing Britney Spears, and added:
It is nice to hear that Britney Spears at least feels uplifted by the love she's currently getting from fans and even other celebrities. Hopefully, she'll be able continue to turn that into positive action as she moves forward, whether she can give us that tell-all interview or not.
Bachelor Nation, Gilmore Girl; will Vulcan nerve pinch pretty much anyone if prompted with cheese...Yes, even Jamie Fraser.