How Britney Spears Allegedly Feels About The Backlash Against Justin Timberlake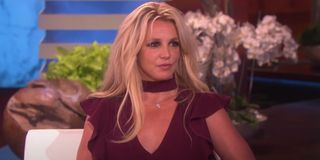 The Framing Britney Spears documentary has caused quite a stir since its release. The film chronicles the career of the titular pop star and covers various aspects of her life, including the media's coverage of her career along with her personal relationships. What's proven to be one of the doc's most controversial topics is the past relationship between Spears and fellow pop star Justin Timberlake. Since the doc was released, Timberlake has faced backlash from fans for apparently responding apathetically back when the infamous breakup occurred. The singer has since apologized to Spears directly, but what does she think about the backlash against him?
So far, Britney Spears has not directly responded to Framing Britney Spears, but she does appear to be aware of the backlash that's been aimed at Justin Timberlake. A source recently told ET that Spears has declined to get into the details of the documentary but alleges that she doesn't want her fans to speak negatively about Timberlake or his loved ones:
Britney Spears and Justin Timberlake originally began dating in 1999 and eventually parted ways during the highly publicized breakup in 2002. With the release of Framing Britney, many fans and general viewers have revisited the tumultuous time period and have criticized the way Timberlake responded to the breakup and how both he and Spears were approached differently by the media after the split. Shortly after their breakup, Timberlake also released the hit single "Cry Me A River," and the song (and the accompanying music video) were heavily implied to be about his split with Spears.
In his recent statement, Timberlake apologized to both Britney Spears and Janet Jackson (who he performed with during the 2004 Super Bowl halftime show). The singer said that "everyone involved deserves better and most importantly, because this is a larger conversation that I wholeheartedly want to be part of and grow from."
As mentioned, Spears has not explicitly referred to the Framing Britney Spears documentary, but she did post a message on Instagram shortly after its release. This message included a statement in which she asked fans to put more focus on a person as opposed to how they're perceived:
Britney Spears is currently in a legal battle with her father, Jamie Spears, regarding conservatorship over her estate, a controversy that has led to the #FreeBritney movement. This was also a major topic in Framing Britney Spears, which is currently available to stream on Hulu.
Covering superheroes, sci-fi, comedy, and almost anything else in film and TV. I eat more pizza than the Teenage Mutant Ninja Turtles.
Your Daily Blend of Entertainment News
Thank you for signing up to CinemaBlend. You will receive a verification email shortly.
There was a problem. Please refresh the page and try again.