Nike And Lil Nas X Lawsuit Heats Up As Judge Weighs In On Satan Shoes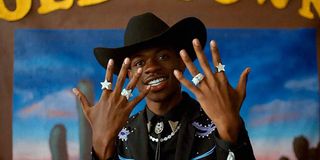 It's been a weird week for "Old Town Road" singer Lil Nas X, Nike and the internet as a budding lawsuit has started making its way through the court system. The rapper recently collaborated with a design company known as MSCHF Product Studio to create a satanic shoe for collectors. The only problem? The collaboration used Nike's Air Max 97 shoes and Nike is none too happy about the development, even filing a trademark lawsuit and more.
The shoes (allegedly) contain real human blood, a fact that clearly went viral on the Internet as soon as it was mentioned. Obviously, it's Easter weekend coming up, and whether or not Nike employees are officially celebrating the holiday, having the company be equated with the term "Satan shoes" or "Satanic shoes" particularly at this time of year is probably a nightmare the entire PR department had not been asking for. The end result is that Nike filed a lawsuit against Lil Nas X and MSCHF to stop the shoes from being sold saying the shoes "dilute" the famous Nike brand. According to a judge, the major shoe company has a point.
In fact, Nike filed an injunction and temporary restraining order against the parties in order to pull the shoes off of the market. U.S. District Court Judge Eric Komitee ultimately ruled that Nike's restraining order against the marketing and selling of the shoes has merit and a temporary restraining order is in place, though that's just one battle in part of a larger suit.
The shoes in question can be seen below, and as you can see the Nike swoosh is prominently displayed on the shoe.
Why Did Lil Nas X And MSCHF Product Studio Even Use Nike Shoes?
The argument here from Lil Nas X and MSCHF Product Studio is that the Air Max 97 shoes with human blood in them are "art." The Brooklyn-based art-collective says the shoes were purchased and then refurbished into works of art, after which they were sold in lots for $1,018 a piece. In a letter to Judge Eric Komitee, it is also mentioned that the shoes were a follow-up to a set of "Jesus Shoes" that had been sold prior and did not apparently incur a lawsuit from Nike. The letter also argues there is "no imminent or immediate threat of irreparable harm related to the Satan shoes."
The argument on Nike's end is that Nike did not sign off on being a part of any sales of satanic shoes. The brand says it has evidence that multiple customers have expressed disapproval of the shoes and, per THR, have stated the shoes have "tarnished" the brand, with some customers mentioning they would "never buy Nike shoes ever again," according to a Nike attorney.
Ultimately, all of the shoes but one pair have already gone out, though reports indicate Nike seemingly suspects some of the shoes may have been sent off after the lawsuit was filed by the longtime shoe company. Pop singer Miley Cyrus -- who has been no stranger to controversies involving foam fingers and more -- even waded into the issue by sharing some images of herself wearing the shoes.
So, despite the injunction, there are already at least a few pairs of the shoes floating around in the universe. We'll keep you updated as the satanic shoes trademark lawsuit continues moving forward. This isn't the first time Nike shoes have been a topic of conversation in the movie world, as the company also very nearly went to court over a Terminator shoe a few years ago.
Your Daily Blend of Entertainment News
Reality TV fan with a pinch of Disney fairy dust thrown in. Theme park junkie. If you've created a rom-com I've probably watched it.
Your Daily Blend of Entertainment News
Thank you for signing up to CinemaBlend. You will receive a verification email shortly.
There was a problem. Please refresh the page and try again.