That Time Andy Cohen Actually Asked Real Housewives Fraudster Jen Shah How She Got Her Money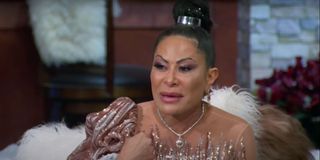 (Image credit: Bravo)
Things are not looking as "shah-mazing" as they once did for Real Housewives of Salt Lake City's Jen Shah. She and her assistant Stuart Smith were arrested on Tuesday for fraud and money laundering charges. The legal drama has shocked many fans of the newcomer to the Real Housewives franchise, but apparently this wasn't the first clue they were given. Andy Cohen actually asked Shah point-blank weeks ago how it was she got her money and lifestyle.
Jen Shah certainly didn't say she got her wealth from defrauding clients, as she's been accused. Andy Cohen first asked Shah at the wacky first Real Housewives of Salt Lake City reunion special that aired on February 10 how she got so dang rich that she could live in a sprawling chalet estate and have a multitude of assistants for her "Shah Squad." Her answer was a bit cagey at the time:
Direct response marketing entails making a targeted offer of a product to a pre-selected or specific customer, in order to generate leads. In simpler terms, it's like when you are offered a free trial for a Hulu subscription, but you have to set up an account with your name and email. If it still sounds confusing, you're not the only one. Jen Shah's Real Housewives of Salt Lake City co-star Heather Gay said at the reunion that she still didn't understand Shah's exact business dealings, saying, "I don't know what she does, but I like it."
Jen Shah's claim that she made her money from direct response marketing can be seen in the current charges set against her. According to the Department of Justice's U.S. Attorney's Office for the Southern District of New York, Shah and Stuart Smith were indicted for "conspiracy to commit wire fraud in connection with telemarketing and conspiracy to commit money laundering," which could result in up to 30 years in prison if found guilty. Allegedly, the two deceptively sold "business services" to "hundreds of victims," most "over age 55." The Manhattan U.S. Attorney Audrey Strauss said,
But Jen Shah only spent a few hours behind bars after being taken into federal custody. According to Radar Online, no bail was requested by prosecutors, but she cannot leave the state of Utah. This poses a problem, considering that the reality star was said to be in the midst of filming for a group trip for Season 2 of Real Housewives of Salt Lake City at the time of her arrest.
No doubt this is a scary situation for Jen Shah and the future of her business. However, at the very least, an arrest warrant and previous controversy can still solidify one's place in the Real Housewives franchise – just look at Teresa Giudice. Either way, the appalled reactions to Shah's arrest from her castmates will surely be a doozy to see in Season 2.
Movies and TV News Writer
Freelance writer. Favs: film history, reality TV, astronomy, French fries.
Your Daily Blend of Entertainment News
Thank you for signing up to CinemaBlend. You will receive a verification email shortly.
There was a problem. Please refresh the page and try again.