Real Housewives Of Salt Lake City's Heather Gay Was Completely Different During The Reunion, But Is That A Good Thing?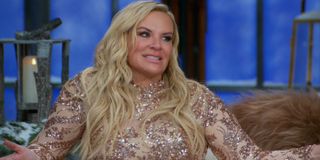 (Image credit: Bravo)
Real Housewives of Salt Lake City is only in its freshman season, but a lot has already gone down. Most of the season's drama has been focused on Jen Shah and her incredibly short fuse, so much so that it was a total surprise to watch the reunion and see her fellow cast-mate Heather Gay pull a complete 180 from what we saw of her personality in the show. Which has now sparked the question: is Gay's transformation a good thing for the Real Housewives of Salt Lake City?
The change could be a potential way for Heather Gay to position herself into a more Queen Bee role in Season 2 of Real Housewives of Salt Lake City. It wouldn't be the first time a housewife has done this, of course. But it may be too quick for Gay, and even a little disappointing for fans who loved her during Season 1.
The ever-expanding Real Housewives franchise is well-known for throwing (or editing) the women into typical tropes: you're either the hero or the villain of the season. Very rarely is there a go-between that is championed, but that is somehow exactly what happened to Heather Gay in the first season of Real Housewives of Salt Lake City. She supported the other cast members endlessly, and also opened up about her struggles accepting herself as a strong, independent woman. It was so humbling and genuine to see that fans came to love Heather Gay – even Rihanna sent her a private DM!
On the final Real Housewives of Salt Lake City reunion, though, Heather Gay was surprisingly ruthless and relentless to her other castmates. When always outspoken host Andy Cohen asked Lisa Barlow about Meredith Marks's marriage issues, Gay seemingly out of nowhere jumped down Barlow's neck when Barlow only mentioned how heartbroken she was about it. Gay was so far removed from this conversation that her lambast toward Lisa felt unjustified and mean-spirited.
Heather Gay continued her almost mean girl facade when the subject pivoted to Jen Shah during Part 3 of the reunion. Shah attempted to explain to the women how being silenced and called a "bully" and "terrifying" and "aggressive" by white people triggered her. Gay responded,
Heather Gay undoubtedly championed Jen Shah's behavior throughout the season, but her choice at the reunion to downplay Shah's feelings on this sensitive topic felt unnecessarily cold. She passively remarked, "When have I marginalized you, babe?" Shah had to leave the stage and have a full-on breakdown in her dressing room. The Heather Gay that was a relatable ally seemed long gone at that point.
On the other hand, many fans of the show have loved to see Heather Gay come into her own and be confident in herself. One fan called Gay a "trailblazer," while another said her journey was "compelling."
As a business owner and single mom of three girls, of course it was amazing to see Heather Gay come out of her negative perception of herself. But there does come a point when confidence can quickly spill over into cockiness, which can breed its own form of Housewives trope. For Gay's sake, let's hope that won't be the case in Season 2.
This poll is no longer available.
Movies and TV News Writer
Freelance writer. Favs: film history, reality TV, astronomy, French fries.
Your Daily Blend of Entertainment News
Thank you for signing up to CinemaBlend. You will receive a verification email shortly.
There was a problem. Please refresh the page and try again.