Real Housewives Star Jen Shah Is Apparently Trying Hard To Make Leaked Audio Controversy Go Away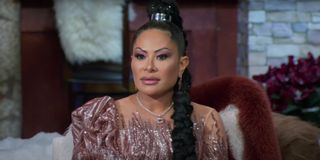 (Image credit: Bravo)
Real Housewives of Salt Lake City saw most of its freshman season's drama focused on the fiery and confident Jen Shah. Her extremely short fuse was inflamed countless times while dealing with the other women of Bravo's newest spinoff, forcing the marketing executive to backpedal her angered reactions more than once. Though the first season is now over, Shah recently made headlines anew for a controversial piece of leaked audio that paints the star in more unpleasant light, and she's trying hard to sweep that situation under the metaphorical rug.
The leaked audio, which was prominently shared on social media, features a lot of cursing and threats allegedly voiced by Jen Shah, who was reportedly speaking to a former employee of her "Shah Squad." Page Six confirmed on Thursday with Shah's lawyer David Reymann that the Real Housewives of Salt Lake City stand-out is formally issuing cease-and-desist letters to social media users that are reposting the controversial audio. According to the lawyer, the leaked content was "unlawfully acquired from the Shahs' home security system."
The audio in question has been circulating for a few weeks now, so a bulk of the damage is already done. Jen Shah hadn't made any public statements either condemning it or denying it, and these cease-and-desist letters technically count as her first response. That said, former employee Koa Johnson confirmed that it was him in the clip being threatened and cursed out by Shah, whom he'd worked for 10 months last year. Johnson stated,
It would appear that Jen Shah's lawyers seemingly proved that the leaked audio is legitimate, not only because they're trying to squash it from spreading, but also because they clearly stated it (perhaps unlawfully) came from Shahs' own home security footage. That back-ended confirmation seemed to work against her clear efforts to want to make the controversy disappear entirely.
In the audio, Real Housewives of Salt Lake City Jen Shah is allegedly screaming profanities at one of her employees for not doing their job to her standards. But it seems to take a violent turn as the woman's voice says she will "beat the shit" out of the person, among other berating comments in the 13-minute-long tirade. Take this expletive-heavy quote, for instance:
Jen Shah still hasn't officially admitted that it was her in the leaked clip, to be sure, but anyone who watched this past season of Real Housewives of Salt Lake City can spot one of Shah's nuclear-level tantrum from miles away. Shah was seen throughout the season getting verbally and physically heated with her other castmates. At one point, Jen Shah broke a glass at her husband's birthday party after she was told that the other ladies were "afraid" of her. She also was seen getting in the faces of the other women during the Vegas trip, and even slightly pushing co-star Heather Gay.
Jen Shah is notorious now from Real Housewives of Salt Lake City for anger that pushes her into screaming matches. But we also learned from the reunion that Shah felt pushed and stereotyped in those circumstances due to being one of the only women of color (alongside Mary Cosby) in a group of white women. That doesn't excuse the behavior heard in the leaked audio, but it might give Shah's fans reason to pause and wonder about the validity or reason behind the leak.
It has been quiet on Jen Shah's Twitter since the reunion aired. But the streets are hot for the reality star – perhaps she's keeping a low profile until Real Housewives of Salt Lake City Season 2 to give her side of the matter.
Movies and TV News Writer
Freelance writer. Favs: film history, reality TV, astronomy, French fries.
Your Daily Blend of Entertainment News
Thank you for signing up to CinemaBlend. You will receive a verification email shortly.
There was a problem. Please refresh the page and try again.