Aladdin's Nasim Pedrad Hopes Fans Can Empathize With TBS' Chad, Even When He's Being Ridiculous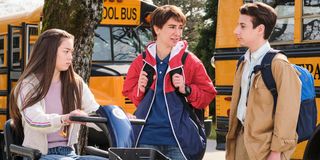 Whether it's light with dark twists like Netflix's Ginny and Georgia, more gritty like Euphoria on HBO, or anything in between like the CW's All American, there are plenty of shows exploring adolescence. But nothing is quite like Chad, a new TBS sitcom written and executive produced by Aladdin star Nasim Pedrad. The comedy follows 14-year-old Chad (played by Pedrad) as he tries to figure out his identity and Pedrad hopes people can empathize with this character even when he's being ridiculous.
Nasim Pedrad has said she wrote Chad to explore the awkwardness of her own adolescence, and many of the characters are inspired by people from her own life. On top of navigating high school, Chad is exploring his identity as an immigrant and wants above all else to fit in with a group of kids that are seemingly nothing like him. This leads to many outrageous actions, and Pedrad shared the following with CinemaBlend about empathy:
So the hope is for viewers to be able to empathize with Chad, which shouldn't be difficult given the universal quest for belonging. As Pedrad mentioned, Chad minimizes a large part of his identity because he's not yet comfortable with it. We learn very early in the show that he's legally changed his name, as you can see in the clip below.
As seen in the clip, Chad has a lot of learning and growing to do. His lack of comfort with his identity makes for very interesting storylines down the line as he learns more about his culture from his uncle. Even without the experience of being an immigrant or even being a young boy, most viewers will be able to relate to the aspect of this character that just wants to be accepted by the people around him. Nasim Pedrad also shared the following:
There's a quote from 17 Again that I love and feel perfectly sums up being a teenager: When you're young, everything feels like the end of the world, but it's not. This is a perfect description of how Chad sees the world. He has very strong feelings and opinions about everything that happens and a specific idea of what he needs to do for things to go his way. Understanding that in Chad's mind, the world as he knows it will end if things don't go according to plan makes him a very relatable young character.
Season 1 of Chad premieres April 6 on TBS. Connect with us on social media and let us know what you think of the first episode and how you can relate to Chad. If you love teen drama, we went through some of the best and created the ultimate cast.
Your Daily Blend of Entertainment News
Obsessed with Hamilton and most things Disney. Gets too attached to TV show characters. Loves a good thriller, but will only tolerate so much blood.
Your Daily Blend of Entertainment News
Thank you for signing up to CinemaBlend. You will receive a verification email shortly.
There was a problem. Please refresh the page and try again.