What's Going On With Euphoria Season 2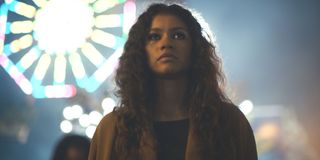 When the the trippy and controversial HBO drama Euphoria wrapped up its first season a little more than a year-and-a-half ago, it seemed like it wouldn't be long until the show's dedicated fans would see how things played out for Zendaya's Rue and the rest of the cast in the long-run. And even though the world was treated to two special episodes in late 2020 and early 2021, the long-awaited Euphoria Season 2 has yet to premiere and even enter production.
So, what's going on with Euphoria Season 2 and when can everyone expect to see the return of Sam Levinson's award-winning teen drama? Well, unlike other HBO shows that have seemingly been lost to time, there has actually been a lot going on with the popular the subversive television series. In addition to those two COVID episodes, the cast and crew have been putting in a lot of work behind the scenes to get ready for the show's eventual return. Here's everything that's happened since the show's second season was first announced.
HBO Renewed Euphoria For Season 2 In July 2019
Before the popular HBO series had even completed its first season back in the summer of 2019, HBO gave Sam Levinson and company the greenlight to proceed with Euphoria Season 2. Shortly after the airing of "Shook Ones, Pt. II" (a nod to Mobb Deep's smash hit from the group's 1995 sophomore effort The Infamous), the premium cable outlet gave the show's creator the opportunity to further expand the world of Euphoria, per Deadline.
At the time, the series was drawing in 609,000 viewers in HBO's 10 p.m. slot, and had continued to grow with each passing episode, so much so that it became one of the most-watched TV shows in 2019. With numbers like that and permission to proceed with the gripping and transfixing narrative, things looked to be on the up and up for Euphoria.
Euphoria Season 2 Was Gearing Up For Production Prior To COVID-19 Shutdowns In March 2020
Although cameras had yet to start to rolling on Euphoria Season 2 back in early 2020, the cast had already started to get back together to perform table reads while gearing up for the production of the show's sophomore season. The official Euphoria Instagram account (via EW) shared an image on March 11, 2020, showing Zendaya and Angus Cloud going over their lines at a table read with other members of the cast and crew sitting behind them. The image was accompanied by a caption that read: "Here we go!" making it seem like the gears were already in motion.
Shortly after the post was published, however, the entertainment industry and most of the world went into a full-on shutdown with more to follow in subsequent months, all of which pushed production back on Euphoria Season 2.
In August 2020, Zendaya Said The 'Beautiful' Season 2 Would Enter Production Once It Was Safe
As the year went on and Hollywood finally started to get back into the swing of things, Euphoria star Zendaya sat down with InStyle Magazine for an all-encompassing interview about everything for social issues in America to COVID to her career before talking about the latest status of the HBO series. During the conversation, the future Emmy winner had this to say about the prolonged delays:
Zendaya would go on to talk about the idea that would eventually become the Euphoria special episodes that served as a bridge between the shows first and second seasons. Speaking of which…
HBO Announced Two Euphoria Special Episodes For Late 2020, Early 2021
It wasn't all bad news for Euphoria fans in 2020 as HBO announced that it would air two special episodes with the first premiering in December 2020 and the second following shortly behind in January 2021. And while these episodes were much smaller in scope and featured only a handful of the cast members, finally getting to find out what happened to Rue and Jules following the shocking Season 1 finale was a nice way to drum up interest in the series heading into Season 2.
Euphoria Season 2 Is Now Set To Enter Production In March 2021
Before the second of two special episodes aired in January 2021, Euphoria creator Sam Levinson appeared on IndieWire's Filmmaker Toolkit podcast (via IndieWire) to discuss his Netflix movie Malcolm & Marie starring Zendaya and John David Washington that was shot during quarantine. During that conversation, Levinson revealed that the plan was to start filming the second season of the HBO series in late March. If that wasn't enough, Levinson also revealed on the podcast that he and the rest of the cast and crew were planning on having those new episodes air by the end of the year.
A Casting Call Seeking A Lead And Recurring Role Expires In March 2021
In February 2021, the casting company Backstage announced that two actors were being sought for roles in the upcoming Euphoria Season 2. One of the casting calls was for a main character named Jamieson who would serve as a season lead with the other being for recurring character named Bruce who would appear in more of a guest role.
Interesting enough, the casting call, which is set to expire on March 15, calls for the production to get underway April 5 in Los Angeles, which wouldn't be too far removed from Sam Levinson's original plan to start filming at the end of March.
Barbie Ferreira Called Euphoria Season 2 'Fantastical And Trippy' In March 2021
The hype train for Euphoria Season 2 continued to build momentum in early March 2021 when Barbie Ferreira, who portrays Katherine "Kat" Hernandez on the hit HBO series, sat down for an interview with CR Fashion Book provided some insight into what fans should expect, stating:
That certainly is saying something considering the trippy, fantastical, and raw narrative featured throughout the Euphoria Season 1.
By the sounds of it, Euphoria Season 2 will pick up where things left off with the show's first season (and those two specials) when it returns at some point in the near future. Looking for something to check out in the meantime? Take a look at CinemaBlend's 2021 Spring TV Schedule for all the latest on the latest and greatest the small screen has to offer.
Philip grew up in Louisiana (not New Orleans) before moving to St. Louis after graduating from Louisiana State University-Shreveport. When he's not writing about movies or television, Philip can be found being chased by his three kids, telling his dogs to stop yelling at the mailman, or yelling about professional wrestling to his wife. If the stars properly align, he will talk about For Love Of The Game being the best baseball movie of all time.
Your Daily Blend of Entertainment News
Thank you for signing up to CinemaBlend. You will receive a verification email shortly.
There was a problem. Please refresh the page and try again.