All American: 8 Shows To Watch On Streaming If You Like The CW Series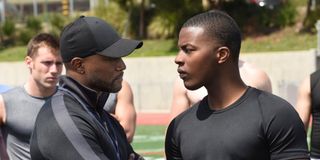 There is no network like The CW when it comes to quality entertainment primarily crafted with a younger audience in mind, whether it's series based on a comic book, a game show all about magic, or the lengthy chronicle of two brothers' war against things that go bump in the night. However, it is the simple story of one teenage football prodigy's attempts to fit into a new environment on All American that has captured the hearts of millions.
Loosely based on the life of former New York Giants linebacker Spencer Paysinger and created by You writer April Blair, All American stars British actor Daniel Ezra as Spencer James, a young star football player from South Central who finds himself becoming the outsider of a new team when he is transferred to play for a high school in Beverly Hills. The drama, which has been renewed for a third season due in early 2021, was actually not a huge success when it first premiered on The CW, but would later find its audience after topping the charts of Netflix's most streamed TV shows when it hit the digital platform in 2020.
That being said, I would not be surprised if you already binged through the first two seasons and have since browsed Netflix in search of something else to bide your time as you wait for its return to network television. Well, we can help narrow down your search by recommending even more TV shows with all the same teen angst, passionate romance, societal commentary and, in most of these titles, exciting athleticism that you get from All American. The following eight TV shows remind us the most of what we like about the The CW original, starting with one that also expertly captures the life of the high school athlete.
Friday Night Lights (Hulu, Peacock, IMDb TV)
Members of the Panthers, Dillon High School's football team, and their head coach Eric Taylor (Emmy winner Kyle Chandler) encounter tremendous highs and just as many crushing lows as they work to maintain their reputation as the "pride and joy" of their Texas town.
Why All American Fans Will Like It: Created by Peter Berg, who also directed the acclaimed 2004 sports drama the series is based on, Friday Night Lights was essentially the "pride of joy" of NBC for a while, and was a pivotal stepping stone for several future A-listers, including Michael B. Jordan, Minka Kelly, Jesse Plemons, and Jurnee Smollett, to name a few.
Stream Friday Night Lights on Hulu here (opens in new tab), on Peacock here (opens in new tab), or on IMDb TV here.
Pitch (Hulu)
A talented baseball pitcher (Kylie Bunbury) makes history when she becomes the first woman signed to play for a major league team.
Why All American Fans Will Like It: Like Spencer James on All American, Kylie Bunbury's character Ginny Baker on Pitch (which only lasted 10 episodes on Fox) is an athlete who knows what it is like to feel like a fish out of water when harsh gender politics, courtesy of her teammates on the San Diego Padres, put the pressure on her.
Stream Pitch on Hulu here (opens in new tab).
Make It Or Break It (Hulu)
It is Emily Kmetko (Chelsea Hobbs) who puts the pressure on her fellow athletes when she becomes the new recruit on a prestigious team of young gymnasts with a hunger for Olympic gold.
Why All American Fans Will Like It: Running for three seasons on Freeform (when it was still called ABC Family, that is) Make It or Break It pulls up the mat to uncover the dog-eat-dog world of gymnastics through the eyes of four teammates whose ambition tends to get in the way of friendship.
Stream Make It Or Break It on Hulu here (opens in new tab).
Never Have I Ever (Netflix)
Devi, a first generation Indian American teenager played by Maitreyi Ramakrishnan, succumbs to a different kind of pressure as she tries to juggle social ambitions with family expectations during her sophomore year of high school.
Why All American Fans Will Like It: Inspired by the early experiences of co-creator Mindy Kaling, Never Have I Ever is a refreshingly poignant and hilariously sweet new Netflix original sitcom that, like All American, sheds light on the unnoticed culture clash that teens experience on a daily basis.
Stream Never Have I Ever on Netflix here (opens in new tab).
Outer Banks (Netflix)
A teenager (Chase Stokes) and his friends make a discovery that points them in the direction of a multi-million dollar loot, but soon learn that hunting for such a massive fortune comes with a price.
Why All American Fans Will Like It: The goal for the young cast of Outer Banks may not be to win a sports championship, but the stakes involved with achieving their coveted prize are far higher in this addictive, Netflix original crime thriller with one season under its belt so far.
Stream Outer Banks on Netflix here (opens in new tab).
Euphoria (HBO Max)
Addiction, sexuality, and other harsh circumstances consume the lives of a group of high school students merely hoping to make it day by day.
Why All American Fans Will Like It: Drugs, sexual identity, and other issues teens experience on a typical basis are major themes of All American, but, once again, it is much harsher for the cast of Sam Levinson's HBO drama Euphoria, led by Zendaya in an Emmy-winning performance that is miles away from her years as a Disney Channel favorite.
Stream Euphoria on HBO Max here (opens in new tab).
Riverdale (Netflix, The CW)
Archie (K.J. Apa), Betty (Lili Reinhart), Jughead (Cole Sprouse), Veronica (Camila Mendes), and other youths endure the burden of disturbing and violent issues affecting their small American town.
Why All American Fans Will Like It: Lead character Archie Andrews is a football player on Riverdale (which is about to enter its fifth season), but that is the tip of the iceberg of how this hit teen drama inspired by the popular comic book relates to its CW neighbor, All American.
Stream Riverdale on Netflix here (opens in new tab) or The CW here.
Private Practice (Netflix, Hulu, IMDb TV)
After leaving Seattle Grace Hospital, Dr. Addison Montgomery (Kate Walsh) continues her career in neonatal surgery in Los Angeles.
Why All American Fans Will Like It: While you are not going find the same kind of romantic drama and even less of the sports references you would find on All American, at least you can see Taye Diggs (Coach Billy Baker) as Dr. Sam Bennett on all six seasons of Private Practice, Shonda Rhimes' hit spin-off from Grey's Anatomy.
Stream Private Practice on Netflix here (opens in new tab), on Hulu here (opens in new tab), or on IMDb TV here.
What do you think? Will you gladly follow your All American binge with Private Practice (since Taye Diggs was the reason you were watching in the first place), or are you willing to be patient in lieu of watching any of these TV shows? Let us know in the comments and be sure to check back for additional information and updates on the hit teen sports drama, as well as even more or our own recommendations of what you can stream right now, here on CinemaBlend.