Huge Wheel Of Fortune Win Nearly Derailed By Vanna White Getting Smacked With Confetti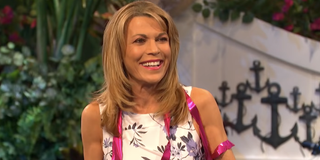 Putting together a TV show is quite an endeavor no matter what it may be about, but the difficulty probably increases a bit whenever you're dealing with a game show such as Wheel of Fortune. Not only do you have several people on each episode who will likely not be used to being on camera, but there are a lot of set pieces which have to work correctly and if anything fails at any time during game play, it could throw a pretty big wrench into the whole show. Well, there was a minor malfunction recently, when a contestant's huge win was almost derailed by Vanna White getting smacked with confetti.
While host Pat Sajak has been known, especially lately, to give viewers at home pause by letting his sense of humor take some turns they don't approve of, this incident, thankfully, had nothing to do with Sajak pelting his long-time letter-turner, Vanna White, as some kind of poorly planned joke. Everything starts off normally enough. Contestant Laura spins the bonus round wheel, Sajak pulls the card, White turns the letters and Laura correctly solves the puzzle, which leads to her becoming the first person ever in Wheel of Fortune history to win a home, for a total prize of $398,690. Unfortunately, this is when things got a little tricky for White.
From the video posted to the Wheel of Fortune YouTube page, you can see that after Sajak announces Laura's prize, the celebrating begins. Laura's trying to have as reserved of a freak out as possible, and while Vanna White comes over from her letter-turning station to help close out the show, a burst of confetti and streamers descend from the ceiling of the studio. While that sounds lovely and most appropriate on paper, apparently White was hit in the face as she crossed the stage, leading Sajak to call the moment out when they returned from break:
Even though Vanna White responded to the moment (and Sajak pointing it out with way too much glee on camera) by simply yelling "I know!" and laughing along with the host, it almost certainly startled her for a few seconds. In the video, you can only see her block her face and swat at the confetti as she crosses to join Sajak, and that is probably her ultimate professionalism at work, because many of us would not have been so calm when a scratchy flying object appeared to threaten our vision, audience and rolling cameras or no.
Actually, from the look on Vanna White's face when she plays along with Sajak's decision to out her near trauma after she did a very good job of playing it off, I'd say that she may have had a bit of a talking to with her partner in Wheel of Fortune crime once this taping was finished. You can take a look at the video for yourself, and see how well Ms. White acquitted herself when being assaulted by confetti, and then decide if her laughing it off with Sajak was real or a precursor to a "hey, how 'bout we don't" conversation afterward, below:
Whether or not Vanna White had words with Pat Sajak after he outed her confetti conundrum, she certainly held it together for new winner Laura, and we'd expect nothing less from her.
Wheel of Fortune airs every weekday, so be sure to check your local listings for the time and channel.
Your Daily Blend of Entertainment News
Yennefer's apprentice, Gilmore Girl; will Vulcan nerve pinch pretty much anyone if prompted with cheese...Yes, even Jamie Fraser.
Your Daily Blend of Entertainment News
Thank you for signing up to CinemaBlend. You will receive a verification email shortly.
There was a problem. Please refresh the page and try again.