Is Wheel Of Fortune Trying To Replace Pat Sajak?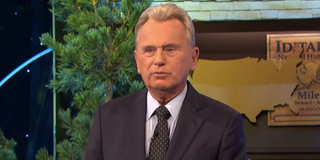 Even if you're not much of a game show fan, you likely know of Pat Sajak and his work as the long-time host of Wheel of Fortune. While there are millions of people who are fans of the host because of his long tenure on the show, Sajak entered the pop culture lexicon many, many moons ago, and has been a TV fixture at his post for so long that he actually holds the Guinness World Record for being the longest-running game show host. After a few recent slip-ups on the ever popular series, though, could Wheel of Fortune's producers be looking to replace Sajak?
Here's what's supposedly going on. According to OK! Magazine, producers for Wheel of Fortune are, allegedly, none too pleased with Pat Sajak for a number of recent on-air incidents which have called into question whether or not he may be past his game show hosting prime. Now, reportedly, the producers are seriously considering making the big change of removing him from his post, at least for a time. An anonymous source said that Sajak "just hasn't been the same since" he had to leave Wheel for an emergency procedure in late 2019, adding:
So, what's been happening? For starters, he opened the grand prize envelope early during an episode last month. This was easily laughed off, even though it was something which had never happened before. But, the most recent, and probably what many fans would argue was the worst of these such events, happened toward the end of February, when Sajak appeared to mock contestant Chris Brimble's lisp right to his face.
While you might think the moment where Sajak mimicked a contestant's speech impediment back to him shouldn't have been a big deal, especially since Brimble himself laughed it off in the moment and hasn't made an issue of it since his episode aired, that is not the case. It offended many fans, with some of them even calling for Sajak to resign over it, and several noting on social media that his choice was especially bad because of how long Sajak has been at the job and working with a wide variety of people on a daily basis. Basically, fans believe he really should have known better, and they're not happy.
Of course, as mentioned earlier, it's not like this is the only suspect behavior which viewers have seen from Pat Sajak in recent months, and that's allegedly adding to the worry from Wheel of Fortune's producers that he's no longer capable of bringing his best to each taping. While he's been known for having a quick wit and a fairly dry sense of humor in his nearly 40 years hosting the show, the issues started in late November 2020, when fans began noticing a change in the way Sajak handled contestants.
First, he (seemingly jokingly) yelled at contestant Darin McBain, after the man questioned one of the correct answers to a puzzle, and Sajak yelled that he was being argumentative and then lumped him him with a group of "ungrateful players" before saying he was actually just joking. A few days later, though Sajak did not appear to be joking when contestant Sheryl Senet spun the wheel before she was supposed to and also interrupted him a couple of times, including once when he was trying to do a sponsor plug, leading him to scold her by saying, "Never, never interrupt. Never interrupt a plug!"
In another episode from late 2020, Pat Sajak also made a joke, which was then one-upped by a contestant, and he was seen immediately giving that man a very serious-looking stare down afterward.
Sajak has come back from each of these incidents, which all saw fans speaking out against his behavior to some degree on social media, by smiling and/or laughing soon after and moving on with the game, but a lot of people see it as him becoming way too mean spirited with his humor.
So far, Pat Sajak hasn't publicly apologized for appearing to make fun of Chris Brimble's lisp, and no one behind the show has spoken out to discuss his status with Wheel of Fortune. While the idea of Sajak being replaced over these occurrences is still very much in rumor-only territory at the moment, it's possible that fan uproar has led to some serious conversations behind the scenes on whether or not Pat Sajak should be relieved of his duties.
Obviously, we'll continue to follow the Pat Sajak story as it develops, but, for now, you can check your local listings to see when you can catch Wheel of Fortune. If you need more to watch on the small screen, check out our guide to early 2021 premieres!
Your Daily Blend of Entertainment News
Yennefer's apprentice, Gilmore Girl; will Vulcan nerve pinch pretty much anyone if prompted with cheese...Yes, even Jamie Fraser.