The Leftovers Star And Jen Aniston's Ex Justin Theroux Gets Called Out By Uncle For Pronouncing His Own Name Wrong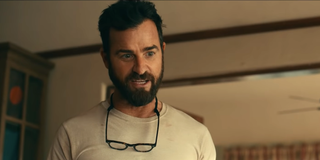 Look, sometimes families are weird. Not everyone in a familial unit will always agree on the right or wrong way to do things, and while any tension which may come from that is usually internal, often this will not be the case if several family members are actually famous. The Leftovers star (and Jennifer Aniston's ex) Justin Theroux found this out recently, when his uncle publicly called him out for pronouncing his very own last name wrong.
If you're wondering why any media outlet was talking to Justin Theroux's uncle, Paul Theroux, then it's likely that you're unaware that the older man wrote the novel The Mosquito Coast, which is relatively understandable, as the book came out in 1981. The elder Theroux's story was made into a 1986 film starring Harrison Ford, and now Theroux's nephew is leading a television adaptation for Apple TV+. In a new featurette on the show, which was posted to the streamer's YouTube page, Theroux put his younger relative on blast for openly pronouncing their surname wrong, and noted:
Aw, man! Just when we all thought we had someone's name correct, Paul Theroux comes along and sets us straight! Now, Theroux seemed to at least have a bit of a sense of humor about Justin Theroux saying their name wrong (he did laugh a little bit while explaining the mistake), but it's clear that Justin and his uncle Paul have at least one difference they may not be able to come to an agreement on.
As the novelist, who also executive produced The Mosquito Coast series alongside his nephew, explained, their surname is French and should be pronounced with an "oo" at the end, as opposed to the "oh" we've all come to know. While this is hardly an Earth-shattering discovery, one might be wondering why Justin Theroux says the name the way he does. Did he not know this is the correct pronunciation?
Obviously, that's possible. In the featurette, Theroux doesn't respond to his uncle's note about their shared name either way. But, because Theroux has been a public figure for many years, there are other possibilities as to why he says his name the way he does. If you're old enough, you probably remember how long it took to get used to saying Schwarzenegger (Hi, Arnold!) and Zellweger (Hey, Renée!). It's entirely possible that when Theroux was starting out he did say his name the French way, but everyone kept mispronouncing it, so he just gave up on correcting people.
We've had a few stars come out recently and admit that they've allowed people to mispronounce their names lately. Music superstar turned fashion / beauty mogul Rihanna has quietly been saying her name the right way for many moons, while letting nearly everyone else say it wrong. Model Chrissy Teigen had to admit that she feels so bad about correcting folks, that she simply never made her last name an issue.
The Westworld star formerly credited as Thandie Newton told British Vogue about how her actual first name of Thandiwe has been misspelled for decades. And, Khloé Kardashian's mom, Kris Jenner, had to explain to most of the family recently that they (and everyone else) have all been saying Khloé's name wrong, as no one says it with the accent on the end.
We might never know whether or not Justin Theroux cares about how people say his last name, but you can bet that if you ever talk to Paul, you better call him Mr. Ther-oo.
The Mosquito Coast premieres April 30, on Apple TV+, but for more to watch, you can check out our list of other major TV and steaming premieres in April 2021!
Bachelor Nation, Gilmore Girl; will Vulcan nerve pinch pretty much anyone if prompted with cheese...Yes, even Jamie Fraser.
Your Daily Blend of Entertainment News
Thank you for signing up to CinemaBlend. You will receive a verification email shortly.
There was a problem. Please refresh the page and try again.