Bradley Cooper And 11 Other Actors You Probably Forgot Were In Sex And The City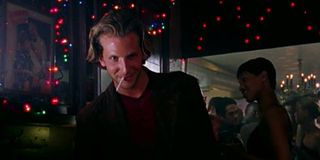 With any great television show from the '90s there are dozens of movie and TV stars who appeared in small and largely forgotten roles early in their career. And while nothing will ever compare to all the guest stars and bit players who appeared on Law & Order over the years, the groundbreaking HBO romantic comedy series Sex and the City will give the two separate yet equally important groups a run for their money, especially when you consider the likes of Bradley Cooper, Timothy Olyphant, and Elizabeth Banks all appeared at one point or another.
In fact, there are dozens of future big-name actors who showed up for either one scene or a short-lived relationship with Carrie Bradshaw, Samantha Jones, Miranda Hobbes, Charlotte York, and even Mr. Big, whose actor, Chris Noth, just so happened to appear on Law & Order as well, bringing this whole thing full circle. Here are just 12 of the many famous faces who appeared on Sex and the City before they were well-known entities and just struggling actors looking for a big break in the city that never sleeps.
Bradley Cooper (Jake)
More than five years before Bradley Cooper became a comedy legend in the making with his portrayal of Zachary "Sack" Lodge in 2005's Wedding Crashers, the young actor got his first credit with an appearance in a 1999 episode of Sex and the City. In the early Season 2 episode, "They Shoot Single People, Don't They?" Cooper played a young and cocky New Yorker who at first hits things off with Carrie Bradshaw (Sarah Jessica Parker), but things go south when he makes a comment about the New York Star columnist's unflattering picture on the cover of New York Magazine.
John Slattery (Bill Kelley)
No one will hold anything against you if you think that John Slattery's career began with his Emmy-nominated portrayal of New York City advertising whiz Roger Sterling on the AMC drama Mad Men, but the man who would one day play Tony Stark's father in the Marvel Cinematic Universe had a long list of bit roles and one-off performances prior to his time at Sterling Cooper. One of those not-so-early, yet sometimes overlooked roles came in the form of Bill Kelley, the New York City comptroller candidate whose two-episode arc in Sex and the City Season 3, and political aspirations, went south when Carrie wrote about a certain politician who wants nothing more than for his lovers to pee on him in the shower.
Bridget Moynahan (Natasha Naginsky)
Bridget Moynahan, who would go on to star in CBS' Blue Bloods and appear in movies like The Sum of All Fears, Coyote Ugly, and John Wick, where she played the deceased wife of Keanu Reeve's pained assassin, got her first big acting break on Sex and the City where she appeared sporadically throughout Seasons 2 and 3 as Natasha Naginsky, Mr. Big's 20-something girlfriend who eventually becomes the second wife of Carrie's on-again-off-again boyfriend before things take a turn near the end of her 7-episode run.
Ron Livingston (Jack Berger)
Ron Livingston, who had already appeared in Office Space and Band of Brothers at this point, was a major part of Carrie Bradshaw's love life and weekly column in Seasons 5 and 6 of Sex of the City, when he portrayed the sardonic yet talented humorist writer Jack Berger. Jack had a few great moments throughout his brief run on the HBO romantic comedy, but none of that means anything once you remember how things ended for his relationship with Carrie: a Post-it note reading, "I'm sorry, I can't, don't hate me."
Timothy Olyphant (Sam)
Timothy Olyphant, who had already appeared in movies like The First Wives Club and Scream 2 but hadn't yet shown up in Gone in 60 Seconds or Rock Star, appeared in an early episode of Sex and the City Season 1 as Sam, one of the many 20-somethings that the show's central cast would date or at least hook up with throughout its duration. In the perfectly titled episode, "Valley of the Twentysomething Guys," Carrie quickly learns just because someone is young and attractive, it doesn't mean they are a suitable partner, especially when they have an awful apartment with no toilet paper.
Will Arnett (Jack)
For most of the 21st Century, Will Arnett has been considered one of the funniest television stars of his time thanks to shows like Arrested Development, BoJack Horseman, and countless others, but all future stars of the small screen have to start somewhere, and what better place than Sex and the City. Appearing in the second half of Season 2, Arnett played Jack, one of Miranda's (Cynthia Nixon) many suitors, but his weird sexual desires were a little too much for the feisty attorney.
Kat Dennings (Jenny Brier)
Kat Dennings, who would go on to have a successful comedy series of her own with the CBS sitcom 2 Broke Girls later on in her career, started things off with her portrayal of Jenny Brier, Samantha Jones' (Kim Cattrall) foul-mouthed 13-year-old client who jumps between cussing, talking about hooking up with different men, and planning her over-the-top bat mitzvah near the end of Sex and the City Season 3.
Elizabeth Banks (Catherine)
Today, Elizabeth Banks is known as one of the most successful triple threats in show business with a number of successful movies that she directed, produced, and starred in over the years, but before all of that she was known as Elizabeth Maresal Mitchell. There are only a few credits with Banks' given name, and one happens to be Sex and the City, specifically the Season 3 episode where she portrayed Catherine, a partygoer at a fundraiser for Bill Kelley (John Slattery's pee-brained character).
Clark Gregg (Harris Bragen)
Clark Gregg, who happens to be the fourth person on this list to have appeared in both Sex and the City and the Marvel Cinematic Universe, showed up in a Season 3 episode where Miranda is looking for a date to Charlotte's wedding and turns to a speed dating service to get the job done. After lying about her career, she meets Harris Bragen (Gregg), and things take off for a bit, but when Miranda can no longer act like a flight attendant, the pair comes back to earth.
Justin Theroux (Jared, Vaughn Wysel)
This is something you don't see everyday, but Justin Theroux played not one, but two different characters on Sex and the City. During his Season 1 appearance, Theroux, who had only taken on small roles in Ally McBeal and Romy and Michele's High School Reunion at this point, played Jared, an author with an eye for Carrie. Theroux would return in Season 2, this time playing Vaughn Wysel, a completely different writer who ends up with Carrie, but has some trouble when he's needed the most.
Tony Hale (Tiger)
Tony Hale, the future star of shows like Arrested Development, Veep, and dozens of theatrical releases, had one of his first television appearances on Sex and the City, where he showed up briefly in Season 4 as the assistant to nude photographer snapping pics of Samantha Jones. The episode, and all its awkwardness, is still something Hale talks about to this day.
Andy Cohen (Shoe Salesman)
Andy Cohen, the future host of Watch What Happens Live with Andy Cohen, has one acting credit to his name, which just so happens to be Sex and the City. Appearing briefly in Season 6, Cohen played a shoe salesman helping Carrie find the perfect shoe. This wasn't the first time (though it is his only credited role) Cohen appeared on the show, as he showed up as a shirtless guy at a gay bar in Season 4.
These are just a few of the future stars who ended up on Sex and the City during the show's original run. Did you know about all these soon-to-be famous faces on one of the most popular shows of the past 25 years? Make sure to sound off in the comments below.
Your Daily Blend of Entertainment News
Philip grew up in Louisiana (not New Orleans) before moving to St. Louis after graduating from Louisiana State University-Shreveport. When he's not writing about movies or television, Philip can be found being chased by his three kids, telling his dogs to stop yelling at the mailman, or yelling about professional wrestling to his wife. If the stars properly align, he will talk about For Love Of The Game being the best baseball movie of all time.