Below Deck's Daisy Reveals That Days Off Are For Bikinis And Fighting Words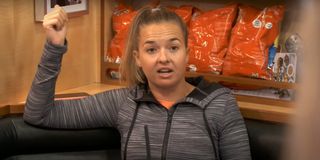 (Image credit: Bravo)
Below Deck Sailing Yacht is delivering on its early promises that quarantined yachties are a messy recipe for angry, sex fiends with too much time and drama on their hands. As chief stewardess of the Parsifal and Season 2 of Below Deck Sailing Yacht, Daisy Kelliher took the time to commemorate the latest episode that saw everything from boat crashes to relationship clashes. In short, crew days off are, apparently, for bikinis and fighting words only.
The May 10the episode of Below Deck Sailing Yacht will live in Below Deck infamy as probably one of the wildest episodes ever produced by the franchise. It had layers of drama – Sydney vs. Alli vs. Gary, the 180-foot yacht vs. the dock, to name a few. But what was bound to happen did when Daisy Kelliher's feud with Gary King reignited once again on the crew's day off. Kelliher took to Instagram to post a throwback pic from the drama, only this time smiling in her bikini as she seemingly took another shot at King by saying, "Be prepared for me to come back at you twice as hard." See her full post here:
The Daisy-Kelliher-Gary King drama started off as what they've been fighting about all season: washing dishes. Well, Kelliher wanted more help for the interior, and King thinks it's not part of his job (even though the interior cleaned up his sexscapade on the first night). But Sydney Zaruba revealed to everyone on their day off that King actually told her not to offer any help to the interior.
This reveal sent Daisy Kelliher into a rage that kickstarted the feud once again. At one point, Gary King said something about Kelliher's boobs being fake, which she shot back at by saying they were as real as his personality. Earlier on, she lamented that she was tired of being labeled as the "bitch of the group" for wanting to do the best charters possible.
Apparently though, Daisy Kelliher doesn't exactly regret the war of words with Gary King, as seen through her throwback pic. But this isn't quite true for her other Below Deck Sailing Yacht co-stars. The boat's chef, Natasha de Bourg, who has been shown in her own feud with Kelliher, recently admitted that she was disappointed by her "defensive" behavior shown in recent episodes.
The Parsifal sailing yacht crashing into the dock, though, was even bigger than the Daisy Helliher and Gary King blowup. It was definitely a first for the show to see everyone's life be at risk multiple times in such a short span of time – first adrift at sea with no power and no sails and then an actual crash into the concrete dock due to the wind.
We'll have to wait and see if a matter of life-and-death was able to make the Below Deck Sailing Yacht team forget their petty squabbles. See how the saga continues to play out on May 17 at 9 p.m. ET on Bravo!
Freelance writer. Favs: film history, reality TV, astronomy, French fries.
Your Daily Blend of Entertainment News
Thank you for signing up to CinemaBlend. You will receive a verification email shortly.
There was a problem. Please refresh the page and try again.