Why Chicago Med Probably Isn't Giving Natalie A Happy Ending With Torrey DeVitto's Departure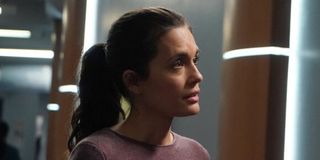 Warning: MAJOR SPOILERS ahead for the penultimate episode of Chicago Med Season 6 on NBC, called "Stories, Secrets, Half Truths And Lies."
The Season 6 finale of Chicago Med is only a week away, meaning that fans are just days from having to say goodbye to actresses Torrey DeVitto and Yaya DaCosta after six years as series regulars. While DaCosta's April Sexton seems poised to exit to pursue certification as a nurse practitioner, DeVitto's Natalie Manning is having a rough go of things in the final episodes before the finale, and "Stories, Secrets, Half Truths And Lies" leaves me pretty confident that there's no way for her to get a totally happy ending.
In "Stories, Secrets, Half Truths And Lies," the other shoe inevitably dropped when it came to Natalie's mom's incredible improvement after secretly being given Will's heart failure trial meds. Although Will jumped into the deep end of the whole mess in the previous episode when he agreed to keep supplying Natalie with the Kender drugs, Natalie is the one who stole the initial bottle of pills, so her mom's abrupt decline in health weighed heavily on her.
Plus, the reveal that the trial meds began to cause real damage to Carol happened due to a long undiagnosed case of hepatitis C; since those with hepatitis were screened out of the trial, this was valuable information for the study, which meant somebody coming clean to Dr. Virani. Meanwhile, Carol isn't out of the woods, suspicions are starting to grow that Manstead is starting up again, and Torrey DeVitto is on the way out. And there are reasons I don't find it likely that these issues can or will be resolved happily for Natalie over the course of the Season 6 finale. Read on for why!
Natalie's Career Might Be Doomed
At the end of the day, Natalie used her position at Med to steal drugs prescribed for somebody else to give to her mother, who hadn't been screened and whose meds hadn't been evaluated for reactions with each other. She did it without telling her mom or her colleagues, and only came clean to Will when she was caught. Will claimed responsibility for Carol getting the drug to Dr. Virani in this episode, but Natalie seems unlikely to let that slide once she finds out, especially since the promo for the finale realizes that Goodwin is going to fire Will for it.
Nick Gehlfuss is apparently sticking around, and Torrey DeVitto is not. When the truth comes to light beyond Will, Crockett, and Dr. Virani, which seems inevitable at this point, it could result in the end of Natalie's career at Med, if not medicine altogether. After all her years of work to establish herself in her career, that would be a downright tragic professional ending for Natalie, even if she did set herself up for it.
Carol Might Still Die
The adverse effects of the trial meds on Carol may have been offset enough for her to survive to the end of "Stories, Secrets, Half Truths And Lies," but she's still going to need a new heart, and she may not be entirely out of the woods yet when it comes to her liver, if Chicago Med is going to be especially hard on Natalie in the finale. Carol could very well die before Season 6 comes to an end next week, which would pile on the guilt for Natalie even further
Plus, even if her career isn't destroyed by what she did in stealing the trial meds, I could see the death of her mom due to what she did as enough for Natalie to leave her job at Med and even move away. It could set up Torrey DeVitto's departure without necessarily ruling out Natalie turning back up again as a doctor at some point, and her career remaining intact but her mother dying would certainly rule out a totally happy ending for Nat.
Natalie's Relationships Are Probably Doomed
Although "Stories, Secrets, Half Truths And Lies" built suspicions that Natalie and Will were getting back together, both of them denied it. And while the whole mess with the trial drugs and Natalie's mom seems to have tanked Will's chances at another go at a relationship with Dr. Virani, Natalie's emotional breakdown seemingly resulted in a reconciliation with Crockett as he learned what she had been keeping from him. Despite Will going to bat for her like he might have back in Med's Manstead days, and despite Crockett rising to the occasion of being there for her, Natalie's relationships with both men are probably doomed.
As noted, there has been no indication that Nick Gehlfuss is going anywhere as Will, and Dominic Rains hasn't shown any signs that he's leaving his role as Crockett. Both Torrey DeVitto and Yaya DaCosta confirmed their departures with messages on social media, so I think it's safe to say that Natalie's longest-running love interest in Will and latest romantic partner Crockett aren't going anywhere. And unless Chicago Med intends to put Natalie in an off-screen relationship with a Med character while Torrey DeVitto is gone, the good ships Manstead and Natalie/Crockett are probably going to be dead by the end of the Season 6 finale next week.
While it's entirely possible that not all of these worst-case scenarios will happen in Chicago Med's Season 6 finale (although my money is definitely on Natalie's relationships being doomed), any one of them happening would mean she doesn't get an entirely happy ending. To contrast, I'm thinking that the worst that will be able to be said about April's departure is that it's bittersweet because Med is losing a regular, similarly to how Chicago Fire wrote out Annie Ilonzeh's Foster last season.
And hey, maybe April's nurse practitioner program (assuming that's how she leaves) will take her closer to her brother after Noah was written out, or even to an off-screen reunion with Connor, wherever he is! Find out just how unhappy Natalie's ending will be compared to April's with the Season 6 finale of Chicago Med on NBC, airing on Wednesday, May 26 at 8 p.m. ET ahead of the finales of Chicago Fire at 9 p.m. ET and Chicago P.D. at 10 p.m. ET.
The ends of the One Chicago shows in the 2021 finale season doesn't mean that you have to give up on some Chicago Med action, however, as you can find the series (along with Fire and P.D.) streaming on Peacock now.
Your Daily Blend of Entertainment News
Laura turned a lifelong love of television into a valid reason to write and think about TV on a daily basis. She's not a doctor, lawyer, or detective, but watches a lot of them in primetime. Resident of One Chicago, the galaxy far, far away, and Northeast Ohio. Will not time travel, but will sneak references to The X-Files into daily conversation.