Did Chicago Med Just Say Goodbye To One Of Its Doctors For Good?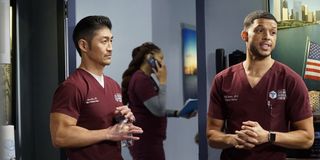 Warning: spoilers ahead for the February 3 episode of Chicago Med Season 6, called "When Your Heart Rules Your Head."
Chicago Med brought back Roland Buck III as Noah Sexton for the first time in Season 6 with "When Your Heart Rules Your Head," but Noah didn't come back to retake his place as a regular resident at Med. He came back just in time to treat a doctor who inspired him to pursue medicine as a child, who had tried to end his wife's suffering by assisted suicide and kill himself as well. Noah crossed a line in trying to do right by the doctor, and in the process may have left Chicago Med for good.
The doctor's attempt to kill himself along with assisting his wife's suicide only half worked, as she died while he survived. While Noah and Crockett were sympathetic, new ED Chief Ethan realized that this was technically murder and had to be reported to the police. He brought in Chicago P.D.'s Atwater for a quick One Chicago crossover, and Noah only had as much time as it would take to finish treating the doctor to find a way out of the mourning man going to jail.
Noah's solution was to draw up a syringe full of drugs and then turn his back on the doctor with the syringe within reach, allowing him to inject himself and commit suicide before he could be arrested. Noah didn't exactly hide what he did, and Ethan fully intended to tell CPD what Noah had done, which could at the very least cost Noah his job at Med and his medical license. Ethan didn't intend to look the other way for Noah's sake, but he caved when April asked him not to report Noah to CPD for her sake.
That doesn't mean that Ethan was going to let Noah stick around Med with no consequences. He fired Noah from his residency at Med, but Noah was left with his medical license intact and free to pursue a new residency elsewhere. April was appalled and wanted to fight Ethan's firing, but Noah decided not to fight because he didn't want to have to lie. He's going to pursue a residency in Atlanta, which isn't exactly within a hop, skip, and/or jump from Chicago.
That said, he also said that he would be back at some point, and he doesn't join Ava as a Med doctor who died in departing the hospital. In fact, Chicago Med delivered more details about Noah's future than it did for Connor at the beginning of Season 5, and Noah still has the strong connection to Chicago thanks to April.
He might not be gone forever, but I'm guessing we won't see him back for a long time, if at all. I am betting that he won't be back as a doctor who works at Med, at least as long as Ethan is ED Chief. There's a chance that Chicago Med the show didn't say goodbye to Noah for good, but Chicago Med the hospital might have. We'll have to wait and see. The Med showrunners hyped Noah's return as causing conflict between April and Ethan, but didn't comment on whether or not he would return.
Find out what happens next on Chicago Med with new episodes on NBC's Chicago Wednesdays at 8 p.m. ET, followed by Chicago Fire at 9 p.m. ET and Chicago P.D. at 10 p.m. ET. Stay tuned to CinemaBlend for more One Chicago coverage, and be sure to check out our 2021 winter and spring premiere schedule.
Resident of One Chicago, Bachelor Nation, and Cleveland. Has opinions about crossovers, Star Wars, and superheroes. Will not time travel.
Your Daily Blend of Entertainment News
Thank you for signing up to CinemaBlend. You will receive a verification email shortly.
There was a problem. Please refresh the page and try again.