The 10 Best Black Wrestlers Of The '90s, Including New Jack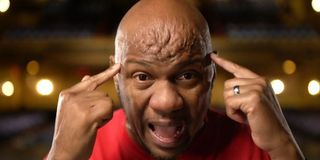 CinemaBlend participates in affiliate programs with various companies. We may earn a commission when you click on or make purchases via links.
We lost another legend on May 14th. That's when extreme, hardcore wrestler, New Jack of ECW fame, passed away. You may have heard of New Jack from Vice TV's Dark Side of the Ring series. But, he represents a long (though, not as long as I would like) list of Black wrestlers who have put their bodies on the line to provide hours of entertainment for wrestling fans around the world. Even though New Jack was never in the WWE or WCW, he was definitely one of the best Black wrestlers of the '90s, no doubt.
So, that's what I want to talk about today. Black wrestlers of the '90s. The decade of Bill Clinton and AOL was a particularly interesting period for wrestling. The WWE's Attitude Era officially kickstarted in 1997, but this was in direct response to other budding promotions like ECW, and, to a certain extent, the infamous heel turn of Hulk Hogan in WCW. It was in this explosive period that Black wrestlers played a pivotal role in shaping wrestling to be the powerhouse that it is now. So, whether you're still watching the WWE or moved over to watching AEW, wrestling would not be in the place that it is now without the Black wrestlers on this very list.
The Rock
Undoubtably one of the most famous wrestlers of all time, Dwayne "The Rock" Johnson is definitely more recognizable today as a movie star than as a wrestler. But, the sheer fact that the son of legendary wrestler, Rocky Johnson, and the grandson of legendary wrestler, Peter Maivia, could basically just show up on any given night to Monday Night Raw and get people to lose their minds, is evidence that The Rock will always have a home in the squared circle if he wants it.
The half-Black, half-Samoan "most electrifying man in sports entertainment," actually didn't have such an auspicious start when he debuted in 1996. He began with the ring name The Blue Chipper, and fans thought his push was way too soon, as he was quickly given a title shot against Triple H (then Hunter Hearst Helmsley), for the Intercontinental title within his first few months, which he won. Fans were not pleased by this and started chanting, "Die, Rocky, Die!" But here's the problem. Rocky was being molded as a babyface, and the people wanted a heel. And thus, The Rock was born. He dominated the '90s and the 2000s, and was the first man to ever win the WWE Championship seven times. No question, wrestling would not be where it is today without Dwayne, "The Rock" Johnson.
Booker T and Stevie Ray
Okay, maybe I'm cheating here, but it's kind of hard to mention Booker T (Robert Booker Tio Huffman Jr.) in the same sentence without also mentioning his brother, Stevie Ray (Lash Huffman) and their tag team, The Harlem Heat. This dominating duo held the tag team title championship an insane 10 times from 1994 all the way to 1999, and always provided excitement for the fans. In fact, you could argue that The Harlem Heat were the greatest tag-team ever in the WCW, and I don't think many would debate with you.
Booker T would later go on to the WWE once the WCW was bought out by Vince McMahon, but he also had an awesome solo run in WCW once The Harlem Heat disbanded. He had ongoing feuds with Scott Steiner and Bret Hart, and could always be counted on to get the crowd going. SPIN-A-ROONIE!!!
New Jack
Possibly the most dangerous man in wrestling history, New Jack (Jerome Young) always said that you took a risk when you stepped into the ring with him, and he wasn't kidding. Infamously known for the "Mass Transit Incident" in 1996, where he accidentally bladed a 17-year-old opponent too deeply, New Jack would use incidents like that to garner heat. That's because he was the kind of wrestler who you weren't sure if he was just doing his job or legitimately shooting on other wrestlers, i.e. fighting them for real.
It's for this reason that New Jack made wrestling feel hardcore. Whenever he would come out with his tag partner, Mustada Saed (The other half of The Gangstas) to Dr. Dre's and Ice Cube's song, "Natural Born Killaz," you knew you were likely going to see some huge bumps and a whole lot of weapons. Plus, New Jack was a hell of a speaker on the mic. We'll never have another New Jack, for better or worse, and that makes me sad.
Ron Simmons
Talk about a trendsetter! Ron Simmons is the first Black world champion ever, as he claimed the WCW World Heavyweight Championship belt back in 1992. He also moved over to ECW, where he couldn't secure the belt from Shane Douglas, until he finally made his way to the WWE in 1996, and became Faarooq Asad, the Gladiator. He soon started a beef with Ahmed Johnson, who I'll get to later.
I actually didn't follow Simmons in his earlier years, but he made a big impression on me in the WWE when he helped form The Nation of Domination, which also featured D'Lo Brown, Kama Mustafa (who I'll also come back to), and a little known wrestler known as The Rock. This was back in '96 to '98. But my favorite period of Farooq's career was around '98 when he teamed up with Bradshaw to form The Acolytes, also known as the APA. DAMN!
D-von Dudley
D-Von Dudley (Devon Hughes) actually didn't enter the WWE until 1999, when he brought his tag partner, Bubba Ray, along with him to form The Dudley Boyz, which were a crowd-favorite with their penchant for slamming opponents through tables.
Before that, D-Von was a part of The Dudley Brothers family in ECW from '96-'99, which also included Chubby Dudley, Dances with Dudley, as well as many others. D-Von was the coolest of the bunch, though, as he always knew how to piss off the audience and get them riled up. He would later take his "Testify" gimmick with him and become "Reverend D-Von." From telling the audience to shut the fuck up, to Reverend D-Von. Because wrestling.
Papa Shango/Kama Mustafa/The Godfather
Charles Wright is like the Gary Oldman of wrestling, and by that, I mean he's a chameleon. Wright actually kind of got into the business by accident. He was bartending during filming of the cult classic, Over the Top, and wrestlers at the bar saw him and said that he should go into pro wrestling because of his look and size, and the rest is history.
Wright was first really recognized as the voodoo-daddy, Papa Shango, around '92, who legit scared me as a kid (Especially after what he did to the Ultimate Warrior!). He left for a little while, but then came back as Kama "The Supreme Fighting Machine." He then joined the Nation of Domination, dropped that gimmick, and came back again as his most popular character, The Godfather. No matter the role, though, Wright was always entertaining in the '90s.
Mark Henry
I know everybody likes to bring up Kurt Angle when it comes to Olympians, but let's not forget "The World's Strongest Man" Mark Henry, who STILL holds the world record for squats and deadlifting. He also, I kid you not, became the ECW champion…in 2008. ECW proper folded in 2001, and was bought out by the WWE around 2003.
But, you don't care about the 2000s. You want to hear about the '90s. Henry entered the WWE in '96 after he competed in that year's Olympics (The same year that Angle won the gold!), but he didn't really make regular appearances until '97, due to injuries. Henry would later feud with The Rock, whom he beat during the PPV, Judgement Day: In Your House. He also feuded with Degeneration X. My favorite period of Henry's career is when he became Sexual Chocolate, who had probably the greatest intro music of all time. Just listen.
Ahmed Johnson
You want to talk intimidating? Then let's talk Ahmed Johnson (Anthony Norris). Making his big WWE debut in 1995, Ahmed Johnson also debuted as a face, much like The Rock. But unlike The Rock, Ahmed was actually a beloved face, slamming the then-unstoppable Yokozuna as if it were nothing.
Johnson was a cool guy in that he was like the counterpoint to the Nation of Domination. Ahmed later teamed up with The Legion of Doom and took them on as a team. It was kind of race baiting, sure, pitting Ahmed against the Nation, but this was the '90s. What do you expect?
Koko B. Ware
Okay, I'll admit it. In 2021, Koko B. Ware (James Ware) is hella corny. He's certainly not New Jack. But, come on now. This is a dude who used to strut out to Morris Day and The Time's "The Bird." If you don't think that's cool, then quite frankly, I feel sorry for you.
Koko goes all the way back to Wrestlemania III, where he lost to Butch Reed. He also holds the distinction of being the first opponent to be on the receiving end of the Tombstone Piledriver. All in all though, Koko B. Ware was just an all-around fun wrestler. He would get people dancing in their seats and was definitely one of the brighter personalities in that early '90s era.
Viscera
Last, but not least, is Big Daddy V (Nelson Frazier Jr), better known to fans as Viscera (R.I.P.). He made his debut in the WWE as one half of Men on a Mission (Or M.O.M. for short, with a rap promo that is '90s AF. My favorite moment with Viscera (then going as Mabel) was his "Rap vs. Country" match against Jeff Jarrett at Summerslam, where Jeff Jarrett won. Aw, shucks.
I love the Mabel era where he played a face, but I much preferred his heel era, when he came back in '99 as the Ministry of Darkness' tough guy, Viscera. This was a whole new persona for Frazier, with spooky vampire eyes and everything. Viscera feuded with Mark Henry for a little while after he body splashed Henry's 80-year-old pregnant girlfriend, Mae Young (don't ask). He also had a good run in the 2000s, and changed his persona to the World's Largest Love Machine. My favorite period will always be the '90s, though. He's another wrestler we miss.
Those are just a few of the best Black wrestlers of the '90s, and there are plenty more. But, for more current wrestling, like upcoming WWE events, make sure to stop by here often!
This poll is no longer available.
Your Daily Blend of Entertainment News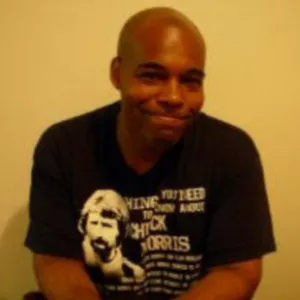 Rich is a Jersey boy, through and through. He graduated from Rutgers University (Go, R.U.!), and thinks the Garden State is the best state in the country. That said, he'll take Chicago Deep Dish pizza over a New York slice any day of the week. Don't hate. When he's not watching his two kids, he's usually working on a novel, watching vintage movies, or reading some obscure book.