Bret Hart, Kurt Angle And 6 Other Old School Pro-Wrestlers On Cameo And How Much They're Going For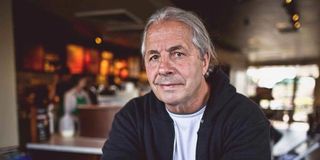 I don't know why, but I'm obsessed with Cameo. For those who don't know, Cameo is a site where you can hire all sorts of famous people to deliver personal messages to somebody you love (or maybe just yourself. Nobody has to know). What's cool about Cameo is that it's broken down into categories. Do you want Hodor (Kristian Nairn) from Game of Thrones to say "Hodor" to your fiancé? Well, that can be arranged. For a price. But say your fiancé or friend is more into old school WWE wrestlers like Bret Hart and Kurt Angle. Well, that can also be arranged, too. Again, for a price.
But while some celebrities and athletes will cost you an arm and both legs ("Money" Mayweather is charging $999 for a personal message), the wrestlers are usually a lot more affordable. I've scrolled through a number of them, but these are the 8 wrestlers I wouldn't envy you for if you somehow got a personalized message from them. Whoo!
Bret Hart
Hall of Famer Bret "The Hitman" Hart started wrestling back in 1976 for Canada's Stampede Wrestling. He then made his way to the WWE (then the WWF) in 1984 where he became a member of The Hart Foundation. He was the WWF champion in the mid-'90s, got screwed over in the infamous Montreal Screwjob in 1997, and then went to WCW, before he came back home again to WWE. His signature move is the Sharpshooter, and nobody looks better in pink. Nobody.
Bret Hart was a legend on the mic, so it makes sense that he'd be good at doing Cameos, too. If you want "The Hitman" to wish your child a happy birthday and then tell her or him that they're "the best there is, the best there was, and the best there ever will be," then he'll do it. Because he's the man.
Get a Cameo from Bret Hart here (opens in new tab) for $150
Kurt Angle
Olympic gold medalist, Kurt Angle, didn't just claim to be a gold medalist as a gimmick. He legit won the gold at the 1996 Summer Olympics. He signed on to the WWE (Then WWF) in 1998, where he got a huge push and won the King of the Ring in 2000. He was the WWE champion four times and eventually made his way to TNA where he became a 6-time Heavyweight Champion. Plus, he's actually been inducted into both the WWE and TNA Hall of Fame. The illustrious Wrestling Observer Newsletter once called him the wrestler of the decade. I mean, yeah. You just don't get better than Kurt Angle.
Kurt is a funny guy, but also gracious. If you're his biggest fan, then he'll thank you profusely… that is, before he tells you that you suck, and that it's true. "It's damn true."
Get a Cameo from Kurt Angle here (opens in new tab) for $100
Mick Foley
You may know Mick Foley as Mankind. Or Dude Love. Or Cactus Jack. Or just Mick Foley. Honestly, when you think of extreme wrestling, it's hard to picture anybody more hardcore than Foley. And the thing is, it doesn't really matter what brand you liked growing up. If you enjoyed wrestling, then Mick Foley was likely in that promotion. WWE? Of course. WCW? Check. TNA? Yep. NWA? Yep. ECW? Hell yes! But his most recognizably brutal match was his Hell in the Cell with the Undertaker, where even fans had to avert their eyes at all the punishment he endured. But he survived it. And do you know why? Because Foley is Good!
Mick Foley will wear the mask and bring out Socko while singing you Happy Birthday if you're into that sort of thing. If that's not worth the meager price he's asking for, then I don't know what is.
Get a Cameo from Mick Foley here (opens in new tab) for $99
Tommy Dreamer
The "Innovator of Violence" Tommy Dreamer spent time in the WWE, and yeah, he was good. But if you love Tommy Dreamer's work, then you must love him for being hardcore! And if you're into hardcore wrestling, then you must have been a huge fan of ECW (EC-DUB! EC-DUB!) back in the '90s. He's the founder of House of Hardcore, but again… EC-DUB! EC-DUB!
For somebody as hardcore as Dreamer, he does a pretty sweet Cameo. He'll thank you for being a fan of his and talk you through these Covid times. Because he's awesome.
Get a Cameo from Tommy Dreamer here (opens in new tab) for $45
Kevin Nash
Kevin Nash has had an illustrious career. Formerly Shawn Michael's bodyguard and tag partner by the name of Diesel, in the WWE, he had an even bigger career under his real name in WCW (New World Order!) and TNA.
Kevin Nash might just call you from his car and wish you a happy anniversary or a happy birthday. And for somebody who was so tough in the business, he's pretty much the kindest guy with the nicest smile. You can't go wrong with Big Daddy Cool.
Get a Cameo from Kevin Nash here (opens in new tab) for $105
New Jack
The original gangster, New Jack was way too hardcore for the WWE, so he made a name for himself in ECW, where he would sometimes "shoot" on other wrestlers (meaning, he'd hit people for real), making him legit feel like the most dangerous wrestler in the business. And he probably was.
Like he would do during his matches, New Jack will have the Dr. Dre and Ice Cube song "Natural Born Killaz" playing in the background while he gives you a shoutout. Oh, and he might also ask you for a free tattoo if you're a tattoo artist, so be prepared for that.
Get a Cameo from New Jack here (opens in new tab) for $75
Ted DiBiase
The "Million Dollar Man" Ted DiBiase is one of wrestling's greatest heels. He was huge in the WWE, where he tag-teamed with I.R.S. He also ran his Million Dollar Corporation stable, pushing other heels like Bam Bam Bigelow and Sycho Sid. Because everybody can be bought for a price.
Thankfully, it won't cost you a million dollars to get the "Million Dollar Man" to wish you a happy birthday or even give you life lessons about slowing down and appreciating life. He'll tell you that wrestling is a gimmick, and family is what matters most.
Get a Cameo from Ted DiBiase here (opens in new tab) for $75
Ric Flair
Last but not least, "The Nature Boy," Ric Flair is freaking on Cameo! Whoo! Quite possibly the greatest wrestler of all time, Ric Flair has been wrestling since the '70s. He was in the Jim Crockett Promotions (JCP), the WWE, multiple times, the WCW, and spent some time in TNA, chugging Smirnoff Ice and shouting, "I'm God! I'm God!" before making his way back to the WWE, where his daughter, Charlotte, wrestles. You want a legend? You've got one.
Ric Flair is the most expensive wrestler on this list, but I mean, it's Ric Flair. If you want him to talk to your sales team about how great your product is and how much your boss appreciates them, then pay up for the Naaaaature Boy. Whoo Whoo!
Get a Cameo from Ric Flair here (opens in new tab) for $500
So, yeah, I'm obsessed with Cameo, and I'm obsessed with pro-wrestling. So, it's a match made in wrestle heaven. But what do you think? If you could get a Cameo from any of these wrestlers above, who would you want it from? Sound off in the poll below!
This poll is no longer available.