One Chicago, Law And Order, And FBI Bosses And Stars Talk Future Dick Wolf Crossovers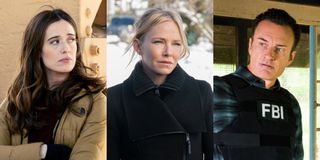 (Image credit: NBC/CBS)
The 2020-2021 season of television was a good time to be a fan of any of the shows in the Dick Wolf universe. Not only did Law & Order: SVU, the three shows of One Chicago, FBI, and FBI: Most Wanted return with new episodes after the previous season was cut short, but Law & Order: Organized Crime debuted to bring back Christopher Meloni's Stabler, and more spinoffs are on the way to bring the total count of Dick Wolf shows up to nine next season. And with so many TV shows set in the same universe, that means the potential opportunities for many crossovers between them.
I was fortunate enough to speak with a number of the stars and the showrunners from NBC's One Chicago and both Law & Order shows, as well as both FBI shows over on CBS (opens in new tab), over the past season of television. Many of them weighed in with their thoughts on future crossovers within the big shared TV universe. So, now that all of the shows have aired their finales for the 2020-2021 TV season, read on for what the stars and bosses have had to say about possible crossovers, starting with the CBS corner of the Dick Wolf universe.
David Hudgins - FBI: Most Wanted Showrunner
FBI: Most Wanted is arguably the most isolated of the current Dick Wolf shows, as its only crossovers to date have been with parent series FBI, and really only connected to the larger shared universe thanks to Chicago P.D.'s Tracy Spiridakos appearing on FBI once prior to production shutdowns in 2020. I spoke with David Hudgins, who joined Most Wanted as showrunner for the second season, about the finale cliffhanger and the future of the show. He shared his thoughts on a Dick Wolf crossover he'd like to see if the sky was the limit, saying:
FBI: Most Wanted, meet One Chicago? There's technically only one degree of separation between Most Wanted and Chicago P.D. at this point, and P.D. is just a hop and a skip away from Chicago Fire and Chicago Med. Besides, after everything that has gone down in One Chicago over the past ten years, it's almost surprising that most wanted criminals haven't descended on the heroes of Dick Wolf's Windy City on an annual basis by this point. David Hudgins also opened up about the success of Most Wanted in helping to expand the TV universe even further with the launch of another spinoff:
Whether or not Jess LaCroix and Co. turn up in One Chicago next season, FBI: Most Wanted is launching spinoff FBI: International along with FBI, so more crossovers are definitely coming.
Marina Squerciati - Chicago P.D.
Although Chicago P.D. ended Season 8 without confirming whether or not Burgess would survive the terrible injuries she sustained in the finale, it's hard to imagine the show moving on without Marina Squerciati. The actress didn't give away details about what Season 9 does or doesn't hold for Burgess when we spoke ahead of the Season 8 finale and not too long after Law & Order: Organized Crime premiered, but she was definitely enthusiastic about the possibility of her future holding crossovers, saying:
All things considered, I think a lot of fans would be excited to see if what Christopher Meloni does over on Organized Crime means joining forces with some of the Chicago P.D. crew. P.D. has already crossed over with SVU, so the Chicago and New York branches of the shared universe have shared characters before. Why not Organized Crime?
Then again, P.D.'s most recent New York connection was to FBI rather than any Law & Order show, thanks to Upton's quick trip to partner up with OA for an episode. Marina Squerciati responded to my suggestion that Burgess and Upton go on an FBI field trip to finally share some scenes together:
Even if P.D. doesn't cross over with Organized Crime in the near future – and I'm guessing we won't be getting a Burgess/Upton field trip to FBI – we have a One Chicago star officially on board for appearances on other shows.
Ainsley Seiger - Law & Order: Organized Crime
Ainsley Seiger is one of the newest additions to the Dick Wolf universe thanks to her role as tech expert extraordinaire Jet Slootmaekers on Law & Order: Organized Crime. The SVU spinoff is actually Seiger's first TV role, and she was a fan of SVU coming in, so it was no small deal for her to be filming material with SVU's Mariska Hargitay during just the first season of OC. When we spoke ahead of the crossover that brought Jet in close proximity to Benson, Seiger explained the process of building a bridge between the two shows:
Crossovers between Organized Crime and SVU aren't going anywhere, with both shows renewed for the 2021-2022 TV season and Organized Crime ending on a cliffhanger involving both Stabler and SVU's Benson. Both OC and SVU will presumably tie to the upcoming For the Defense spinoff, so even if Jet isn't going to be hanging out with the characters from One Chicago or the FBI series, her world is still growing.
Kelli Giddish - Law & Order: SVU
The Season 22 finale of Law & Order: SVU was a big one for Kelli Giddish's Rollins, as the detective finally planted a kiss on Carisi to deliver something that Rollisi fans have been waiting a very long time for, and it may have taken them past a point of no return. They'll have to deal with it somehow in Season 23, right? Even if Benson and Stabler aren't setting the best example. Speaking with Giddish about the Rollisi dynamic and return of Rollins' dad earlier in Season 22, Giddish shared whether she's interested in crossing over with other Dick Wolf shows:
Several SVU stars have already appeared on Organized Crime, including Peter Scanavino as Carisi, Demore Barnes as Deputy Chief Garland, and of course Mariska Hargitay as Benson. Why not Rollins next? And she has also appeared on Chicago P.D. thanks to an earlier P.D./SVU shared case, so Kelli Giddish has some experience with Rollins taking her investigative talents outside of Manhattan Special Victims.
Dick Wolf And Ilene Chaiken - Law & Order: Organized Crime
The return of Christopher Meloni's Elliot Stabler to the Law & Order universe was hyped across NBC as the return of the "prodigal son," and Organized Crime received a lot of fanfare ahead of its premiere. The SVU backdoor pilot followed by the series premiere illustrated the differences and similarities between the newest and the oldest current Dick Wolf shows, while also showcasing crossover potential. Showrunner Ilene Chaiken and Dick Wolf himself spoke with press following the premiere to preview the future of Organized Crime, and they weighed in on the focus of crossovers. Wolf said:
When not dealing with production precautions that meant nixing any major events between Chicago Fire, Chicago P.D., and Chicago Med, the three One Chicago shows regularly share characters for mini crossovers, and occasionally come together for multi-episode arcs when a big enough story comes along and needs to be told with the heroes of more than one show. That doesn't mean crossovers every week, and that will evidently hold true with Organized Crime. Ilene Chaiken picked up Dick Wolf's thread, saying:
All of these shows may share a universe, but they're also all telling their own stories, so whatever crossovers that may or may not happen moving forward, there will presumably have to be some good reasons for them to happen on the Organized Crime front.
Steven Weber - Chicago Med
Steven Weber joined Chicago Med on a recurring basis in the second half of Season 6. With the departures of two series regulars in the Season 6 finale and the twist that set Weber's Dean Archer up to fill in as ED Chief for Ethan during his recuperation suggest that Weber will be back with more of a part to play in Season 7. Interestingly, Weber had already appeared in two other Dick Wolf TV shows before joining Med, with three episodes of Law & Order: SVU and one episode of Law & Order: Criminal Intent (playing different characters). When we chatted back in March in honor of his Med debut, Weber shared his impression of the Dick Wolf universe:
"This world" is quite expansive with seven shows already, and growing with the addition of two more next season! It naturally raised the question of other Dick Wolf shows that he'd be interested in dropping by as Dean Archer at some point, and Steven Weber explained:
All signs point toward Dean Archer sticking around the ED at least into the beginning of Season 7, and a lot could depend on what kind of time jump is in store for Med. The finale left several story threads dangling, even if the cliffhangers weren't quite as life-and-death as Chicago Fire and Chicago P.D. When I noted to Steven Weber that the firefighters and cops of Fire and P.D. get hurt on a regular basis, he responded:
Considering Chicago P.D.'s Burgess did in fact require emergency medical help in the Season 8 finale, and the Chicago Fire Season 9 finale ended on a cliffhanger that could mean some or all of Squad will need more aid than what Brett and Violet can give out of the back of the ambo, One Chicago really can use all the doctors it can get.
Law & Order: SVU - Demore Barnes
The Season 22 finale of Law & Order: SVU ended on a more foreboding note for Demore Barnes' Deputy Chief Garland than for the rest of the key characters, as some of his comments under oath left him in hot water with the NYPD brass. Plus, he wasn't feeling great physically in the finale, and was planning to take some time off now that he's facing efforts to force him out of the department. That said, when I had the chance to speak with Barnes earlier in Season 22 with Organized Crime then on the way, he gave his thoughts on crossing over to another show as Garland:
Interestingly, like Steven Weber, Demore Barnes had appeared elsewhere in the Dick Wolf universe playing another character before landing the larger role. He appeared in the short-lived Chicago Justice spinoff that became the first One Chicago show to be cancelled. For now, fans may want to be more concerned as to whether the Deputy Chief will be able to hold onto his position in New York rather than be called on in Chicago, though!
Derek Haas - Chicago Fire Showrunner
Chicago Fire of course is the show that started the whole One Chicago corner of the Dick Wolf TV universe, and Fire has been the source of a lot of crossovers over the years. When showrunner Derek Haas dropped some preview details ahead of the Season 9 premiere last year, however, he was quick to set the record straight about what to expect due to production precautions, as well as hopes for the future. Haas said:
Chicago Fire did find ways to pull in a few other One Chicago characters for the Season 9 premiere, and off and on throughout the ninth season, but as Derek Haas predicted, a bigger crossover had to be held off on. If all goes well, the most extreme of the pandemic precautions may well lift in time for One Chicago to resume the annual multi-episode crossovers in the fall, and perhaps even share some scenes with the Law & Order and/or FBI crowds.
Andrew Schneider - Chicago Med Showrunner
As a medical drama, Chicago Med had some big challenges to face heading into Season 6, as One Chicago (as well as SVU and FBI and FBI: Most Wanted) was incorporating the real-life pandemic into the plot for the 2020-2021 TV season. I was able to check in with Med co-showrunners Andrew Schneider and Diane Frolov ahead of November's sixth season premiere, and Schneider's comments about crossovers echoed those of Fire's Derek Haas:
The new year isn't over yet, so a major crossover could well still happen in 2021. Fans will just have to wait until the fall to find out. The most recent event involving a full episode of all three One Chicago shows was back in fall of 2019, and aired pretty early in the seasons. So, if another big crossover is on the way, perhaps the timeline will be similar and viewers won't have to wait too long after Fire, P.D., and Med return with new episodes.
Rick Eid - FBI/Chicago P.D. Showrunner
Chicago P.D. boss Rick Eid pulls double duty in the Dick Wolf TV universe as showrunner of CBS' FBI as well as the NBC cop show, and it's actually thanks to P.D. sending Upton over to FBI at the end of Season 7 that there's even room to speculate about the NBC shows crossing over with FBI and Most Wanted at this point. There were no signs that the shows on two different networks existed in the same TV universe before Upton showed up and made speculation a whole lot more fun. Answering some questions for CinemaBlend last fall ahead of FBI Season 3 (and FBI: Most Wanted Season 2), Eid said:
As P.D. fans will remember, Upton's trip to FBI ultimately had a big impact on her arc in One Chicago. She did well enough working with the feds to earn a fancy job offer, and it was that offer – which was a huge opportunity but would have meant leaving CPD, Chicago, and her partner – that was the game-changer for her and Halstead to make a big step. As Rick Eid commented in early 2021 before P.D. returned from winter break:
Upton of course chose to stay in Chicago and start a relationship with Halstead, but that relationship has run into some obstacles thanks to Voight putting the wrong kinds of pressure on Upton, prompting her to ask Halstead to marry her in just about the most desperate and non-romantic way possible in the Season 8 finale. But hey, at least they love each other, and they have Voight's decision to send Upton to FBI to thank for that step forward.
The various stars and bosses of One Chicago, the two Law & Order shows, and the two FBI shows dropped plenty of comments worth considering during the months ahead without any new episodes. The seven current Dick Wolf shows are expected to return to NBC and CBS in the fall, with Law & Order: For the People and FBI: International premiering in the 2021-2022 TV season as well. As for what you can watch in the meantime, be sure to swing by our 2021 summer TV premiere guide for some options!
Your Daily Blend of Entertainment News
Laura turned a lifelong love of television into a valid reason to write and think about TV on a daily basis. She's not a doctor, lawyer, or detective, but watches a lot of them in primetime. Resident of One Chicago, the galaxy far, far away, and Northeast Ohio. Will not time travel, but will sneak references to The X-Files into daily conversation.
Your Daily Blend of Entertainment News
Thank you for signing up to CinemaBlend. You will receive a verification email shortly.
There was a problem. Please refresh the page and try again.