Sean Bean Had A Classic Reaction After Getting Spoiled On How Game Of Thrones Ended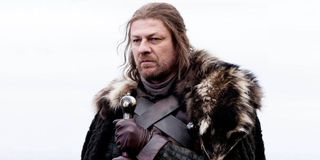 Sean Bean may have only starred on Game of Thrones for one season before poor Ned Stark lost his head in King's Landing, but the first Lord of Winterfell was never forgotten by those he left behind. Bean himself didn't keep up with what happened on Game of Thrones in the long run after Ned was killed off, and he only recently found out how the show ended despite the controversial finale airing more than two years ago now. After being spoiled on the ending, Bean had a pretty classic reaction that Ned Stark would probably appreciate.
Speaking with The Times, Sean Bean initially explained that he didn't know how Game of Thrones ended, but also didn't mind being spoiled on what happened, saying that he'll "have forgotten" by the time he gets around to watching the full series. When he found out that Thrones ended with Bran Stark becoming the King of Westeros and Sansa becoming Queen of the North fully independent from the other six kingdoms, Bean had a simple reaction:
In the grand scheme of the Game of Thrones series finale, Winterfell and the North remaining independent as Sean Bean noted is probably one of the less divisive twists. Sansa had spent the series learning the ropes about ruling from some of the best and worst in Westeros, and she deserved a win after everything she went through. "Good for them" indeed!
To contrast, Bran being named King of the Six Kingdoms is probably the most controversial element of the series finale, aside from Jon assassinating Daenerys after she went full Mad Queen Dany on the citizens of King's Landing. It's just too bad that there was no way to get Ned's reaction to everything. Sansa was poised to eventually become Queen of the Seven Kingdoms by marrying Joffrey when Ned lost his head in Season 1; taking her place as Queen of the North without needing or seemingly even really wanting a husband shows just how much she changed after surviving all the way through to the end of Season 8.
The surviving Stark kids (including Jon) went in different directions in the series finale, with Bran staying in King's Landing, Jon being exiled to the North beyond what remained of The Wall with Ghost for killing Dany, Arya deciding to travel, and Sansa remaining as the Stark in Winterfell. I can't help but feel that Ned would be proud that she took her place as ruler of an independent North, even if she might not have been the one of his kids he would have guessed would ever do such a thing.
The story of that particular generation of Starks is seemingly done for now (unless George R.R. Martin gets around to finishing The Winds of Winter as the next book in the A Song of Ice and Fire novel saga that inspired Game of Thrones), but more Westeros action is on the way to HBO thanks to the House of the Dragon spinoff that will premiere in 2022.
The new show will be Targaryen-centric rather than focusing on the North, but the events of House of the Dragon set the stage for what would happen centuries later in the Game of Thrones timeline, so it should be must-watch for Thrones fans. For now, you can find the full run of Game of Thrones, including Sean Bean's time as Ned Stark, streaming on HBO Max.
Resident of One Chicago, Bachelor Nation, and Cleveland. Has opinions about crossovers, Star Wars, and superheroes. Will not time travel.