Manifest Streaming: How To Watch Seasons 1-3 Of The NBC Series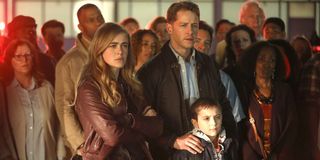 CinemaBlend participates in affiliate programs with various companies. We may earn a commission when you click on or make purchases via links.
Ever since it debuted on NBC in the fall of 2018, the action-packed supernatural drama Manifest has thrilled and intrigued audiences, quickly becoming one of the more popular shows on the Peacock network, all of broadcast television, and even a certain streaming service. But while a great deal of the TV-watching population have enjoyed the show ever since the passengers of Montego Air Flight 828 disappeared mid-air only to return more than five years later, there are some who may just now be hearing of the gripping drama.
So, if you want to see what all the fuss is about with the Manifest cast, interesting story, and excellent execution, you've come to the right place. Below is a complete rundown of how and where you can watch Manifest streaming across a number of different platforms.
How To Watch Manifest Seasons 1-2 Streaming
If you are just now hearing about Manifest or you're a longtime fan and want to watch it all from the beginning, you're in luck because the NBC series (or at least its first two seasons) is one of the best shows to binge watch on Netflix. To watch one of the more popular shows on the hit streaming service, all Netflix subscribers need to do is open the Netflix app on your preferred device and start watching as the passengers of the mysterious Flight 828 take off on a wild and hard-to-believe adventure through space and time.
Stream Manifest Seasons 1 and 2 on Netflix.
How To Watch Manifest Season 3 Streaming
You have probably noticed by now, but Manifest Season 3, the most recent chapter in the epic saga, can't be found on Netflix. And while it will presumably be added in time, for now you will have to go to either Peacock or Hulu to watch all the twists and turns of the wild Manifest Season 3 finale.
Watching Manifest Season 3 on Hulu and Peacock requires a subscription and a compatible device or computer, and you're all set. Before you know it, you'll be about seven hours into a binge when all you wanted to do was see how things picked up after the Manifest Season 2 cliffhanger.
Stream Manifest Season 3 on Peacock.
Stream Manifest Season 3 on Hulu.
Will There Be A Manifest Season 4?
Like the passengers featured in the show, Manifest is sort of in limbo right now after being one of the Big TV shows that still haven't been renewed or cancelled in 2021. While a number of other series have either come to an end or will live to see another day, NBC had yet to make a decision on the show's fate as of late May 2021. Per Deadline, NBC has asked for a little more time to decide whether or not a Season 4 will happen, due to the start of Season 3 being delayed because of COVID-19. Hopefully a decision is made sooner rather than later.
While we all wait for the show's fate to be determined by the power that be over at NBCUniversal, all we can do is go back and watch Manifest steaming. But in the event you don't have any of the streamers listed or just prefer to own your digital content, you can buy Manifest on Amazon. Also, it's not a bad time to see which new and returning shows will be coming your way on the 2021 Summer TV schedule.
Your Daily Blend of Entertainment News
Philip grew up in Louisiana (not New Orleans) before moving to St. Louis after graduating from Louisiana State University-Shreveport. When he's not writing about movies or television, Philip can be found being chased by his three kids, telling his dogs to stop barking at the mailman, or yelling about professional wrestling to his wife. If the stars properly align, he will talk about For Love Of The Game being the best baseball movie of all time.