Manifest Cast: Where You've Seen The Actors Before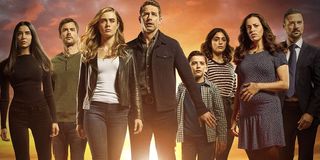 Following a temporary delay, Manifest has finally reappeared on NBC's Thursday night schedule with its third season. While the mysterious show hasn't been a critical darling, the supernatural drama series has retained a sizable audience for its first two seasons, thus keeping it a dependable favorite for the broadcast station. Starring Melissa Roxburgh, Josh Dallas, Athena Karkanis, J.R. Ramirez, Luna Blaise, and Elizabeth Marvel, to name a few cast members, Manifest is filled with familiar faces, particularly (or especially) if you're a TV lover. If you're wondering where you've seen the Flight 828 passengers before, we can help. Here's where you might recognize Manifest's cast.
Melissa Roxburgh (Michaela Stone)
As Michaela Stone, an anguished detective at NYPD's 129th Precinct who was a passenger on Flight 828, Melissa Roxburgh plays the main character in NBC's Manifest. Previously, Roxburgh had a main role in Valor. The television actress also appears in episodes of Arrow, The Tomorrow People, Legends of Tomorrow, and Travelers. Away from television, Roxburgh can be seen in in Diary of a Wimpy Kid: Dog Days, Star Trek Beyond, Leprechaun: Origins, The Marine 4: Moving Target, Diary of a Wimpy Kid: Roderick Rules, Big Time Movie, In God I Trust, Lost Solace, and 2020's I Still Believe.
Josh Dallas (Ben Stone)
In the role of Ben Stone, an associate professor and Michaela's brother who was also a Flight 828 passenger, Josh Dallas is another lead character in NBC's Manifest. Most notably, Dallas is known for his role in ABC's Once Upon a Time. His other TV credits include CSI, Hawaii Five-0, Doctor Who, Money, and Ultimate Force. Additionally, on the big screen, Dallas appears in Thor, Red Tails, The Descent Part 2, and 80 Minutes. He's also heard in Zootopia and Ghost Machine. And Dallas stars in the short film, Sidekick.
Athena Karkanis (Grace Stone)
Playing the part of Grace Stone, Ben's wife and Michaela's sister-in-law, Athena Karkanis has a familial character in NBC's Manifest. Prior to this series, Karkanis has been in the main cast for a variety of shows — particularly in animation — including Low Winter Sun, The Best Years, Skyland, Growing Up Creepie, Almost Heroes, Total Drama: Revenge of the Island, Wild Kratts, Low Winter Sun, Julius Jr., and The Lottery. Additionally, the actress had recurring roles in Suits, Zoo, House of Cards, The Expanse, Lost Girl, Conquer the Kairu, The Ron James Show, The Border, and Stickin' Around.
In film, meanwhile, Athena Karkanis appears in Saw IV and VI, Repo! The Genetic Opera, Survival of the Dead, Sacrifice, The Art of War II: Betrayal, and The Barrens. She's also heard in The Care Bears' Big Wish Movie and Spark. Additionally, Karkanis lent her voice to video games like Diablo III, World of Warcraft: Warlords of Draenor, Heroes of the Storm, Far Cry Primal, Tom Clancy's Rainbow Six: Vegas, World of Warcraft: Cataclysm, World of Warcraft: Mists of Pandaria, and Star Wars: The Old Republic.
J.R. Ramirez (Jared Vasquez)
As Jared Vasquez, a love-torn detective at the NYPD's 129th Precinct and Michaela's ex-fiancé, J.R. Ramirez is one of the main cast members in Manifest. Previously, Ramirez was a series regular on Starz's Power and Netflix's Jessica Jones. Additionally, the actor played a recurring role in The CW's Arrow. He can also be seen in episodes of Tyler Perry's House of Payne, GCB, 90210, Rosewood, Emily Owens M.D., NCIS: New Orleans, 24, and Hacienda Heights. On the big screen, additionally, Ramirez can be seen in Sun Dogs, I Will Follow, Drunk Wedding, The Coalition, and last year's Lazy Susan.
Luna Blaise (Olive Stone)
In the role of Olive Stone, Ben and Grace's daughter, Luna Blaise plays a key character in Manifest. Away from this series, Blaise played a recurring role in ABC's Fresh Off the Boat. She can also be seen in films like Memoria, Concrete Kids, and Vicious Circle. Additionally, outside of acting, Blaise is a singer. Her singles include "Over You" and "Secrets." Also, Blaise can be seen in Jacob Sartorius' "Sweatshirt" music video. Next, the actress will be seen in We Are Gathered Here Today and the short film, Detach.
Jack Messina (Cal Stone)
Playing the part of Cal Stone, Ben and Grace's son who's also known as the Holy Grail, Jack Messina adopts an important character in Manifest. The child actor also made his acting debut in this NBC series. Outside of this broadcast show, Messina's only other acting credit is a 2018 episode of Amazon Prime's The Marvelous Mrs. Maisel.
Parveen Kaur (Saanvi Bahl)
As Saanvi Bahl, a graduate student and medical researcher who boards Flight 828, Parveen Kaur plays one of the main characters in Manifest. Prior to this NBC series, Kaur appeared in Freeform's Beyond and CTV's Saving Hope. Her other notable TV credits include The Strain, American Gods, Workin' Moms, 9-1-1, and Defiance. Additionally, Kaur's film credits include White Night, Edging, Through Black Spruce, Acquainted, and American Hangman. Additionally, Kaur can be seen in short films like Five Dollars, Latter, Chameleon, and Ruby's Tuesday.
Matt Long (Zeke Landon)
In the role of Ezekiel "Zeke" Landon, a hiker who got trapped in a cave and returned to life in a similar fashion to the passengers of Flight 828, Matt Long joined Manifest midway through Season 1. Elsewhere, Long is known for The WB's Jack & Bobby. Also, he had main roles in The Deep End, Lucky 7, and Helix Season 2. Additionally, Long had recurring roles in Mad Men, Private Practice, Love Bites, The Deep End, and Graves, as well as a guest part in Timeless. He can also be seen in The Newsroom. Outside of TV, Long's film roles include Ghost Rider, Homecoming, All the Creatures Were Stirring, The Greatest Adventure of My Life, Christmas Joy, and Sydney White.
Holly Taylor (Angelina)
Playing the part of Angelina, Holly Taylor is a new main character introduced in the third season of Manifest. Most notably, Taylor is known for her long-standing role in FX's acclaimed The Americans. She also had a main part in The Unsettling. Her other television credits include The Night Shift, Bull, The Good Doctor, and Dolly Parton's Heartstrings. Additionally, in film, Taylor appears in Ashley, Worst Friends, The Witch Files, which the actress also produced, The Otherworld, and 2020's We Still Say Grace. Also, she's well-recognized for her advertising work, as she's seen in a variety of commercials. Additionally, Taylor appears in shorts like Love and Zombies, The Cook, and July. Next, the actress will be seen in Red Hour and Night at the Carriage House.
Elizabeth Marvel (The Major)
As The Major, a woman who leads a government entity that weaponized the "callings" that are frequently experienced by Flight 828 passengers, Elizabeth Marvel plays a calculating supporting character in NBC's Manifest. Most notably, Marvel is known for her roles in Netflix's House of Cards, Showtime's Homeland, and CBS's The District. She also played a recurring role in Fargo Season 2. Additionally, Marvel provided a recurring role in Netflix's Unbelievable and she was one of the main characters in Hulu's short-lived Helstrom last year. Her other prominent television credits include Law & Order: SVU, Nurse Jackie, Person of Interest, The Newsroom, The Good Wife, and 30 Rock.
Outside of TV, Elizabeth Marvel appeared in The Meyerowitz Stories (New and Collected), Burn After Reading, True Grit, Lincoln, Synecdoche, New York, The Bourne Legacy, Hyde Park on the Hudson, A Most Violent Year, Aloha, The Land of Steady Habits, Swallow, Dark Waters, Gifted, and Native Son. She also appeared in last year's News of the World. Next, Marvel stars in, writes, and directs a segment in With/In.
Ellen Tamaki (Drea Mikami)
In the role of Drea Mikami, Michaela's new partner at the NYPD, Ellen Tamaki joined Manifest in Season 2. Previously, Tamaki had a recurring role in The CW's Charmed. Outside of television, the actress can be seen in We Only Know So Much, The Drowning, Searching for Sally Mae, and Inez & Doug & Kira. She can also be seen in short films like The Procedure, Valentina, and Reptilia. Next, Tamaki will star in Die Trying.
Maury Ginsberg (Simon White)
Playing the part of Simon White, an elite faculty member at the college that hires Ben, Maury Ginsberg joined Manifest in Season 2. Outside of this series, Ginsberg is known for his recurring role in Jessica Jones. His other television credits include All My Children, The Good Wife, House of Cards, Blue Bloods, Louie, The Blacklist, Madam Secretary, Vinyl, Elementary, What We Do in the Shadows, Damages, Law & Order, Two Guys, A Girl, And a Pizza Place, NYPD Blue, Just Shoot Me!, Friends, Star Trek: Voyager, and Murphy Brown. Outside of TV, Ginsberg appears in Rocket Science, Big Miracle, According to Greta, 5 Flights Up, and The Week Of. The actor was recently seen in New Amsterdam and Sucked In. Next, Ginsberg appears in HBO's Scenes from a Marriage.
Manifest airs on Thursday nights on NBC. You can watch episodes on NBC.com here.
Your Daily Blend of Entertainment News
Will is an entertainment writer based in Pittsburgh, PA. His writing can also be found in The Playlist, Cut Print Film, We Got This Covered, The Young Folks, Slate and other outlets. He also co-hosts the weekly film/TV podcast Cinemaholics with Jon Negroni and he likes to think he's a professional Garfield enthusiast.