How The Handmaid's Tale Star Joseph Fiennes Felt About That Season 4 Finale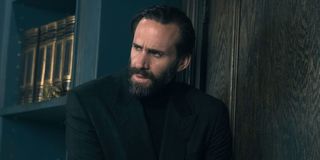 Warning: the following contains SPOILERS for The Handmaid's Tale's Season 4 finale.
Season finales are tricky business. They can be divisive, alienating or gratifying, depending on the execution. This is especially true when a season finale marks the final appearance of a main character. Will the character's exit be done in a satisfying way? When it comes to Commander Fred Waterford in The Handmaid's Tale's Season 4 finale, actor Joseph Fiennes' answer is a resounding 'yes.'
Joseph Fiennes sat down with Entertainment Weekly to discuss the Season 4 finale of Hulu's critically acclaimed series based on the book by Margaret Atwood. Throughout The Handmaid's Tale, his character Commander Fred Waterford (the reason Elisabeth Moss's June Osbourne is initially known as Offred) has proven himself to be pretty despicable and lacking any sort of empathy. However, the finale had Fred getting his just desserts, and Joseph Fiennes thinks the ending was pitch-perfect. He told EW:
It's clear that Joseph Fiennes was satisfied with his character's ending, even though it means he may not appear in future episodes. If you saw the finale, then you'll know Fred Waterstone was killed in a rather gruesome fashion - although Joseph Fiennes thinks it was well deserved. As he put it:
I have to agree with Joseph Fiennes. Fred, similar to Prince Joffrey from Game of Thrones, was so horrible that his death felt triumphant. That it happened in such a grisly way is almost a bonus, as terrible as that sounds. But you just have to remember the pain he inflicted on June, and you don't feel so bad anymore.
It's also hard to feel bad when the scene was so beautifully directed. The footage of Fred being torn apart by the women he terrorized is spliced with clips of Fred subjecting June to the indignities of a handmaid. "Don't bite," Elisabeth Moss says in voiceover as we watch June sink her teeth into Fred's arm. The symbolism whacks you over the head, but it's pretty darn effective. Fred committed atrocities, so it's only fitting that he dies in an atrocious manner.
The Handmaid's Tale has already been renewed for a fifth season, so we don't have to worry about this being the end of the line for June and her compatriots. There's no word on when the next season will begin production, but in the meantime. you can check out what's new on Hulu.
Actor, singer, and occasional dancer. Likes: fashion, books, old buildings. Dislikes: cilantro, the NJ Turnpike, sneaker wedges.