How WWE's Hell In A Cell Results May Impact Future Plans With Bobby Lashley, Brock Lesnar, Drew McIntyre And More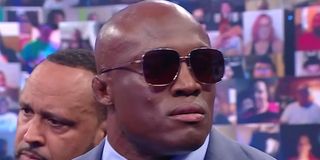 WWE's Hell in a Cell pay-per-view has come and gone, and despite any and all efforts from Drew McIntyre, Bobby Lashley retained his hold on the WWE Championship. Lashley's title reign will presumably extend for the foreseeable future, though his latest victory could hint at what the organization may be planning for the Championship belt leading up to next year's WrestleMania 38.
While everything below is all just speculation, it incorporates some popular rumors about the WWE's future pay-per-view events and how the organization's goals may affect the WWE Championship. Suffice to say if some of the chatter links up with where Bobby Lashley's reign has gone so far, the WWE could deliver some must-watch television across the next year.
Why Drew McIntyre's Loss At Hell In A Cell Matters
Drew McIntyre's loss at Hell In A Cell was a big development in his long feud with Bobby Lashley. Not because he lost, but because of the stipulation attached to the match. McIntyre's defeat means he's no longer allowed to directly challenge Lashley for the WWE Championship. Though it seemed like McIntyre could contest the stipulation after MVP interfered in the match, Hell in a Cell's lack of disqualification rules means he had no basis for interference.
The follow-up Monday Night Raw telecast seemed to create a loophole for Drew McIntyre, with the wrestler being given an opportunity to qualify for the upcoming Money in the Bank main event. Unfortunately for McIntyre, he ended up losing the match in a stunning upset to Matt Riddle. That could feasibly dry up Drew McIntyre's chances of challenging Lashley in the near future, though with spots still left to fill for the impending PPV, it's still possible McIntyre could somehow end up with that briefcase.
For now, though, it looks like Drew McIntyre won't be taking any more title shots until Bobby Lashley loses the strap to another superstar. That could very well happen at Money in the Bank, though with another one of the WWE's biggest annual events just around the corner, it makes sense to think think the WWE would like to keep Lashley with the WWE Championship in order to book what could be one of the biggest matches of the year for SummerSlam.
What The SummerSlam Rumors Could Mean For Bobby Lashley
The WWE booked Las Vegas' Allegiant Stadium for SummerSlam 2021, marking the first time an NFL stadium has been booked for the long-running event. With 65,000 seats to fill (not including additional seating that could be added onto the field itself), the WWE will have a massive live audience to captivate and amaze, and it'll happen as fans are still getting used to being at live shows in the first place. The stakes will be high, and it would appear the WWE understands that pressure, given some of the rumors floating around.
So far, it's been reported that the WWE has been in conversations with John Cena and Brock Lesnar to make long-awaited returns to the ring. While rumors for Cena focus largely on a potential match with Roman Reigns at SummerSlam, any plans being formed for Lesnar are presently unclear. With that said, if Lesnar vs. Reigns would be off the table, due to Cena or some other reason, then the only other worthy opponent for Lesnar would be whoever's holding the WWE Championship. (As unfair as that would be to anyone who has been around.)
As of writing, it feels likely that Lashley will still have the belt at SummerSlam, which could put him on a collision course with The Beast Incarnate, Brock Lesnar. Lashley totally discussed taking on Lesnar in an MMA match some months ago, and even though he wasn't speaking specifically about wrestling in that sense, I'm not one to subscribe to coincidences when it comes to the WWE. I personally think there are a lot of reasons the WWE would love to see Bobby Lashley square off against Brock Lesnar in the ring for a marquee PPV headliner.
Why Bobby Lashley Vs. Brock Lesnar Would Be The Ultimate SummerSlam Match
Beyond the fact that Bobby Lashley and Brock Lesnar are two larger-than-life athletes with respective experience in mixed martial arts, there are plenty of other good reasons to believe this would the ultimate match-up of 2021. To start, let's be real about those John Cena vs. Roman Reigns rumors. Cena is a bona fide actor with multiple projects in Hollywood, and is probably too busy to make it to SummerSlam. But even if this match did happen, it's not as if it would set Cena up as the new Universal Champion for an extended WWE run. He's got other fires to put out, and Reigns is the most over heel in the company, so he's not going to lose.
Of course, a similar argument could be made about Bobby Lashley vs. Brock Lesnar, but in reverse. Lesnar is one of the most over heels in WWE history, and the company does enjoy handing him title belts on silver platters anytime his contract is renewed. With that said, if Lesnar signed a contract, there's a much bigger ability on the WWE's part to tell a bigger story and weave in the rivalries of all its heavy hitters in the process.
Brock Lesnar challenging Lashley for the title creates a link between the two, which could then be used to incorporate several other storylines. For example, Drew McIntyre defeated Lesnar for the WWE Championship, so there's already a rivalry that can be resurrected and potentially culminate in a massive match between the three. Plus, if Roman Reigns retains and Lesnar got the strap, that would mean two Paul Heyman guys are at the top of both WWE brands.
One can only imagine what the WWE would be like if Paul Heyman had a top guy on both shows, not to mention the eventual feud that could result between longtime rivals Roman Reigns and Brock Lesnar. Suffice to say it's all very exciting to think about, and given all the chatter in the WWE surrounding Lesnar's return, it really does seem like something awesome that could happen. Of course, nothing in the WWE is set in stone even when contracts are signed, so we can only cross our fingers and continue to follow the rumors for any developments on what's happening at SummerSlam.
For now, WWE fans can watch Bobby Lashley continue his championship reign on Monday Night Raw on USA Mondays at 8:00 p.m. ET. For more happening in the WWE, read up on the key superstar who decided to take a little break after his latest war with another superstar.
Your Daily Blend of Entertainment News
Mick likes good television, but also reality television. He grew up on Star Wars, DC, Marvel, and pro wrestling and loves to discuss and dissect most of it. He's been writing online for over a decade and never dreamed he'd be in the position he is today.