Jackass 4 Star Details Gruesome Shark Week Bite Injury That Was So Bad Steve-O Couldn't Watch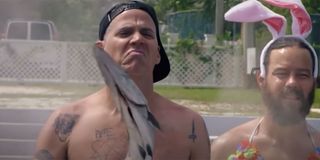 Jackass 4, recently retitled Jackass Forever, is going to feature some fan-favorite characters in the franchise. It will also introduce some new personalities, including Sean McInerney and more. The newfound movie star also recently participated in Shark Week, swimming with both bull sharks and reef sharks. While the experience with the bull sharks went fine, the reef shark experience led to a gruesome injury to one of his hands, an injury so bad that Steve-O had to walk away and couldn't watch.
After news broke that Sean 'Poopies' McInerney had injured himself while filming a Shark Week segment, the stunt personality sat down with Tony Hawk and Jason Ellis on the Hawk Vs. Wolf podcast to talk about McInerney's "debut," which just so happens to be a part of this year's Shark Week on Discovery. The group ultimately decided to set up a set up experiments involving Poopies and Steve-O. The first setup went OK.
McInerney recalled how he was "so scared, but he "jumped in" anyway and the Jackass 4 team encouraged him to let go of the boat and face the sharks head on. After being directed to keep looking at the bull sharks "in the eyes," Poopies recalls the experience gave him confidence with the sharks and was ultimately pretty "dope"… that is, until things took a turn in the next stunt. You can see part of the clip from the stunt that went bad, below.
After traveling to the Bahamas for the next part of Shark Week, Sean McInerney talked what happened when he tried to do a stunt involving a Fonzie jacket, a jet ski and a wakeboard. The team was trying to attract sharks with chum for Poopies to accomplish the stunt with sharks all around, but he mentioned he didn't get a test run.
Sean McInerney also noted that a shark pulled him under by the hand, saying at the time he was worried about his leg. He "felt it bite" him soon after and became really worried about the reef shark taking his entire hand off.
Reports have indicated that while Sean McInerney had the presence of mind to stay still, the bite was still pretty gnarly and led to both artery and tendon damage. In the podcast, McInerney talked about it spurting blood and how he had to get a tourniquet put on following the injury, but he says he couldn't "freak out" because he didn't "want everyone else to freak out."
In fact, things were so bad, Tony Hawks says "Steve-O told me he couldn't look at you." Things were so bad ultimately McInerney says he left the Bahamas and went to Florida to get his hand fixed up. But what an introductory story to becoming a Jackass personality ahead of your new movie release.
Meanwhile, the Jackass guys have been known for stunt accidents for a long time. In fact, mainstay Johnny Knoxville recently said that the idea of Jackass 4 for a long time felt like a bad one, given that they are getting older and that "stupid fucking accident[s]" feel like they could happen any time. While Sean McInerney sounds like he was a trooper in the Shark Week situation, this also seems exactly like what Knoxville was harping on. Luckily, it seems like Jackass Forever filming itself went OK -- you know, except for at least that one hospital incident -- and you'll be able to see the final results when the flick hits the 2021 movie release schedule this October.
Your Daily Blend of Entertainment News
Reality TV fan with a pinch of Disney fairy dust thrown in. Theme park junkie. If you've created a rom-com I've probably watched it.