Law And Order: SVU's Mariska Hargitay Gets A+ Support From Melissa McCarthy After Injuring Herself At Black Widow Premiere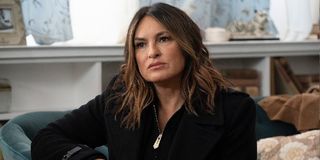 Law & Order: SVU's 23rd season is on the way in the fall, which means everyone needs to be on their game as production kicks off, especially for the drama's milestone 500th episode. However, series star Mariska Hargitay's latest leg injury might be a problem, all thanks to Black Widow, but she is getting some support from Melissa McCarthy.
Melissa McCarthy, who is friends with the SVU star, posted a video of herself on Instagram, standing outside a Wienerschnitzel and holding up a sign that says "Honk if you're PRAYING for Mariska Hargitay's recovery!!!" And if that doesn't say friendship, I don't know what does.
As Melissa McCarthy is showing some A+ support to her friend, Mariska Hargitay is taking it in stride. Following a recent screening of Black Widow, the actress fell in the rain outside the theater, injuring her ankle which looked to be on the same leg as her previous knee injury. She praised McCarthy's humorous support on Instagram, with various hashtags that are a mix of comedy and serious:
The SVU actress has already had quite an eventful summer, so it's nice to see that a friend is coming out in full force to show support. Since she will be going back to work for SVU Season 23, hopefully she has a speedy recovery. Or maybe they will just incorporate her injury into the first half of Season 23, as that has happened to actors before. Moreover, at least Melissa McCarthy will likely be ready to support Mariska Hargitay during her recovery, however long that takes. Hargitay has been in good spirits since the injury and joking around, but it's still a bummer that her summer has involved so much pain.
It can be hard joking around when you're hurting, but it's easier when you have a great support system, something that Mariska Hargitay doesn't seem to be lacking. Here's hoping that she gets a full recovery before Season 23 of SVU starts filming, though it would be interesting to see what Olivia Benson looks like with a brace on for a few episodes and how it would affect the storyline. Anything can happen in the summer while on hiatus but it just goes to show that everywhere you go, you have to be careful, even when walking outside after seeing a movie in the rain.
We are wishing Mariska Hargitay a speedy recovery! With SVU premiering in the fall, it shouldn't be long until filming begins. In the meantime, check out our 2021 summer TV guide to see what shows to look forward to before summer comes to a close.
Passionate writer. Obsessed with anything and everything entertainment, specifically movies and television. Can get easily attached to fictional characters.
Your Daily Blend of Entertainment News
Thank you for signing up to CinemaBlend. You will receive a verification email shortly.
There was a problem. Please refresh the page and try again.