NCIS Season 19 Is Definitely Underway, But Are We Already Getting Hints For Gibbs' Exit?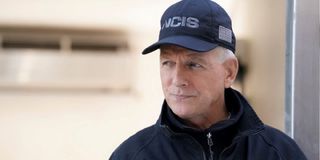 Season 19 of NCIS is getting closer. With an official premiere date announced, it was only just a matter of time before production on the procedural finally restarted. Fans will be pleased to find out that yes, production has started on the 19th season of the CBS drama, and writer and producer Christopher J. Waild is getting fans pumped, but also curious about Gibbs' future.
First things first, though – Christopher J. Waild took to Twitter to share the front page of the script for the premiere episode of Season 19 to prove that Season 19 is officially underway! Waild cleverly covered the title to the episode in the photo, but not his writing credit. With production starting on Season 19 and some visual proof of it from Waild, hopefully that means we'll be getting more news about the upcoming season. Check it out!
And the writer/producer isn't the only one excited for the first day of production. Brian Dietzen, who portrays Jimmy Palmer on NCIS, shared his feelings on Twitter in response to Waild's tweet. And the comments underneath showed that many fans can't wait for the new season of their favorite show, even with Gibbs' future uncertain. Here's how Dietzen feels about getting back to work:
While some fans are excited about the start of Season 19, others are questioning one storyline that is making them worry. Along with the script, Christopher J. Waild posted another photo to Twitter, this time of an odometer. Waild didn't specify whose car it was from, but some are assuming it's from Mark Harmon's Gibbs' truck, a 1970 Ford F250.
It's interesting to point out that whoever's truck this is, the miles do start with 19, so whether or not that's supposed to mean something as the show heads into its 19th season, it's a fun little Easter Egg. Meanwhile, if this is supposed to be Gibbs' truck, is there something that fans are supposed to be looking at? Perhaps there's a hint in there somewhere about Mark Harmon's character, considering that explosive Season 18 finale. In the final episode of the latest season, somebody blew up Gibbs' boat while he was on it.
While we know that he survived, no other information was released about what happened or who was behind it. It's possible that's where he could be going in the new season, trying to figure out for sure who is out to get him and why. He could be gone for a long time since he's not going to be in the upcoming season as prominently as previously. It's possible that the first episode could set up some type of trip that Gibbs is going to take, only for him to return either throughout the season or at the end of the season. Whatever happens, it will be interesting to see how they set up that story.
Besides Gibbs' impending exit, NCIS is poised to look different next season, as it will be officially losing one star and is moving from its long-standing Tuesday time slot to Monday to make room for a full night of FBI. The show will be paired with new NCIS: Hawaii spinoff so even if fans won't be getting a lot of Gibbs for Season 19, they won't be short of NCIS. Season 19 of NCIS premieres Monday, September 20 on CBS.
Passionate writer. Obsessed with anything and everything entertainment, specifically movies and television. Can get easily attached to fictional characters.
Your Daily Blend of Entertainment News
Thank you for signing up to CinemaBlend. You will receive a verification email shortly.
There was a problem. Please refresh the page and try again.