Watch A Fake But Hilarious Last Dance Spoof Of Michael Jordan Watching LeBron James In Space Jam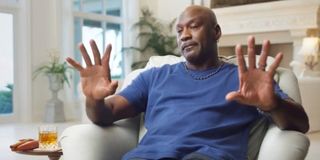 This past weekend, moviegoers were treated to the release of Space Jam: A New Legacy, the long-awaited sequel to the classic '90s film that's left a serious dent in pop culture. Of course, one of the most significant aspects of that film is that it served as a cinematic vehicle for NBA legend Michael Jordan. While LeBron James succeeded the hall of famer in the sequel, many fans still wanted to see His Airness show up again. That didn't come to pass but, now, we have the next best thing: a fake, but hilarious Last Dance-inspired spoof of Jordan watching bits from the movie.
ESPN's The Last Dance, a docuseries that chronicled the sixth and final championship run of the '90s-era Chicago Bulls, featured a number of memorable moments. But among the highlights were segments that showed Michael Jordan watching fellow interviewees on a tablet. In some instances, the businessman and former athlete would laugh, and this was the basis for the video created by geofilms. Check it out for yourself (via officialnbabuzz's Instagram page) down below:
Let's be honest, it was only a matter of time before someone found a way to meld Michael Jordan's gif-worthy reactions with footage from Space Jam: A New Legacy. I mean, whether you're a fan of the film or not, you honestly can't help but laugh. Part of it also makes you wonder if Jordan has actually seen the movie and has thoughts.
Space Jam is a huge part of Michael Jordan's legacy, so it's only natural that fans would want to know or even joke about how he might feel about the recent sequel. Believe it or not, the movie was actually born from a commercial starring Jordan and some Looney Tunes characters, and the rest is history. The Last Dance actually touched on the film's production, which saw Jordan shooting his scenes during the day and holding basketball scrimmages in the evenings.
Given his connection to the franchise, a Michael Jordan cameo in Space Jam: A New Legacy would've been nice, and the creative team wanted to make it happen. The film's director even revealed that he had a meta idea that ironically relates to The Last Dance.
The lack of a Michael Jordan cameo doesn't seem to have hurt the film too much on the financial side of things, though. In its opening weekend, the movie took the top spot at the box office, which garnered a cheeky response from LeBron James. And while critics haven't been too impressed with the movie, it would seem that audiences are still digging it.
There's no telling if Michael Jordan has actually seen Space Jam: A New Legacy or if he'd even share his thoughts on it if he has. But at the very least, we can still enjoy a good chuckle from this solid video.
And if you want to check out the source of the Michael Jordan clip, you can currently stream The Last Dance on Netflix.
Covering superheroes, sci-fi, comedy, and almost anything else in film and TV. I eat more pizza than the Teenage Mutant Ninja Turtles.
Your Daily Blend of Entertainment News
Thank you for signing up to CinemaBlend. You will receive a verification email shortly.
There was a problem. Please refresh the page and try again.