After Frank Fritz's Viral American Pickers Comments, Mike Wolfe Confirms His Partner's Exit In New Message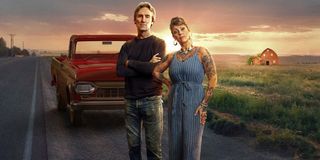 Frank Fritz, a longtime American Pickers star, has been in the news over the past several days after indicating he'd like to get back to the History series, while also hinting at deeper problems between himself and series star Mike Wolfe. Wolfe had been running the reality show solo for over a year as Fritz dealt with health issues, but as it turns out, Fritz won't be back to the series at all. In fact, Mike Wolfe has now confirmed the news, sharing a message with the fans.
Shortly after news broke indicating that while Frank Fritz wanted to come back to American Pickers, his return was actually unlikely, Mike Wolfe himself has commented. In a new message, Wolfe confirmed the accuracy of previous reports heading Fritz was officially off the show. He harkened back to the show's roots, noting,
The story behind Frank Fritz's exit is actually a bit complicated. First and foremost, the man took a break from the series of his own accord. He was suffering from a variety of health issues, including what he has said included Crohn's Disease and debilitating back pain. He says he stopped drinking and through a combination of that and diet, he ultimately lost 65 lbs. He also had back surgery to get himself in order and seems to be living a happier, healthier lifestyle these days, though he recently said there's been no communication between himself and his other American Pickers co-star during his time away.
From Frank Fritz's point of view -- and via an interview he did with The Sun earlier this week -- he's ready to get back to work. However, from the show's point of view, things have seemingly been going fine without the show's former other lead. Mike Wolfe was generally the bigger known lead for the show anyway and while there's no official statement about why Fritz isn't being asked back from the network yet, there was some chatter about the two not getting along, which is seeming also evidenced by the fact the two haven't spoken since Fritz took what he saw as a leave of absence from the show.
In fact, the last episode of American Pickers that Frank Fitz appeared in aired on television for the first time in March of 2020. That means he's been off the air for more than a year and off of filming the reality series for even longer. Mike Wolfe's been doing the picking on his own and it seemed to be going well--at least well enough that Fritz won't be coming back.
In the longer message on Instagram, Mike Wolfe also thanked the fans, noting that the support of American Pickers viewers has led the show through 22 seasons, 325 aired episodes (so far) and plenty of on-screen ribbing, but that the show will continue it's "common thread" of tying people together.
Technically, History has not officially said American Pickers is renewed for Season 23 yet (though it hasn't been cancelled either), and the show's last Season 22 episodes aired in March of this year. But the comments from Mike Wolfe seemingly indicate there is some forward momentum on that front, just without Frank Fritz. We'll keep you posted and, of course, there are other dynamic duos still on the History channel.
Amazing Race & Top Chef superfan with a pinch of Disney fairy dust thrown in. Theme park junkie. If you've created a rom-com I've probably watched it.
Your Daily Blend of Entertainment News
Thank you for signing up to CinemaBlend. You will receive a verification email shortly.
There was a problem. Please refresh the page and try again.