Mayim Bialik Shares Throwback Set Photo With Jim Parsons That's Giving Me All The Big Bang Theory Feels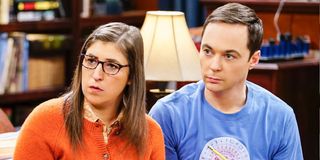 One of the most beloved sitcoms of the modern era is The Big Bang Theory, which came to an end a little over two years ago. While most of the cast has moved on from the CBS series, many of them are still rightfully paying tribute to the past every now and again. Stars Jim Parsons and Mayim Bialik, who portrayed couple Sheldon Cooper and Amy Farrah Fowler on the series, are still working together on the Fox comedy Call Me Kat. Bialik recently shared a throwback photo of the two of them working on their previous series together, and it's giving me all the big-bang feels.
Mayim Bialik must have been feeling some things of her own when the actress took to Instagram to share a picture of her and Jim Parsons from The Big Bang Theory set. Check it out!
As one fan pointed out, the photo appears to have been taken as Mayim Bialik, Jim Parsons and other cast members were filming for Amy and Sheldon's wedding episode. And with that in mind, other fans started assuming that the specificity could mean something more, though it's not exactly clear what it could be. Whatever it means, even if it's nothing, the pic alone was enough to make fans very nostalgic for the sitcom.
The two stars have remained close since The Big Bang Theory came to an end, whether it's in public for fans to see through social media, or with their post-BBT projects, like Call Me Kat. It just shows that one reason why Sheldon and Amy worked so well together on the series is because of Jim Parsons and Mayim Bialik's chemistry off-screen. Earlier this year Bialik shared a video on Instagram of some bloopers between her and her on-screen hubby in honor of Parsons' birthday, and their chemistry definitely radiates.
Mayim Bialik has reflected over the years on what it's like working with Jim Parsons, as well as why the two of them mesh so well together. She has purported that neither of them are "overly sentimental as humans," which also plays a part in why they've maintained closeness as both acting and producing partners. Working with someone for a decade can definitely have that affect and you can really know and connect with someone during that time. When it was announced that they would be working together again on Call Me Kat, it was another match made in heaven, although Parsons still has yet to make a guest-spot appearance.
Even though it hasn't been too long since The Big Bang Theory came to an end, it feels like it was forever ago, considering how long 2020 was, and how prevalent the sitcom was before that. Although it might be a while until The Big Bang Theory gets the Friends reunion treatment, it doesn't look like the cast is straying far from each other. It's great to see that Bialik and Parsons are still close with Call Me Kat, and we're hoping to see some cameos happen on Kaley Cuoco's The Flight Attendant down the line, too. But it makes you wonder just where Sheldon and Amy would be these days? Probably flaunting their Nobel Prize and changing the world, and then taking pictures of themselves in mirrors.
No premiere date has been set yet for Season 2 of Call Me Kat, but in the meantime, check out what other shows to look forward to this fall!
Your Daily Blend of Entertainment News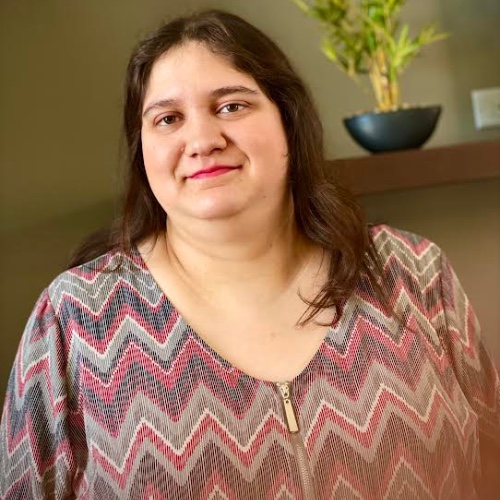 Passionate writer. Obsessed with anything and everything entertainment, specifically movies and television. Can get easily attached to fictional characters.