Big Bang Theory Series Finale: What's Next For The Big Bang Theory Cast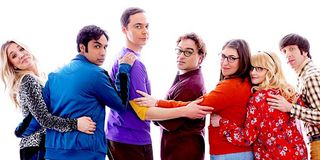 (Image credit: cbs press)
TV series aren't meant to last forever, but the magic of some shows' cast might have fans believing other wise. Such is the case with The Big Bang Theory cast members, who will deliver an ensemble-strong farewell to audiences with the Big Bang Theory's series finale airing on Thursday, May 16. After twelve years of CBS primetime, Jim Parsons, Kaley Cuoco and the rest will take the screen for the final episode as their respective characters, though the show will continue living on in syndication.
Thankfully, The Big Bang Theory cast will be moving on to different projects across the entertainment spectrum, so fans don't need to stress as if the sitcom is the last place we'll ever see any of the actors. Here, we'll be running through all of the upcoming projects that will feature the Big Bang Theory cast in some form or fashion.
Jim Parsons (Sheldon Cooper)
During his stretch on The Big Bang Theory, Jim Parsons only kept a limited slate of projects outside the hit sitcom, and the roles were usually of the voice-acting variety, such as the feature Home, and shows like SuperMansion. But deeper roles in projects like the HBO TV movie The Normal Heart stretched his dramatic prowess for audiences solely familiar with Sheldon.
Movies: Currently, Jim Parsons can be seen as Florida prosecutor Larry Simpson in the Netflix feature Extremely Wicked, Shockingly Evil and Vile, the Ted Bundy biopic starring Zac Efron as the handsome serial killer.
It was also announced in April that Parsons would reprising his The Boys in the Band Broadway role for an upcoming film adaptation for Netflix. With director Joe Mantello returning and American Horror Story's Ryan Murphy producing – Murphy and Parsons worked on The Normal Heart together – The Boys in the Band will reteam Parsons with his stage co-stars Zachary Quinto, Andrew Rannells, Matt Bomer and the rest of the cast. The movie is expected to premiere on the streaming service in 2020.
Though the project is currently only in the script stage, Jim Parsons could potentially play TV journalist Michael Ausiello for the Michael Showalter-directed film Spoiler Alert.
TV: On the TV front, Jim Parsons has yet to lock down another lead role to follow up on his Big Bang Theory success, but that doesn't mean he won't be in fans' lives this fall. He'll actually still be playing Sheldon Cooper for the foreseeable future, as he confirmed that he'll be back for voiceover duties when Young Sheldon returns to CBS for Season 3 this fall.
Parsons is also an executive producer for in-development shows such as the "gay couple owning a small town inn" comedy The Inn Crowd, as well as the "two clashing Texan moms become roommates" comedy Bless Her Heart.
Kaley Cuoco (Penny Hofstadter)
The Big Bang Theory boosted Kaley Cuoco's fame to massive heights over its twelve seasons. Though she also became a headline-maker in her personal life, and made waves on red carpets and talk shows, Cuoco chose not to maintain a heavy acting career outside of The Big Bang Theory, though she could be seen and heard here and there in projects such as Handsome: A Netflix Mystery Movie and Why Him? But what's next?
TV: Comic book fans are in for a treat, as Kaley Cuoco will be playing the titular fan favorite villain for DC Universe's Harley Quinn, which will see Cuoco paired with Lake Bell's Poison Ivy to chronicle the former's attempt to join the Legion of Doom after splitting up with The Joker (as voiced with NSFW glory by Alan Tudyk). What's more, Cuoco is executive producing Harley Quinn, so the gig more to her than merely a voice role.
In 2017, it was reported that Kaley Cuoco and her Yes Norman Productions had optioned the rights to adapt the Chris Bohjalian novel The Flight Attendant as a TV series for Warner Bros. TV. The story centers on a woman who wakes up next to a dead body, and tries to piece together what happened. Cuoco is presumably still set to star in and produce the mystery project, which was put into place in May of 2018, but not much news has come out since then.
Melissa Rauch (Bernadette Rostenkowski-Wolowitz)
Not one of the original Big Bang Theory cast members, Melissa Rauch joined the sitcom in a Season 3 recurring role just prior to landing a much more limited role on HBO's True Blood, as well as a one-off part for The Office. Their loss, and Howard's gain, amirite?
Movies: Melissa Rauch – who coincidentally also voiced Harley Quinn for a 2017 direct-to-video feature – will soon be seen in director Steven Soderbergh's upcoming dramatic feature The Laundromat. The film, which also stars Meryl Streep, Gary Oldman and more, centers on a group of journalists that uncover vast amounts of data linking political leaders to under-the-table banking accounts. The Laundromat is set to release in 2019.
For those who missed its April 2019 film festival release, Melissa Rauch also stars in the R-rated comedy Ode to Joy from Jason Winer, in which she co-starred with several other TV favorites like Gotham's Morena Boccarin, Westworld's Shannon Woodward, Sherlock's Martin Freeman and more. As of this writing, a wide release has yet to be announced.
TV: Beyond her Big Bang Theory work, Melissa Rauch appeared in two episodes of Showtime's financial crisis comedy Black Monday, which recently got renewed for Season 2, presumably set to air in 2020. It's unclear at this time if she will return to keep playing Shira, the wife of Paul Scheer's value-lite trader Keith, but she'll likely have more time on her hands now.
Johnny Galecki (Leonard Hofstadter)
Having been a television mainstay a decade prior to The Big Bang Theory's premiere on CBS, Johnny Galecki was primed to continue excelling at sitcom life, and he's been winning over fans new and old for twelve seasons now. (He was the second highest-paid TV star in 2018, earning around $900,000 per Big Bang Theory episode.) Seeing him leave as Leonard will be rough for fans, but he may not be completely absent from primetime in 2019.
TV: In 2018, Johnny Galecki jumped networks for a trio of appearances on ABC's biggest ratings bonanzas of the year. He reprised his role as the soft-spoken David Healy first for Roseanne, and then for The Conners after Roseanne Barr was ousted. Galecki hasn't committed to returning for more as David, but the way the character's plotline with Darlene was going, it seems like an inevitability.
Unfortunately, two of his other TV projects had less successful times in 2018. He executive produced the CBS comedy Living Biblically, which lasted only 13 episodes, and also served as EP and star of the unscripted series SciJinks, which also failed to make a dent in the zeitgeist.
Kunal Nayyar (Raj Koothrappali)
With ideals of bringing more Indian actors and storylines to the small screen, actor Kunal Nayyar has been one of primetime's most eligible bachelors for the entirety of The Big Bang Theory's run. Nayyar also hasn't shied away from taking others roles over the years, from parts in Sanjay and Craig to Fantasy Hospital to voicing Guy Diamond in the Trolls feature and TV short.
Movies: Speaking of Guy Diamond, Kunal Nayyar is set to reprise the role of the sparkly animated character for the big screen sequel Trolls World Tour, tentatively set for release in 2020.
The actor has several other film projects on the horizon, though, including Zeresenay Mehari's emotional drama Sweetness in the Belly and Gil Junger's Megan Fox-starring family comedy Think Like a Dog. In the latter, a 12-year-old boy's science project goes wrong and causes him to form a telepathic bond with his dog, which is only slightly outside the realm of potential Big Bang Theory plotlines.
Mayim Bialik (Amy Farrah Fowler)
Having already conquered the whole star-of-a-hit-sitcom thing back when she was a kid and Blossom was rocking out, Mayim Bialik chose to focus on getting a solid education. She eventually earned a Ph.D. in neuroscience, which perfectly set her up to take the role of neuroscientist Amy when she joined the Big Bang Theory cast in its fourth season. But what of the future for this actress, author and blogger?
Movies: Speaking of the future, the main project that's currently lined up for Mayim Bialik is for the potential feature spin on the Doctor Who quasi-parody The Inspector Chronicles, which first broke out as a short film in 2013. (Under the spot-on title Untitled Web Series About a Space Traveler Who Can Also Travel Through Time.)
For the project, which got its most recent update in March 2018, Bialik would be reprising her voice role as the Inspector's time-jaunting machine known as B.O.O.T.H.
Kevin Sussman (Stuart Bloom)
Though he's most known as a Big Bang Theory cast member, Kevin Sussman will also live on in infamy as the weather wizard Steve in both the Wet Hot American Summer feature and its First Day of Camp prequel spinoff series on Netflix. Among other roles, of course.
TV: Having pulled away from the film world for a while in 2012, Kevin Sussman has popped up in other small screen fare since taking on the role of Stuart. Back in 2017, he and fellow Big Bang alum John Ross Bowie set up a multicamera comedy at Fox called The Ever After Part, which would center on a couple adjusting after the husband's flamboyant mother and manservant move in with them and their daughter.
Rescue Me's Peter Tolan was tapped to be the showrunner, which was promising. Sadly, news on the project stalled out after it was picked up, so it's unclear what happened.
Simon Helberg (Howard Wolowitz)
Unlike co-star Kunal Nayyar, who landed The Big Bang Theory as his first major role, Simon Helberg was all over the place before making Howard Wolowitz a household name. Perhaps most notably, he starred in the short-lived Aaron Sorkin drama Studio 60 on the Sunset Strip, which ended the same year Helberg landed Big Bang.
Unfortunately, it doesn't look like Simon Helberg has any prominent projects on the horizon for us to get excited about. There aren't even any smaller projects in contention. Hopefully that'll change in the near future, so that the actor can continue his comedic streak after The Big Bang Theory is done.
The Big Bang Theory may be ending its 12-season run in 2019, but the hit CBS sitcom (opens in new tab) will forever live on in syndication and DVD and so on, with the show's conclusion possibly opening up streaming rights for the future. Plus, Young Sheldon has proven that spinoffs are a hot commodity, and has already earned itself two more seasons after its current one.
Possibly expect for Chuck Lorre & Co. to come up with more spinoff plans soon, even if the core Big Bang Theory cast isn't fully involved. Thankfully, TV's near future looks pretty good in the meantime.
Nick is a Cajun Country native, and is often asked why he doesn't sound like that's the case. His love for his wife and daughters is almost equaled by his love of gasp-for-breath laughter and gasp-for-breath horror. A lifetime spent in the vicinity of a television screen led to his current dream job, as well as his knowledge of too many TV themes and ad jingles.
Your Daily Blend of Entertainment News
Thank you for signing up to CinemaBlend. You will receive a verification email shortly.
There was a problem. Please refresh the page and try again.