Riverdale Showrunner Promises 'Darker Things' Coming For Jughead In Season 5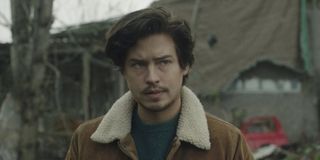 (Image credit: The CW)
After four months off, The CW's most ridiculous but intriguing show Riverdale is finally returning to continue its fifth season. Following an insane cliffhanger involving prison breaks and alien abductions, Riverdale showrunner Roberto Aguirre-Sacasa is previewing a dark future for Cole Sprouse's Jughead Jones.
Jughead was in a very vulnerable phase before Riverdale went on hiatus. He was trying to work through a writer's block for his new book, so to help, he took some seriously psychedelic drugs that messed with his mind. Tabitha was going to keep an eye on him but Jughead promised he'd be okay. While he was cuffed to the bunker, he managed to escape and in turn, got abducted by aliens, or Mothmen as they're called. Roberto Aguirre-Sacasa told TVLine that moving forward, Jughead is going to have some dark situations headed his way:
This isn't Jughead's first encounter with the Mothmen, as he believes he lost some time earlier in the season and thinks he got abducted by them. However, it seems like this one will leave much more trauma, as if the stress of being a writer wasn't hard enough on him. The time jump wasn't too kind to Jughead. Even though he did have a successful book, he found himself in a hole afterwards, being chased by debt collectors. Now a lit teacher at Riverdale High, Jughead is still trying to write another book but it isn't going so well for him.
Meanwhile, the former town of Riverdale is going to be dealing with a lot when the series finally returns. On top of the Mothmen, there was a breakout at Hiram Lodge's prison, courtesy of Hiram Lodge himself, meaning that there are convicts running around everywhere. Betty had left Pop's diner in a semi truck so she can continue investigating sister Polly's disappearance and find out what really happened to her. Meanwhile, Veronica is being blackmailed by husband Chad to stay with him. Nothing has ever come easy for the Core Four and their friends, and that is not changing when Riverdale comes back.
The back half of Season 5 of Riverdale will also include the return of Vanessa Morgan as Toni Topaz, who went on maternity leave, both IRL and in the show. And fans will be happy to know that Josie and the Pussycats are returning as well, with the OG Pussycats from the first two seasons and even Alexandra Cabot (Camille Hyde) from the short-lived Katy Keene spinoff.
Much like the show itself, Jughead's story will only get darker from here on out, so it will be interesting to see how that will affect him and his friends, as well as any narrative storytelling. Riverdale airs on Wednesdays at 8 p.m. ET on The CW.
Passionate writer. Obsessed with anything and everything entertainment, specifically movies and television. Can get easily attached to fictional characters.
Your Daily Blend of Entertainment News
Thank you for signing up to CinemaBlend. You will receive a verification email shortly.
There was a problem. Please refresh the page and try again.