Cole Sprouse: What To Watch Streaming If You Like The Riverdale Star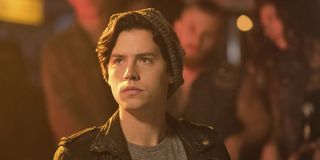 If you grew up in the Golden Age of Disney Channel like me, and many others around my age, did, you would have no trouble instantly recognizing some names from the classic television network. These names might be Miley Cyrus, Demi Lovato, or even Selena Gomez, possibly Zac Efron from his High School Musical days, but for me, one of the names I always remembered was the Sprouse twins.
Both of their shows on the Disney Channel were hits, but they both went on to do new things for a bit. Dylan Sprouse stepped out of the limelight after attending NYU with his brother. Cole Sprouse, however, has been busy plenty in the entertainment industry, especially as of late. There are plenty of movies or TV shows for you to stream to see him, from the very start of his time as an actor all the way to now. Here are the best ways to watch Cole Sprouse movies or TV shows online.
Grace Under Fire (Amazon Prime)
If we're talking about the very beginnings of Cole Sprouse's acting career, look no further than Grace Under Fire. In this popular sitcom that ran from 1993 10 1998, Grace Under Fire follows the story of a single mother, who is learning how to cope and raise her kids alone after finally finding the strength to divorce her husband.
The show, at the time, made strides for the representation of women across the media industry, showing through television the struggles of what being a single mother can be and that it is possible. The comedy is top-notch and the messages are fantastic – plus, you get to see a very young Cole Sprouse in his cutest years. I think that's a win for everyone.
Stream Grace Under Fire on Amazon Prime. (opens in new tab)
Rent Grace Under Fire on Amazon. (opens in new tab)
Big Daddy (Amazon Prime)
While not currently available on a streaming platform right now, Big Daddy is a worthy addition to this list just for its comedy and great story. In this film, we get to follow the tale of an overgrown adolescent man, who is dumped by his girlfriend because he is irresponsible. So, to prove he is indeed responsible, he takes in a five-year-old boy, who randomly appears on his doorstep.
It's an Adam Sandler comedy. While some of his movies have been a bit, ah, questionable (looking at you, Jack and Jill) in the last ten years or so, this is Adam Sandler in his prime, and Big Daddy is one of those films that make you laugh and smile so wide that your cheeks will be hurting afterward. While Cole shares the role with his brother, Dylan – as many young actors who are twins tend to do – it's still a great movie that shows off both of their acting talent, and even their comedic timing as kids before they really took off on the Disney Channel.
Rent Big Daddy on Amazon. (opens in new tab)
Friends (HBO Max)
Friends was a worldwide phenomenon and became so popular even today that a new Friends reunion has taken place on HBO Max. One of the main characters of Friends, Ross, had a son in the very first season, and over time, this boy grew up. The eldest version of Ben that we see later on in the series is played by none other than Cole Sprouse.
And let me tell you, this is one of his best roles, as early as it can be. In my opinion, a lot of child actors can be a bit stiff when they are younger, as they learn how to properly act in front of a camera. However, with Cole, he really shows off his charisma and charm in front of the screen even as a child, creating some seriously funny moments with not just his father, but plenty of other characters as well. I mean, who could forget when Rachel and Ben teamed up to pull pranks on Ross? A classic.
Stream Friends on HBO Max. (opens in new tab)
Buy Friends on Amazon. (opens in new tab)
The Suite Life Of Zack And Cody, The Suite Life On Deck (Disney+)
Chances are, if you know Cole Sprouse, you know about the shows that he did with his twin brother on the Disney Channel. The Suite Life of Zack and Cody, starring the Sprouse twins as the titular characters, told the story of their lives living in a hotel while their mother was a lounge singer, and the adventures – along with mischief – they would get up to. The spinoff series, Suite Life on Deck, followed them through high school – well, high school on a cruise ship, that is. And they came with a whole new set of storylines and characters as well.
There's a reason why these shows became so popular, and while some of the side characters were so much fun, like Ashley Tisdale's blonde-genius, Maddie, or even Debbie Ryan's cowgirl Bailey, there was no one as charismatic as the Sprouse twins.
They really gave these two shows their all and spent a good portion of their lives so far showing off how talented they are. The comedy is great, the stories are entertaining to watch even when you're older, and Cole Sprouse has great chemistry with his brother – it's a fun time all around.
Stream The Suite Life series on Disney+. (opens in new tab)
Rent The Suite Life series on Amazon. (opens in new tab)
The Suite Life Movie (Disney+)
Like many popular TV shows on the Disney Channel, they often get a movie, and that was what The Suite Life Movie was. In this film, we see Zack and Cody go on a crazy adventure. Cody decides to leave the school on the S.S. Tipton to attend another school where he can intern for Dr. Donald Spaulding, who works at a prestigious research firm. From there, secrets are unveiled, a mystery must be solved.
With any movie that is developed off a show, the stakes are higher – as ridiculous as it can be. But this is a Disney Channel movie – are you expecting an Academy-Award winner? Heck no, you're expecting a fun time with corny jokes and some silly plotlines. The Suite Life Movie also gives Cole Sprouse some nice away-time from his brother and establishes him as an independent actor, which is a great step to what he accomplishes later in his career.
Stream The Suite Life Movie on Disney+. (opens in new tab)
Rent The Suite Life Movie on Amazon. (opens in new tab)
So Random! (Disney+)
So Random! was a spinoff of the show Sonny with a Chance, where the So Random! part was actually the show that took place within the show – think of it as sort of like Saturday Night Live but for children. This show starred several of the people from the original Sonny with a Chance without Demi Lovato, and throughout its one season, there were several guest stars and musical stars that appeared on each episode.
The Sprouse Twins happened to be a guest star on one of the episodes of So Random!. In this episode, they really show off how much they've learned in terms of comedy after years of starring in a popular sitcom, taking on sketch comedy easily. It's a great way to admire their comedic skills one last time before they started to do new things.
Stream "The Sprouse Twins" on So Random! on Disney+. (opens in new tab)
Five Feet Apart (Showtime)
Cole Sprouse, for a time, didn't do many movies after he finished his tenure at Disney Channel, going to college and trying to work on other projects. But soon, he did return to film, in the form of Five Feet Apart. This young adult drama tells the story of two young patients with cystic fibrosis, who must remain a certain distance away from each other to avoid cross-contamination. But feelings start to get in the way.
I grew up with Cole Sprouse doing comedy, so it was strange at first to see him take on a role that was much more dramatic in nature, but he does an excellent job. The story is bittersweet and dramatic, just as you would expect, and it's partially thanks to the great chemistry between Cole Sprouse and his co-star, Haley Lu Richardson, both of which rock their roles. For fans of drama and of the actor, this is a must-watch.
Stream Five Feet Apart on Showtime. (opens in new tab)
Rent Five Feet Apart on Amazon. (opens in new tab)
Borrasca (Apple Podcasts)
While not a show or a movie, I believe that Borrasca is a great addition to this list that deserves more credit than it gets. Borrasca is a narrative podcast, a mystery that the listener gets to join in on when Sam Walker moves to a small town in Missouri, and people begin to strangely vanish out of thin air.
Cole Sprouse not only stars but produces this podcast, and let me tell you, it's very interesting. As someone who loves mystery, oftentimes great mysteries can be found away from movies and television. In the case of this podcast and others like it, it's really just fun to listen and try and figure it out for yourself. It's a real "whodunit" and needs to be heard by so many others. Mystery fanatics will love this one for sure – and Cole Sprouse, in this very different project, succeeds exceptionally well. Not only does he have a great presence in his shows and movies, but podcasts are a hidden talent as well.
Stream Borrasca on Apple Podcasts. (opens in new tab)
Riverdale (Netflix)
I mean, it's the reason you're here, isn't it? Riverdale, based on the characters from Archie Comics, tells the story of the town of Riverdale, a seemingly normal town on the outside with dastardly secrets and murderous tales on the inside, with plenty of twists and turns.
If you want a show that you can never quite predict (or understand), then Riverdale is your best bet. While some storylines can be – let's just say interesting, to be nice, there are plenty of redeeming qualities about the popular CW show, along with the Riverdale cast. Not only was this Cole Sprouse's return to television when it premiered back in 2017, but it also gave us great lines like, "I'm weird. I'm a weirdo. I don't 'fit in.' And I don't want to fit in. Have you ever seen me without this stupid hat on? That's weird."
Am I being a bit sarcastic? Yes. But do I think it's a guilty pleasure show that you'll also enjoy watching, just for the fun of it? Of course.
Stream Riverdale on Netflix (opens in new tab).
Rent Riverdale on Amazon. (opens in new tab)
While he may not be in some of the best movies on Amazon Prime or even the best movies on Netflix (yet, anyway), Cole Sprouse has done plenty. For someone who's been in the industry as long as he has, I'm eager to see what's coming up next. Let's hope that whatever it is, we might be able to add to this list in the future for this talented young actor.
Your Daily Blend of Entertainment News
Big nerd and lover of Game of Thrones/A Song of Ice and Fire. Will forever hate season eight. Superhero and horror geek. And please don't debate me on The Last of Us 2, it was amazing!
Your Daily Blend of Entertainment News
Thank you for signing up to CinemaBlend. You will receive a verification email shortly.
There was a problem. Please refresh the page and try again.