Kelly Clarkson Just Landed A Divorce Victory, So (Of Course) She Went To Vegas To Celebrate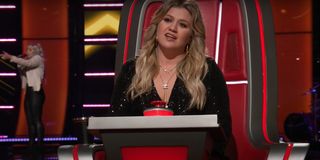 (Image credit: NBC)
Kelly Clarkson is a woman wearing a lot of hats these days. Her eighth season as a coach on the The Voice premieres soon. The Kelly Clarkson Show on NBC racked in a few Emmy wins this year, including herself as the host. Meanwhile, her divorce from ex-husbandanger Brandon Blackstock has gotten rather contentious. Following a recent victory in the legal proceedings, though, Clarkson has done what any self-respecting bachelorette would do: celebrate in Vegas.
The "Since You've Been Gone" singer landed the win in her divorce in the form of the court finally ruling in her favor. Kelly Clarkson's ex-husband will be totally responsible for the roughly $81,000 monthly upkeep of their Montana ranch, which is now his primary residence and his apparent new job site as a full-time rancher. (Previously, he had been Clarkson's entertainment manager for many years.) In celebration, Clarkson jetted over to Las Vegas, Nevada for a performance of country singer George Strait with her friends. See Clarkson's Instagram post with a box top view at the event:
As you can see from the caption, the ribbing inherent between coaches on The Voice goes way beyond the show. Kelly Clarkson called out Blake Shelton here for seemingly not being "the true King of country music." Former coach Nick Jonas likely does not approve, but maybe newbie coach Ariana Grande will be able to keep up with the barbs sure to come in Season 21. Hopefully this is further indication that there truly is no real bad blood between Clarkson and Shelton. (Shelton is supposedly still close friends with and represented by her ex-husband Brandon Blackstock.)
Whatever the case may be, Kelly Clarkson isn't letting the divorce difficulties get her down. She had, in fact, initially celebrated the latest win with her fellow Voice coaches when the news broke. In another post, the talk show host showed off what else she's getting up to in Vegas: namely, a little Top Golf. Check out how she's probably having a "better time" than you right now:
Prior to the recent victory, the divorce has been a bit of an uphill battle for Kelly Clarkson. She was hit with a huge monthly alimony bill – close to $200,000 per month in both spousal and child support. But obviously, Brandon Blackstock will have to put close to half of that amount to managing his ranch. He also reportedly has to pay 30 percent of their children's private school education.
Hopefully we can all pack up our divorce victories, or victories of any kind, and jet off to Vegas on a whim. As for Kelly Clarkson, it sounds like she can breathe for the first time, in a long time. The new season of The Voice airs on Sept. 20 on NBC.
I am a vegan feminist. I'm fascinated by all things space/stars. I love film history, reality television, and my cat Bubbe.
Your Daily Blend of Entertainment News
Thank you for signing up to CinemaBlend. You will receive a verification email shortly.
There was a problem. Please refresh the page and try again.