The Handmaid's Tale: 5 Questions We Have While We Wait For Season 5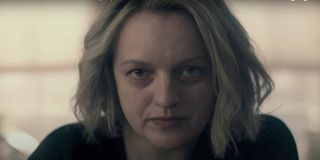 Content warning: the following contains major spoilers for Season 4 of The Handmaid's Tale.
Hulu's The Handmaid's Tale has been critically acclaimed since it premiered in 2017. Based on Margaret Atwood's 1985 novel of the same name, the dystopian drama has depicted some pretty dark situations. The Handmaid's Tale Season 4 ending, however, was one of the most intense episodes in the show's history. Not only did it feature the death of a main antagonist, the installment also set up a few major conflicts for lead protagonist June (an Emmy-award winning Elisabeth Moss). While The Handmaid's Tale Season 5 doesn't have a premiere date yet, it's never too soon to wonder what will happen after that explosive season finale. Here are 5 of our biggest questions.
Will June Face Legal Consequences For Fred's Death?
The most shocking moment of The Handmaid's Tale Season 4 finale was undoubtedly the murder of Commander Fred Waterford (Joseph Fiennes). He was torn apart by a group of his former handmaids, including ringleader June, who were seeking retribution for his heinous abuse. Considering his crimes, Fred's death might feel narratively appropriate, and June's actions might feel justified, but her actions will almost certainly have consequences.
The Canadian government definitely didn't sanction an execution. Fred had given Canada a wealth of information regarding the inner workings of Gilead's government, so its leaders probably won't be too happy to see that he's been killed. If they find out that June is responsible for Fred's death, she could be imprisoned or worse. It's unlikely that The Handmaid's Tale will give June a get-out-of-jail-free card. For better or for worse, the show has always shown us the consequences of its characters' actions.
How Will Gilead React To His Surprise Execution?
Fred was originally meant to be traded to Gilead in exchange for the freedom of 22 captive women. On the way to Gilead, he was intercepted by the Commander and delivered to June and the other handmaids. Did Gilead know their deal had been altered, or is the dystopian nation still expecting Fred to return alive and well? If the latter is true, that could lead to hostile relations between the governments of Gilead and Canada. Would Gilead see Fred's execution as an act of war? This sort of major conflict could easily propel a season-long storyline, and it would be interesting to see how the characters handle being on the front lines if the war makes its way to Canadian soil.
What Will Serena Do Next?
After years of wishing for a child (but believing herself to be infertile), Serena (Yvonne Strahovski) has finally had her wish granted. In the second episode of Season 4, 'Nightshade,' she finds out she is pregnant with a baby boy (presumably fathered by Fred in Season 3). Serena had been hoping that Fred would be granted leniency and that they could start a family together, despite their rocky relationship. However, as we now know, that will never come to pass. All that's left of Fred is a finger and a wedding ring. So what will Serena do now? With a baby on the way, she might be forced to accept Fred's death and move on. However, considering the 'gift' June sent her, she has to know that Fred was murdered. It seems more in line with Serena's character for her to try to expose Fred's killers and bring them to justice (or at least, her idea of justice).
Can Luke Forgive June For Choosing Revenge Over Her Family?
June appeared to be resigned to the fact that the trade-off for her vengeance was her relationship with her family. After she returned home with Fred's blood on her hands, she asked a horrified Luke (O.T. Fagbenle) for just five minutes with Nichole (who's actually the biological daughter of Nick Blaine and June) before she left. The message was clear: June was no longer welcome in Luke's home. Earlier in the finale episode, after June gave her final testimony against Fred, Luke had tried to comfort her by saying they needed to move on and "count their blessings." June had appeared to agree with him, but we know that wasn't the case. Her betrayal could have done irreparable damage to her relationship with Luke. Time will only tell if her vengeance was worth the cost of her family.
Will June Actually Leave Canada?
June Osborne has spent most of her screen time on The Handmaid's Tale trying to get to Canada to be reunited with her family. Of course, once she got to Canada, it was clear that her problems were far from over. Fred had traumatized June too deeply for her to move on. As she tells Emily (Alexis Bledel) in the beginning of the Season 4 finale, "I wish I could let him [Fred] go." So while she got what she wanted (an escape from Gilead and a reunion with her family), June realizes that she's willing to put all of that at risk for the chance to avenge herself. And when she finally does serve Fred his just desserts, she assumes that she'll have to go on the run, or at the very least, leave her family.
That means leaving behind her child and pre-Gilead husband Luke. It's difficult to believe that June would choose to abandon everything she had worked so hard to obtain, but it's just as hard to believe that June could have let Fred walk free. But was the cost of June's liberation too high? In an interview with Entertainment Weekly, showrunner Bruce Miller confirmed that Season 5 will answer that question:
While there are many other questions The Handmaid's Tale still has to answer (Will Hannah ever escape Gilead? What will happen to Rita?), we'll just have to wait for Season 5. There's no set premiere date yet, but we'll be sure to keep you posted. Until then, you can watch Seasons 1 - 4 on Hulu.
Your Daily Blend of Entertainment News
Actor, singer, and occasional dancer. Likes: fashion, books, old buildings. Dislikes: cilantro, the NJ Turnpike, sneaker wedges.