Upcoming Elisabeth Moss Movies And TV: What's Ahead For The Handmaid's Tale Star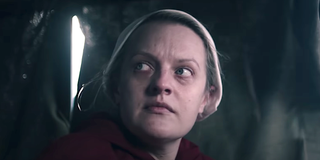 In the last several years, there have been many TV shows which have really taken the world by storm and gotten everyone talking. Series like Game of Thrones and Breaking Bad are on that list, but one still-running show which comes up a lot is The Handmaid's Tale. Along with those conversations, the actress Elisabeth Moss often pops up, because of her amazing acting talent.
While we have, clearly, seen how fantastic Elisabeth Moss is in other hit shows like Mad Men, and interesting movies like The Invisible Man, one has to wonder what exactly this actress has coming up in the next couple of years. God knows that I'm wondering. So, from The Handmaid's Tale Season 4 to 2021 movies coming out as soon as the summer, here is everything that Elisabeth Moss has on her radar for some time.
The Handmaid's Tale, Season 4 (2021) – Airing
Elisabeth Moss's starring role as June Osborne in the hit Hulu series The Handmaid's Tale, based on the book by Margaret Atwood, has brought her a lot of positive attention over the past several years. For those who don't know about it, The Handmaid's Tale follows the story of America after a second American Civil War occurred, when a totalitarian society subjects fertile women, who are called "Handmaids," to slavery for child-bearing purposes.
Yeah, it sounds about as horrifying as it sounds (especially as a woman watching it). But, I'm here to tell you that it truly is one of the best TV shows out there, if not for the amazing story, then for the superb acting. Elisabeth Moss has truly shined in this role, even winning and being nominated several times for Primetime Emmy Awards. There's a reason why so many people have kept talking about this show.
If you want to watch The Handmaid's Tale Season 4, it actually just premiered on Hulu not that long ago, on April 28th, so you have plenty of time to catch up before the next episodes start to come out week by week. Trust me when I say this – you won't regret watching it.
The French Dispatch (2021) - Completed
In the never-ending list of movies which were, unfortunately, pushed back due to the events of 2020, The French Dispatch was a part of that causality. However, with movies getting back on schedule, the next upcoming movie with Elisabeth Moss in it will be coming out soon. The French Dispatch, an upcoming comedy-drama, will follow three separate storylines for the French foreign bureau of a fictional Kansas newspaper.
Elisabeth Moss, while her role is a bit unclear in this film compared to some of her others coming up, will play one of the employees at this newspaper. However, I'm sure with the ensemble cast that is in The French Dispatch, she'll fit right in. There are many stars which will be joining her, including Benicio del Toro, Tilda Swinton, Timothee Chalamet and a lot more. It's no surprise that this was one of 2020's most highly anticipated films, and will most likely be one of 2021's as well.
The exact date when the new Wes Anderson film is going to release is still unclear, but it will be a fun day when people can return to theaters to see this star-filled ensemble rock our movie screens.
Next Goal Wins (TBA) - Completed
Moving along with our movies, we take a look at a biographical film that Elisabeth Moss joined a couple of years ago. As noted in The Hollywood Reporter, Moss has a role in Taika Waititi's next big film after Jojo Rabbit, titled Next Goal Wins. The film follows the story of Thomas Rongen, a Dutch football coach who attempts to turn the American Somoa team from losers into winners.
Okay, does this sound a little bit like Ted Lasso? Maybe. I won't make any judgments. However, I am always here for a great underdog story, and personally, I think this could be a great addition to her filmography for Elisabeth Moss. Taika Waititi is one of the best directors out there, in many opinions. I don't think I've ever laughed so hard watching a Thor movie as I did with Thor: Ragnarök, or cried as much as I did watching Jojo Rabbit. So, I wouldn't be surprised if this turned out to be another Oscar-winner for the director.
Moss isn't the only one who joined this film, however. Michael Fassbender is set to star in Next Goal Wins, and will play the coach the story is built around. With the two of them jumping on, I expect this movie to be a classic. There's no set release date yet, but as soon as there is one announced, I'm writing this down on my calendar.
Run Rabbit Run (2021) - Post-Production
When you star in a big-time TV show, you usually end up making connections with the creatives behind the scenes who direct, write, or even produce it. That is the case with Run Rabbit Run, a film which is being directed by a helmer of The Handmaid's Tale, and in which Elisabeth Moss signed on to star, according to Variety.
The Daina Reid-directed film follows the tale of a fertility doctor (played by Moss) who believes in life and death, but after noticing strange behavior in her child, she has to challenge her own ideals and confront her many fears.
One of my favorite genres of film is straight-up thriller/horror. And since we've already seen Elisabeth Moss show her talents off in that genre, as in The Invisible Man, I'm all set to see her rock this role. It's such an interesting take as well, her being a fertility doctor and set in her values, but an outside force causes her to change. I think if anyone could rock a role like that, it's Elisabeth Moss.
According to Deadline, STX has taken the distribution rights for the movie worldwide, so hopefully, all of us will be exposed to its greatness not that long from now. With movies now back on track (hopefully), maybe a new release date will come out soon enough.
Shining Girls (TBA) - Pre-Production
Apple TV+ has really started to make a name for itself with new shows and series coming out, from the Golden-Globe nominated Ted Lasso to See, to documentaries that we never thought we'd get the chance to experience. It seems that Elisabeth Moss is hopping right onto that train as well, by signing up for the series Shining Girls, according to Apple (opens in new tab).
The series, which has been placed in the thriller genre, will follow the story of a reporter in Chicago who has survived a horrible sexual assault. However, her world begins to change and shift all around her as she tries to track down her assailant and bring him to justice.
Again, I'm always down to see Elisabeth Moss in these amazing roles. It's where she truly shines the most, in my opinion, and shows off her incredible acting abilities, but hearing that it's going to be a TV series is even more exciting.
According to Deadline, Wagner Moura, more commonly known for his role on Narcos on Netflix, is also set to lead opposite Moss in this new show. He will be playing another journalist who is working to break the widening story known as a "copycat attack." I'm already intrigued by just the description of these characters all on their own. Can you imagine how awesome this show is going to be?
While Shining Girls is still only in pre-production, you can bet that it'll most likely be up there with some of the best series premiering. I can't wait to see what both Moss and Moura bring to the table in terms of this thriller.
She Will Rise (TBA) - Pre-Production
As the last entry on this list, we take a look at another biographical pic, where Moss takes on a completely different role from what we have previously seen thus far. In She Will Rise, Elisabeth Moss is becoming Katie Hill, a former congresswoman who had to fight against word of an alleged affair that a right-wing blog put out, with nude photos being leaked as well, according to The Hollywood Reporter.
Moss is also set to produce, via her banner, Love & Squalor Pictures, so it's clearly a project that means very much to her if she is ready to make sure that everything is set right. It'll be so fresh to see Moss take on a role that she doesn't normally do. While we have seen her impress in dramatic roles in shows like The Handmaid's Tale or in thrillers such as The Invisible Man, we rarely ever get to see her step into the shoes of a real-life figure that often.
Her most recent biographical role was portraying Shirley Jackson in the film Shirley in 2020, which was really interesting to see, so I'll be excited to watch how she embodies the person that Katie Hill was when her whole scandal broke years ago.
Goodness, with these many projects, I don't know how someone can do so much in so little time! Elisabeth Moss is truly an actress you see once in a lifetime and I'm so excited to watch where these films and TV shows take her. From this list alone, she might just get to accept a couple more awards in the future. Which project are you excited about the most?
Your Daily Blend of Entertainment News
Big nerd and lover of Game of Thrones/A Song of Ice and Fire. Will forever hate season eight. Superhero and horror geek. And please don't debate me on The Last of Us 2, it was amazing!
Your Daily Blend of Entertainment News
Thank you for signing up to CinemaBlend. You will receive a verification email shortly.
There was a problem. Please refresh the page and try again.