How America's Got Talent's Korean Soul Felt After Simon Cowell's 'Predictable' Critique And Singing R&B As South Koreans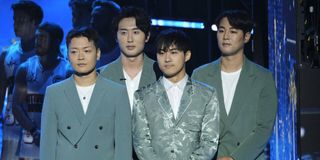 The quarterfinals of America's Got Talent Season 16 just cut another five talented acts from the running for the top prize, and South Korean gospel choir group Korean Soul had a close call with going home. They did ultimately have enough of an edge on the closest competition to advance to the semifinals, and they have a lot to think about after some of the judges' commentary following their take on Aerosmith's "I Don't Want To Miss A Thing." Korean Soul shared their reaction to being called "predictable," and that's not all.
Although the crowd loved Korean Soul's performance of "I Don't Want To Miss A Thing", Heidi Klum thought that their quarterfinals performance was "snoozier" than their audition take on "All My Life" by K-Ci & JoJo, with Klum noting that there was less of the four singers' voices melding together in harmony this time. The harsher criticism came from Simon Cowell, who said that the Aerosmith song was a "predictable" choice. Sooyong Yoon of Korean Soul spoke with CinemaBlend and other press following their quarterfinals performance and the comments from the judges:
Fortunately for Korean Soul, Howie Mandel named them his favorite act of the night after their performance. Plus, the crowd was definitely on their side, as they booed Simon Cowell after making his critiques of them. Of course, Cowell proved the very next night in the results episode that finding their song choice predictable didn't mean that he gave up on them.
When the judges had to choose whether to send either Korean Soul or vocal group T.3 to the semifinals, it was Simon Cowell and Howie Mandel who gave Korean Soul votes to move forward, with Cowell saying he had a "gut feeling" that they could have a "bigger moment with the right song." With Heidi Klum and Sofia Vergara both voting for T.3, however, the judges were at a draw, and it came down to whichever of the two groups received more online audience votes, and that kept Korean Soul in the running for $1 million and the Las Vegas show!
Korean Soul certainly are the only act of their kind left in pursuit of the top America's Got Talent prize, and Sooyong Yoon weighed in on what America still needs to see from the group moving forward:
Korean Soul's R&B rendition of "All My Life" in the auditions stage of competition was unique and impressive enough for them to get a yes from each of the four judges, and Simon Cowell's biggest criticism was of their song choice, so they'll have at least one more opportunity to show what they can do in bringing their musical stylings to songs that viewers might not expect. Plus, they obviously did well with "I Don't Want To Miss A Thing" for viewers, if they had enough votes to stay over five other acts! Take a look, in case you missed it:
Korean Soul is still in the running, but they won't be back on stage just yet, as the quarterfinals continue and more acts are cut before the semifinals. Check out the next round of competitors trying their best to wow the audience with America's Got Talent on Tuesdays at 8 p.m. ET on NBC, followed by the fateful results episodes on Wednesdays at 8 p.m. ET.
The quarterfinals have already been kind to all the golden buzzer winners, so it's possible that those are still the acts to beat, but AGT is anybody's game now that some of the more predictable eliminations have happened, like Sethward and Johnny Showcase. To Johnny Showcase's credit, however, Heidi Klum was a big fan of their psychedelic octopus song! As for who else will follow Sethward, Johnny Showcase, and the other eliminated acts out the door, only the new live episodes will reveal.
Resident of One Chicago, Bachelor Nation, and Cleveland. Has opinions about crossovers, Star Wars, and superheroes. Will not time travel.
Your Daily Blend of Entertainment News
Thank you for signing up to CinemaBlend. You will receive a verification email shortly.
There was a problem. Please refresh the page and try again.