America's Got Talent: How Gangstagrass, Canine Stars And The Other Eliminated Acts Felt After Their Final Performances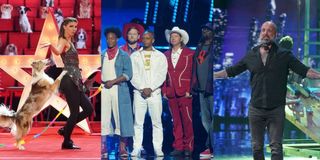 (Image credit: NBC)
The competition is heating up more than ever in America's Got Talent Season 16, and the first round of quarterfinals resulted in some unforgettable acts getting eliminated. Nobody made any huge mistakes (although one act certainly wasn't to Simon Cowell's taste) to make it easy to predict whose journey would end when the results were revealed, and the performers themselves had nothing but good things to say after their final acts.
Musical group Gangstagrass, escape artist Matt Johnson, animal stunt group Canine Stars, dance group Beyond Belief Dance Company, and Sethward all had their AGT journeys end, but they spoke to CinemaBlend and other outlets immediately following the live performances in the AGT quarterfinals episode on August 10. Here's how they felt after taking the stage to perform what turned out to be that final time!
Gangstagrass
For their quarterfinals performance, Gangstagrass – comprised of Rench, Dan Whitener, Brian Farrow, R-SON the Voice of Reason, and Dolio the Sleuth – hit the America's Got Talent stage with an original song called "All For One." They brought the kind of energy and showmanship to the quarterfinals that had resulted in the judges advancing them the first time around, and proved yet again that there's an audience for a combination of bluegrass, hip-hop, and more as a genre.
Sadly, however, "All For One" was their last AGT performance, and the judges weren't all as enthused with their performance as the audience at the Dolby Theatre was. Dolio the Sleuth shared how the group was dealing with some of the tougher comments:
Considering that the audience at the Dolby Theatre actually booed judge Howie Mandel when he made some criticisms, the band members had every reason to believe that the audience was on their side. Sofia Vergara and Heidi Klum definitely weren't the only ones groovin' with their original song, and Dolio the Sleuth's message of everybody being invited to the party is a positive one, even if they ultimately would not be voted forward. They went on to share how they hoped their different backgrounds could speak to voters watching from home:
Although Gangstagrass won't be moving forward on America's Got Talent, I think it's safe to say that they have more fans than ever after getting to showcase their musical talent on the AGT stage. And at least there's the fact that the competition in their round of quarterfinals was so stiff that no matter what happened, some immensely talent acts would have to be eliminated.
Matt Johnson
All the performers in the first quarterfinals round of competition turned in some memorable acts, but none was quite as literally death-defying as escape artist Matt Johnson's efforts to escape being chained to a door before a chainsaw could make contact with his face. Fortunately for everybody (especially given that this was a live broadcast of AGT), Johnson did escape death's door to wow the audience without making them watch something gruesome.
There were some comments from Simon Cowell about the grunts and groans that Matt Johnson was releasing during his act, and Johnson took some time after stepping off the stage to defend the sounds, saying:
Something tells me that if anybody other than an experienced escape artist like Matt Johnson tried the chainsaw maneuver on death's door, we'd be making a whole lot more noise to try and get ourselves rescued! Despite his near-death experience while doing an act not so long ago, Johnson came across as fearless and focused – even if he wasn't in full control of the sounds he was making. He also shared how the pressure of performing live in the quarterfinals was different from the auditions stage:
While it's sad for Matt Johnson that his AGT journey came to an end after his quarterfinals performance, he at least made it clear that he valued the entire experience and felt that everybody who performed in his round had the talent to deserve to continue on. If he believes he had a good ride while it lasted, who are viewers to disagree with him?
Canine Stars
The Canine Stars group were the last animal performers still in the running for the top AGT prize by the time the quarterfinals kicked off, and their final performance was amazingly elaborate, with plenty of dogs energetically running around to do tricks with trainers while a select four were tasked with sitting still and playing the America's Got Talent judges. Following the quarterfinals performance, trainer Keri Caraher explained the rehearsal process:
Of course, the AGT stage is unlike any other, and the rehearsal process with so many different dogs and trainers, and such strong choreography, had to go well. Trainer Keri Caraher detailed just how complicated it was to pull everything together for the America's Got Talent performance:
Watching Canine Stars' quarterfinals performance, I for one wouldn't have guessed that there were only five days to put it all together for the AGT stage! The dogs seemed to be just as professional about hitting their cues as all the human competitors in America's Got Talent Season 16, and it's too bad that viewers won't get to see them perform again, even if there were only so many acts that could move forward.
Beyond Belief Dance Company
Beyond Belief Dance Company brought a troupe of girls out to perform as one big group for the spectacle while also demonstrating the individual personalities of the girls, with founder Justin Johnson even explaining why the group went for a fun Clueless theme for their quarterfinals performance. After that big performance, Johnson and several of the girls took time to chat about the group, and Johnson explained the story behind the "Beyond Belief" name that brought them all the way to AGT:
After watching the young dancers perform their Clueless number to "BO$$" by Fifth Harmony, could anybody blame Justin Johnson for overflowing with praise for them as the fantastic artists of the future? They held their own in a competition that has included other dance acts, and plenty of adults who undoubtedly couldn't pull off what they delivered on the AGT stage. Justin Johnson continued:
Justin Johnson also revealed that the young dancers range in age from 8-years-old to nearly 13-years-old, so there's a lot to admire about the group. Plus, based on the smiles and excitement on the faces of the girls as they performed, they don't mind spending so much time together and building their own little dance family!
Sethward
Sethward is a truly one-of-a-kind America's Got Talent act, although he has certainly brought his act to AGT several times already! The physical comedian actually made his AGT debut back in Season 13, when he dressed as a caterpillar and "accidentally" flashed the judges and audience with a hole in his costume, which was of course blurred out for broadcast. After getting cut in Season 13, he returned in Season 14 as both a giraffe and a walrus. As one does!
After missing Season 15, he came back for Season 16, and third time was the charm! He was advanced to the quarterfinals, where he emerged from backstage as a peacock, only to shed his peacock feathers and quite literally rise into the air as a phoenix, to the delight of the audience at the Dolby Theatre, although not so much Simon Cowell. Still, Sethward's spirits didn't seem too dampened in the episode when host Terry Crews asked if he had any advice for anybody who might be giving up their AGT dreams:
He followed his inspiring message with a classic Sethward shriek, so all things considered, he had a pretty solid farewell performance, even if there was no way of knowing at the time that it would be his last. He already made it much further in Season 16 than ever before, and he can be proud that he made it as far as he did. While I don't know that I would have advanced him over any of the seven acts who got to move forward, I will miss that shriek of his. What can I say? I've seen him enough times that he wore me down.
The first week of quarterfinals narrowed down the pool of contestants still in the running for the $1 million and Las Vegas show, but the cuts have only just begun. The quarterfinals continue with new episodes on Tuesdays at 8 p.m. ET on NBC, with the results announced on Wednesdays at 8 p.m. ET. Stay tuned to CinemaBlend for more America's Got Talent, and be sure to check out our 2021 fall TV premiere schedule for more of what's on the way!
Laura turned a lifelong love of television into a valid reason to write and think about TV on a daily basis. She's not a doctor, lawyer, or detective, but watches a lot of them in primetime. Resident of One Chicago, the galaxy far, far away, and Northeast Ohio. Will not time travel, but will sneak references to The X-Files into daily conversation.
Your Daily Blend of Entertainment News
Thank you for signing up to CinemaBlend. You will receive a verification email shortly.
There was a problem. Please refresh the page and try again.