Netflix's Clickbait Reviews Are In, Here's What Critics Are Saying About Adrian Grenier Thriller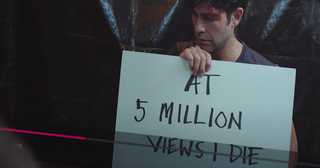 The Netflix miniseries Clickbait aims to take viewers on a deep dive into the dark side of social media. The show centers on Nick Brewer, played by Entourage and The Devil Wears Prada star Adrian Grenier, who's seemingly a family man with a perfect life until he's kidnapped, and then social media posts paint him in a much more sinister light than how his family and friends viewed him. Clearly not everything glitters is gold.
The eight-episode series is set to premiere on Netflix on August 25 and promises to explore the ways social media can influence and escalate our most deadly impulses. Clickbait's spoiler-free reviews are in, and it's not usually a best-case scenario when reviews can only go public just ahead of a big release. But let's see if critics think this one is worth the click.
We might as well start on the most positive end of the spectrum, since there's a lot of room to fall here. The Age gave Clickbait a perfect 4 stars, saying the cyber thriller asked important questions, all while holding viewers captive with the story being told through a different character's perspective in each episode.
It's all downhill from there, though, as The Guardian rated Clickbait 2 stars out of 5, arguing that while it gestured at big ideas about the Internet, the fictionalized narrative failed to capture anything real, so to speak.
There's definitely something of a running theme among critics that give Clickbait a backwards compliment in speaking to the episodes binge-ability, even if those compliments don't extend to the storytelling. The Hollywood Reporter called Clickbait a "Clicky premise, dull execution," and argued that the characters weren't strong enough to carry eight episodes whose central mystery could have been wrapped up in one episode of a more warmly regarded Netflix series.
Variety continued waving the flag regarding Clickbait not needing to be an eight-part miniseries, positing that the project spoke loudly but ultimately didn't have much to say with its volume. If nothing else, the critic found Clickbait's commentary on character to be more effective than its approach to critiquing society.
The Chicago Sun-Times gave Clickbait 2 out of 4 stars, drawing a thick line between binge-watching and cringe-watching, as well as providing a warning for the reveal of a rage-inducing plot twist.
The AV Club gave Clickbait a C+, lamenting that the series missed the mark on potentially fascinating plot lines.
One aspect every single review agreed on was the series' title. Clickbait is apparently exactly that, drawing viewers in within minutes of the first episode and leaving them desperate to find out what happens next. (And one technically doesn't even need to click again after the initial "Play" press.) The question lies in if the conclusion will have been worth it and if the series ultimately has anything new to say about the dangers of the internet. Godspeed to everyone who watches.
All eight episodes of Clickbait will be available for streaming on Netflix on August 25. Check out our 2021 Fall TV Schedule to find the premiere dates for more upcoming shows.
Mom of two and hard-core '90s kid. Unprovoked, will quote Friends in any situation. Can usually be found rewatching The West Wing instead of doing anything productive.
Your Daily Blend of Entertainment News
Thank you for signing up to CinemaBlend. You will receive a verification email shortly.
There was a problem. Please refresh the page and try again.