What The Entourage Cast Is Doing Now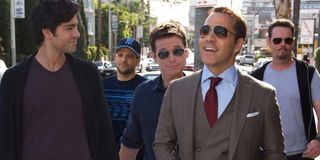 Loosely based on producer Mark Wahlberg's early rise-to-fame, Entourage was one of HBO's earliest hits, resulting in eight seasons, nearly 100 episodes, several accolades, and eventually a 2015 movie follow-up. Now that it's been nearly ten years since the series left the paid cable service, what is the Entourage cast, including Jeremy Piven and Adrian Grenier, doing now? Let's take a cruise down the Sunset Strip and find out!
Jeremy Piven (Ari Gold)
As Ari Gold, a hot-shot Hollywood super-agent with a short fuse, Jeremy Piven won three Emmys and a Golden Globe for his high-energy performance in Entourage. His other notable television roles were found in Mr. Selfridge and Ellen, as well as The Larry Sanders Show, Cupid, Seinfeld, and Wisdom in the Crowd.
On the big screen, Jeremy Piven played the lead in The Goods: Live Hard, Sell Hard. He's also known for Say Anything..., Grosse Point Blank, Very Bad Things, Singles, The Kingdom, The Family Man, Rush Hour 2, and Old School, as well as Scary Movie 3, RocknRolla, Spy Kids: All the Time in the World, Sin City: A Dame to Kill For, and Keeping Up with the Steins. He can also be seen in Chasing Liberty, Black Hawk Down, Bob Roberts, The Grifters, and The Player.
Last month, Jeremy Piven starred in My Dad's Christmas Date. Next, he's got Last Call, Ghost Killers, American Night, Crabs in a Bucket, and All-Star Weekend on the docket.
Adrian Grenier (Vincent Chase)
In the role of Vincent Chase, a promising rising actor on the verge of being considered one of the greats, Adrian Grenier played the central protagonist in this HBO ensemble series. While this performance is certainly his most recognizable, Grenier is also well-known for The Devil Wears Prada.
The actor's other notable film credits include Drive Me Crazy, Anything Else, Affairs of State, Cecil B. Demented, Harvard Man, Hart's War, Celebrity, and Love in the Time of Money. He also did voice work for Vietnam in HD and Miles from Tomorrowland. Outside of acting, Grenier directed documentaries like Shot in the Dark and Teenage Paparazzo, while also producing many others. His most recent acting credits include Hallmark's Christmas at Graceland: Home for the Holidays, Stage Mother, and the short film, Freeze.
Next, Adrian Grenier is set to star in the new series, Clickbait.
Kevin Connolly (Eric Murphy)
As Vincent Chase's manager and best friend Eric Murphy, also known as "E," Kevin Connolly played one of the five main characters in Entourage. Prior to this performance, Connolly starred in Unhappily Ever After. His notable film credits include The Notebook, He's Just Not That Into You, The Beverly Hillbillies, Rocky V, John Q, Antwone Fisher, The Ugly Truth, Secretariat, Reach Me, and Don's Plum. He was also a series regular on Great Scott! and Friends with Better Lives, while also playing recurring roles in Pitch and The Oath.
In addition to acting, Connolly directs. He called the shots on two Entourage episodes, while also directing installments of Unhappily Ever After, 30 for 30, Snatch, and The Oath. Additionally, Connolly helmed Gotti, Dear Eleanor, and Gardener of Eden.
Most recently, Kevin Connolly appeared in last month's Chick Fight. Earlier this year, he faced accusations of sexual assault.
Kevin Dillon (Johnny "Drama" Chase)
Playing Johnny "Drama" Chase, Vincent Chase's half-brother and a fellow wannabe actor, Kevin Dillon gave a three-time Emmy-nominated standout performance in Entourage. He's also well-known for Platoon and The Doors. After Entourage, Dillon starred in the short-lived CBS sitcom, How to Be a Gentleman. His other notable television credits include That's Life, NYPD Blue, Tales from the Crypt, 24, Blue Bloods, and voice work in TripTank and The Simpsons. Additionally, Dillon can be seen in 2006's Poseidon, Hotel for Dogs, Compulsion, The Throwaways, and A Midnight's Clear, as well as When He's Not A Stranger, Immediate Family, 1988's The Blob, War Party, Heaven Help Us, and Remote Control.
Most recently, Kevin Dillon starred in last month's Buddy Games. He's currently in the midst of filming Reagan and he's expected to star in Red Money.
Jerry Ferrara (Salvatore 'Turtle' Assante)
In the role of Salvatore Assante, better known by his nickname "Turtle," Jerry Ferrera was a scene-stealer on Entourage. He also had a hand in writing a couple episodes. While Entourage is his most well-known performance, Ferrara's other notable credits include a recurring role in USA Network's Shooter, as well as guest star appearances in The King of Queens, Grounded for Life, NYPD Blue, and Leap of Faith. He also worked on Vietnam in HD, and starred in Lone Survivor, Battleship, Eagle Eye, Brooklyn Rules, and Empire State, as well as Last Vegas, Sully, Think Like a Man, and Think Like a Man Too. Additionally, Ferrara produced the 2012 documentary, A Band Called Death.
Most recently, Jerry Ferrara starred in Starz's Power, which ended its run in February. The actor also guest-starred on A Million Little Things, and he played himself in Netflix's Sneakerheads. Next, Ferrara stars in Dating in New York.
Rex Lee (Lloyd Lee)
Playing the part of Lloyd Lee, Ari Gold's assistant-turned-agent, Rex Lee was a consistently recurring character on Entourage, appearing in nearly every episode. Away from Entourage, Lee is best known for ABC Family/Freeform's Young & Hungry. He also had a recurring role in ABC's Suburgatory, while making guest star appearances in Fresh Off the Boat, Castle, Glee, and Zoey 101. And Lee did voice work for Glenn Martin DDS. His film credits include Lemon, For the Love of George, Someone I Used To Know, Shades of Ray, and Word of Mouth. He also did an ad campaign for Wix.com in 2015.
Earlier this year, Rex Lee starred in Netflix's Feel the Beat and the YouTube web-series, Vicious Mannies. Lee also recently appeared in the web pilot, UDrive Me. Next, he'll star in Keeping Company.
Perrey Reeves (Mrs. Ari)
As Melissa Gold, a.k.a. Mrs. Ari, the long-suffering wife of Ari Gold, Perrey Reeves played a highly exasperated character in Entourage. Away from this popular series, Reeves starred in Freeform's Famous in Love and The Lyon's Den. She also guest-starred in NCIS, White Collar, Private Practice, Castle, Grey's Anatomy, Rules of Engagement, CSI, The X-Files, and Murder, She Wrote. And the actress appeared in Doogie Howser, M.D. The Affair, and 21 Jump Street (the show). Additionally, Reeves' film credits include Old School, Child's Play 3, Kicking and Screaming (1995), Mr. and Mrs. Smith, Smoke Signals, and High Voltage. Also, she recently starred in Plus One.
Most recently, Perrey Reeves starred in the Lifetime movie, Abducted on Air. Next, the actress will star in the upcoming series, Paradise City.
Debi Mazar (Shauna)
In the role of Shauna, Vince's sharp-tongued publicist, Debi Mazar plays a spirited, heavily opinionated recurring character in Entourage. She also starred in Cooking Channel's Extra Virgin, while also having leading roles in L.A. Law, Temporarily Yours, Working, Civil Wars, and That's Life. Her notable film credits include Little Man Tate, Beethoven's 2nd, Goodfellas, Singles, Bullets Over Broadway, Malcolm X, The Doors, Batman Forever, Collateral, and Home Alone: The Holiday Heist, as well as Empire Records, Toys, So I Married an Axe Murder, Trees Lounge, Casper: A Spirited Beginning, The Insider, Be Cool, and 2008's The Women.
Debi Mazar is also seen in Space Monkeys' "Sugarcane" music video, and she's heard in Grand Theft Auto III and Grand Theft Auto: San Andreas. Additionally, Mazar played Ava Gardener in Arde Madrid.
Currently, Debi Mazar stars in TV Land's Younger. Also, Mazar appeared in Starz's Power and The CW's Katy Keene.
Rhys Coiro (Billy Walsh)
Playing the part of Billy Walsh, the director of Queens Boulevard, Rhys Coiro had a recurring character on Entourage. Getting his start on Broadway, this role was one of his earliest successes, later resulting in him starring in MacGruber, The Unborn, 2011's Straw Dogs, Valley of Bones, and Gotti. His TV credits include Six Feet Under, CSI: NY, CSI: Miami, 24, Criminal Minds, Person of Interest, The Walking Dead, Dexter, and Burn Notice, as well as The Mick, Ray Donovan, Numb3rs, Ugly Betty, and CSI. He was also in the main cast for CBS' short-lived Hostages.
Most recently, Rhys Coiro had a recurring role in A Million Little Things. He also played supporting parts in Hustlers and Finding Steve McQueen, and he appeared in I Think You Should Leave with Tim Robinson. Next, Coiro stars in Paradise City.
Gary Cole (Andrew Klein)
As manager Andrew Klein, Gary Cole plays a prominent part in Entourage's sixth season, while also appearing in Seasons 5 and 7, respectively. A hard-working actor with various film and television credits on his resume, Cole starred in The Brady Bunch Movie, Office Space, Talladega Nights: The Ballad of Ricky Bobby, Dodgeball: A True Underdog Story, One Hour Photo, Veep, Pineapple Express, and American Gothic, as well as Midnight Caller, Chicago Fire, The Good Wife, Blockers, Hop, The Ring Two, A Simple Plan, Desperate Housewives, Suits, and The West Wing. He also voiced the lead in Harvey Birdman, Attorney at Law, and he lent his voice to Kim Possible.
Last year, Gary Cole starred in CBS's Fam. Most recently, he appeared in Darkness Falls, as well as episodes of mixed-ish, The Good Fight, Room 104, and he did voice work for Family Guy, Star Trek: Lower Decks, and Batman: Death in the Family.
Emmanuelle Chriqui (Sloan McQuewick)
Playing the part of Sloan McQuewick, E's on-and-off girlfriend, Emmanuelle Chriqui was frequently seen throughout Entourage starting in Season 2. Outside of this HBO comedy series, the actress starred in You Don't Mess with the Zohan and The Mentalist. She also played a regular part in Cleaners, as well as main roles in Murder in the First, Shut Eye, and last year's The Passage. Additionally, Chriqui starred in Detroit Rock City, Snow Day, Fort Bliss, Waiting..., Cadillac Records, National Lampoon's Adam and Eve, In the Mix, Super Troopers 2, Elektra Luxx, 100 Girls, Wrong Turn, and, most recently, The Knight Before Christmas.
Next, Emmanuelle Chriqui appears in Die in a Gunfight. Soon, she'll star in The CW's Superman and Lois.
Scott Caan (Scott Lavin)
In the role of Scott Lavin, a Hollywood manager who becomes the co-founder of the Murphy Lavin Group with E, Scott Caan played a key role in Entourage's last three seasons. The son of James Caan, Caan is known for Ocean's movies, Into the Blue, Enemy of the State, Ready to Rumble, Gone in 60 Seconds, Varsity Blues, Novocaine, and Boiler Room. He's also the writer, director, and star of Dallas 362 and The Dog Problem. Additionally, Caan wrote and acted in Mercy.
Most notably, Scott Caan starred in CBS's Hawaii Five-0 reboot, which recently ended its run after 10 seasons. He was Golden Globe-nominated for this performance.
Mark Wahlberg (Himself)
Both as the producer and the inspiration for this hit HBO series, Mark Wahlberg's involvement in Entourage is primarily behind the camera, though he appeared as himself in select episodes, while also making a cameo in the 2015 movie. An Oscar-nominated actor and producer for The Departed and The Fighter, respectively, Wahlberg has become one of Hollywood's biggest A-listers. Only a select few of his notable film credits include Boogie Nights, Three Kings, The Other Guys, Ted 1 & 2, Daddy's Home & Daddy's Home Two, The Happening, Shooter, Pain & Gain, Transformers: Age of Extinction, and Transformers: The Last Knight.
Most recently, Mark Wahlberg starred in and produced Spenser Confidential, and he lent his voice to Scoob! He also starred in and produced Joe Bell, which premiered at the TIFF under its original name, Good Joe Bell. Next, Wahlberg stars in Infinite and Uncharted. Also, he remains attached to The Six Billion Dollar Man reboot as an actor and producer.
Did you watch every episode of HBO's Entourage? Who was your favorite character? Let us know in the comments!
Will is an entertainment writer based in Pittsburgh, PA. His writing can also be found in The Playlist, Cut Print Film, We Got This Covered, The Young Folks, Slate and other outlets. He also co-hosts the weekly film/TV podcast Cinemaholics with Jon Negroni and he likes to think he's a professional Garfield enthusiast.
Your Daily Blend of Entertainment News
Thank you for signing up to CinemaBlend. You will receive a verification email shortly.
There was a problem. Please refresh the page and try again.