9 Spectacular Shows Appearing On Netflix August 2021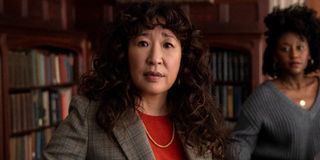 August 2021 is already upon us, and that's great news for Netflix subscribers. As usual, there's a ton of original shows set to premiere on the streaming platform, and even though there's nothing like Stranger Things on the docket just yet, there are plenty of shows to be excited about.
Are you a fan of Sandra Oh? What about aliens and other things that exist beyond the stars? Perhaps you'd like to hunker down one evening and binge a new baking competition series? Maybe you're looking for that next great sports documentary following The Last Dance? There's something for everyone this month, so let's dive into all the great stuff arriving on Netflix this August.
Top Secret UFO Projects: Declassified - 8/3
Earlier this year, the Pentagon confirmed the existence of UFOs. To clarify, it confirmed that there were instances in which an unidentified flying object was spotted on camera, and they didn't know what it was. The government isn't trying to convince us aliens are real, but it sounds like the folks interviewed in this upcoming series will. Definitely one to check out if you're a believer in aliens observing Earth from a vessel of any kind... or if you're an alien looking for what not to do to avoid detection.
Cooking With Paris - 8/4
Those that saw the title and thought this was going to be a show centered on Parisian cooking, I have bad news. For those that hoped this was Paris Hilton's attempt to break into the cooking world with her own Netflix series, you're in luck! Hilton is determined to prove that "anyone can cook" with this new series and will add her own unique style and flair to dishes that will surely glam up the life of anyone who attempts the same at home. Honestly, if she pretends to burn her finger on the stove and says "That's hot" to the camera, I'll love this series.
UNTOLD - 8/10
Netflix is bringing sports fans a weekly treat in this upcoming docuseries, which will do a deep dive into some of the biggest stories behind key moments in sports. Specifically, this series is looking to cover events like the infamous Malice In The Palace brawl between the Detroit Pistons and Indiana Pacers, a hockey team run by the son of a mob boss, and Caitlyn Jenner's journey. Those are just a few of the things folks can expect in what looks to be a consistently entertaining docuseries that promises never-before-seen footage and interviews.
Bake Squad - 8/11
Those that are a fan of House Hunters will appreciate this baking equivalent in which four talented bakers compete for the chance to have their creation chosen for someone's big day. These bakers are hand-selected by Milk Bar founder Christina Tosi, who built a successful business off of her cakes and cookies. I'm expecting to see a lot of awesome baking creations in this series and ultimately some very satisfied customers who get to celebrate their big day with something truly delicious.
Brand New Cherry Flavor - 8/13
Alita: Battle Angel fans may not be getting a sequel in the near future, but they will soon get another great project with Rosa Salazar as the lead. Brand New Cherry Flavor details a filmmaker's journey to Hollywood in the early '90s. She's soon pulled into what's described as a "hallucinatory rabbit hole" of sex, drugs, magic, and probably a lot of other things the Red Hot Chili Peppers sung about back in the day. It sounds like an exciting series, and certainly, one that could have the internet buzzing after its release.
The Chair - 8/20
Sandra Oh leads this upcoming Netflix comedy about the first woman of color to be named chair at a university in a rough spot. She'll be faced with a failing English department and the demands of the school that seem over the top and demanding. Any show featuring an actress of Sandra Oh's caliber is worth checking out, so I have no doubt this will be another series that captures the attention of Netflix subscribers.
Clickbait - 8/25
The Devil Wears Prada and Entourage fans unite, because Adrian Grenier is on Netflix in a new series. The actor stars in an eight-part series that is told through multiple perspectives and dives into the dirty side of social media. Grenier plays a family man who is kidnapped only for a viral video to be posted of him online promising to kill him once it hits five million views. Hopefully, the story isn't too viral, otherwise, that guy may not have long to live.
Motel Makeover - 8/25
2020 messed up a lot of plans for a lot of people, but imagine the panic of two hotel entrepreneurs when they went to work renovating a hotel in Ontario, only to have COVID happen in the midst of the process! That's the premise of this upcoming reality series, which sounds like one I'm assuming will have a happy ending. Otherwise, it would be a real bummer to watch these people hustle to renovate a hotel all through COVID, only to fail in the end. I'll be watching to see if that's the case either way.
Titletown High - 8/27
It doesn't matter how old some people get, there's nothing quite like the energy and excitement of high school football. Apparently, Netflix subscribers agree because Titletown High sounds like a Friday Night Lights if it took place at an actual high school. The reality series will follow the lives both on and off the field of the Valdosta High School football team as they navigate the ins and outs of the football season and the personal issues they face. As someone who absolutely loved watching Last Chance U: Basketball earlier this year, I have high hopes this series will deliver the same drama and fun on there.
Be sure to catch all these shows and a lot more over on Netflix (opens in new tab) in August, and check out our full list for the breakdown of all shows and movies arriving in August.
Mick likes good television, but also reality television. He grew up on Star Wars, DC, Marvel, and pro wrestling and loves to discuss and dissect most of it. He's been writing online for over a decade and never dreamed he'd be in the position he is today.
Your Daily Blend of Entertainment News
Thank you for signing up to CinemaBlend. You will receive a verification email shortly.
There was a problem. Please refresh the page and try again.