The Naked Kid From Nirvana's Nevermind Album Cover Has Grown Up And Is Now Suing The Band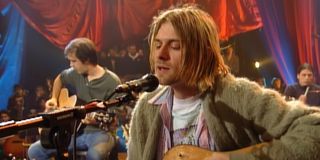 There's no doubt, especially in the days before YouTube and music streaming / downloading, that having a distinctive album cover could help a band get their music noticed. And, certainly, once a band did become well known, the album which made them famous was then going to be seen all over the place for years to come. When people think of '90s grunge rock sensation Nirvana, they inevitably think of their megahit second studio album, Nevermind, which featured a naked baby on the cover. Now, that child, Spencer Elden, is grown and suing the band and several others.
To be sure, people have had questions about the legality and ethical nature of the Nevermind cover photo before, seeing as how it depicts Spencer Elden underwater, fully naked and with his genitals showing, as he appears to attempt to grab a dollar bill on a fish hook. Elden, now 30, recently filed suit in a Los Angeles federal court (via Deadline) saying that the former members of the band and several record companies, art directors and other people went against federal criminal child pornography laws by using his image, which also led to suffering due to worldwide "trafficking" of the photograph.
Elden's lawsuit alleges, in part:
Elden, who was four months old at the time of the shoot, is currently seeking either damages of $150,000 from each of the 17 defendants named in his lawsuit, or unspecified damages that would be determined at the trial. Apparently, his parents never signed a release for his photo to be used in such a manner, and the filing notes that Elden never received payment, though his father told NPR in 2008 that the parents were paid $200.
The lawsuit filing also has other shocking claims to assert, including that photographer Kirk Weddle, who was a friend of Elden's father, wanted to "trigger a visceral sexual response from the viewer" so he "activated Spencer's 'gag reflex' before throwing him underwater in poses highlighting and emphasizing Spencer's exposed genitals." In addition, the suit contends that Nirvana's late frontman, Kurt Cobain, specifically chose the image because it was like a "sex worker grabbing for a dollar bill."
Elden's filing also maintains that the many defendants in the case:
Nirvana's Nevermind, did, in fact become one of the defining albums of the grunge era, along with making icons out of the band members. The album eventually sold over 30 million copies, and has become such a staple of rock music that Spencer Elden has actually been asked to recreate the cover image, which he did, clothed, for both the tenth and twenty-fifth anniversaries of the album's release. But, he now clearly feels that the use of his image when he was a child wasn't done legally.
Bachelor Nation, Gilmore Girl; will Vulcan nerve pinch pretty much anyone if prompted with cheese...Yes, even Jamie Fraser.