Black Widow's Opening Credits: A Closer Look At That Smells Like Teen Spirit Sequence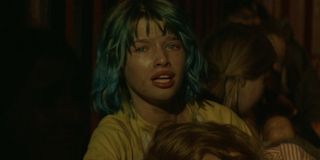 CinemaBlend participates in affiliate programs with various companies. We may earn a commission when you click on or make purchases via links.
WARNING: The following article contains SPOILERS to Black Widow, so remember your training and proceed with caution.
The Marvel movies have finally returned on the big screen with the release of Black Widow on Friday, July 9, and it is already becoming one of the most talked about 2021 movies, but not all for the usual reasons. While the Black Widow end credit scene has certainly inspired plenty of discussion (including the future of certain upcoming Marvel TV shows), many have expressed an even stronger reaction to the film's introductory moments, largely due to the opening credits song: a slowed-down rendition of "Smells Like Teen Spirit." However, the Nirvana cover -- which was chosen by Perception, the company that designed the opening sequence -- is just one of many reasons why it leaves such a memorable impression, but that is where we will start in the following breakdown.
Black Widow's Nirvana Cover Reflects Natasha's Stolen Childhood
Some may not have realized that Think Up Anger's reimagining of Nirvana's 1991 grunge masterpiece as a somber piano ballad featuring Malia J on vocals actually released in 2015 and was even included in the trailer for slasher flick The Gallows that year. Yet, its appearance during Black Widow's opening credits (a rarity for the MCU) made it popular and was a much more appropriate use of the song, too, as the sequence traces young Natasha Romanoff's (Scarlett Johansson) evolution into a fierce, female warrior called a Widow. Many other young girls, including her "sister," Yelena Belova (Florence Pugh), also fall prey to this fate.
Kurt Cobain's intentions for writing "Smells Like Teen Spirit" have been long debated, but many interpret it as a sympathetic tribute to young people feeling ostracized and robbed of their own self worth. Natasha never received the chance to find her real self while experiencing a childhood that was never actually real (at least at first) before being forced to become something she never wanted to be. Playing the ominous track over these disturbing images in Black Widow paints a heartbreakingly relevant and haunting reminder that even the brightest characters in superhero movies can come from dark places.
A News Report Exposes Russian Spies Undercover In Suburbia
Natasha Romanoff's dark upbringing also has some historical relevance, and I do not mean Black Widow's faithfulness to the comic book source material. We learn in the cold open, set in 1995, that Natasha's family was really a front for a covert surveillance operation orchestrated by the Red Room. This is based on real-life accounts of Russian spies posing as U.S. citizens during the Cold War and even in the 2000s, which The Americans on FX cited as inspiration.
Black Widow's opening credits reveals that David Harbour's Alexei Shostakov (formerly known as the Red Guardian) and his faux wife Melina Vostokov (Academy Award winner Rachel Weisz) were not the Red Room's only agents hiding in plain sight. A brief clip from a news broadcast reports of a "Russian sleeper cell discovered in suburban Ohio" with a voice over adding that there were even more operatives shacking up in burbs and raising families. I would not be surprised if the daughters of those families became Widows themselves.
A Hint At The Widows' Mind Control Procedures
As previously established, Black Widow's opening credits sequence offers a glimpse into how Natasha Romanoff and other young girls like her are made into Widows. The process involves everything from training with weapons, lessons in ballet dancing, and even watching violent Disney cartoons, which appears to be one of the Red Room's methods of psychological manipulation. As Yelena Belova points out to her adoptive sister at one point, she and other were not manipulated psychologically, but surgically.
The credits present close-ups of the young Widows being prepped for what is essentially a lobotomy that can only be reversed with an antidote that cures Yelena while she is on a mission to repossess it. This is preceded by squealing pigs, which foreshadows Melina's mind control demonstration, symbolizes how the Red Room perceives these helpless young women, and briefly adds a tone to Black Widow that is reminiscent of horror movies like the Saw franchise. Indeed, this is easily the most horrifying moment in already thoroughly depressing sequence.
Dreykov's Association With Various World Leaders
The credits also reveal how Black Widow's central villain (sorry, Taskmaster), Dreykov (who oversaw the selection and training of the Widows), practices his talents for manipulation outside of the Red Room. The image of actor Ray Winstone as the former Soviet general is convincingly doctored into many photos with political figures, including former U.S. presidents Jimmy Carter and Bill Clinton and the current president of Russia, Vladimir Putin.
While Dreykov's association with that last individual likely would not have taken as much effort, his apparent success in achieving a peaceful rapport with American political officials whom the audience knows he really wishes to control holds a testament to him as a slippery threat. It is also one of the few times that Marvel Studios has dabbled in more overt real-world commentary, with Dreykov representing concerns over the all-too easy task of achieving "undetectable influence," as he describes it.
A Montage Of The Widows' Involvement In Devastating International Events
The real-world commentary in Black Widow does not stop at what the film creates within the timeline of the Marvel movies in order. The credits also drop many hints as to how instrumental the Widows were in securing Dreykov's influence by once again using Photoshop to convincingly place the Widows at the scene of various tragedies that have occurred throughout the world. It is not easy to tell exactly which specific events that the girls were involved in due to the quick editing, but simply imagining how many times one of these women (including Natasha Romanoff, of course) orchestrated such historically heinous acts beyond their own control is a frightening thought on its own.
For its use of a haunting reinterpretation of a Nirvana classic to elevate an already disturbing montage of innocence destroyed, I would call Black Widow's opening credits the best of the Marvel movies if the MCU used these sequences more often. One could make the argument, however, that the opening sequence alone makes this new blockbuster one of the best Marvel movies so far. Would you agree?
This poll is no longer available.
Jason has been writing since he was able to pick up a washable marker, with which he wrote his debut illustrated children's story, later transitioning to a short-lived comic book series and (very) amateur filmmaking before finally settling on pursuing a career in writing about movies in lieu of making them. Look for his name in just about any article related to Batman.