Following Brock Lesnar's Return To WWE, Former UFC Rival Alistair Overeem Mocks Pro Wrestling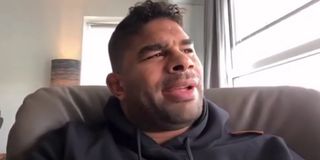 Brock Lesnar's return to the WWE has sparked many reactions from fans, as the former wrestler-turned-UFC heavyweight champion has once again committed to another return to the squared circle instead of the octagon. Fans from the WWE and UFC have many thoughts about it, no surprise there, but one of Lesnar's biggest rivals from his UFC days, Alistair Overeem, apparently also has a lot to say. Overeem was recently asked about Lesnar's return to the WWE, and as one may expect, he wasn't exactly kind.
Alistair Overeem was gracious and encouraging of Brock Lesnar immediately following the latter's retirement from UFC years ago, but his views have apparently changed over the years. Overeem appeared on Ariel Helwani's series The MMA Hour, and when Helwani asked if he'd seen Lesnar's recent return for SummerSlam 2021, Overeem decided to take that moment to slam the entire sport of pro wrestling and demean Lesnar's new-again employer.
As UFC fans will recall, Brock Lesnar squared off against Alistair Overeem back in 2011 for what was supposed to be his comeback match after previously losing his UFC Heavyweight Title to Cain Velasquez (another fighter who briefly went to WWE years later). Overeem dominated Lesnar in the ring with knees and kicks to the stomach, and ended the fight around two-and-a-half minutes into the first round. Lesnar, who'd spent the prior year recovering from diverticulitis, retired from UFC following the match, though he returned five years later with mixed results, and with the decisive loss to Overeem remaining a mark on his UFC legacy to this day.
After slamming Brock Lesnar and the WWE (using a slur that we've avoided using here), Alistair Overeem then went on to target CM Punk, who attempted a career in UFC following his exit from the WWE. The gist of that part of his rant was that Punk was in no way prepared for the UFC and could've been gravely injured for even attempting to take on professional fighters. The implication, of course, was that WWE talent had no place in the UFC, which could truthfully have been true for Punk, but that's neither here nor there.
Ariel Helwani countered with Brock Lesnar as proof of a success story, but it was clear Alistair Overeem considers his former UFC opponent to be in the same category as CM Punk, who recently transitioned to AEW. When Helwani brought up Lesnar's past accolades and accomplishments in the UFC, it prompted a pretty hard verbal jab from Overeem.
Alistair Overeem's statement implied that Brock Lesnar's big UFC success came at a time where the U.S. Anti-Doping Agency wasn't partnered with the UFC yet. The partnership didn't start until 2015, and only one of Lesnar's eight total fights happened in the UFC's USADA era. Lesnar won that fight initially, but the result was later changed to a "No Contest" when the USADA revealed Lesnar failed one out-of-competition and one in-competition drug test. These tests typically identify performance enhancers, so the implication by Overeem was that because Lesnar failed those tests, he could've been "juiced" for the entirety of his career before mandatory testing.
The big question following all this: why is Alistair Overeem coming for Brock Lesnar so hard with those comments? Is this to spark some type of feud for an eventual rematch within the UFC, or is Overeem looking to make the transition to the WWE? I'd say no based on his former prior comments, though former UFC champ Ronda Rousey both dissed the WWE and then worked for them, so perhaps Overeem is taking a page out of her playbook. Or maybe he's just hoping to get a rise out of an old opponent without any future implications. Hopefully, we'll get some kind of answer in time.
Brock Lesnar is back in the WWE, and it's possible he'll appear on SmackDown this Friday, August 27th, at 8:00 p.m. ET on Fox. It would be great to see him respond to Overeem if he did, but more likely than not, we'll get some sort of challenge to current Universal Champion Roman Reigns.
Mick likes good television, but also reality television. He grew up on Star Wars, DC, Marvel, and pro wrestling and loves to discuss and dissect most of it. He's been writing online for over a decade and never dreamed he'd be in the position he is today.
Your Daily Blend of Entertainment News
Thank you for signing up to CinemaBlend. You will receive a verification email shortly.
There was a problem. Please refresh the page and try again.